Mark 10:46-52 – The 22nd Sunday of Ordinary Time – for Sunday, October 28, 2012

"…Jesus, Son of David, have mercy on me!" (Mark 10:47)
Sight.
Sound.
Touch.
Smell.
Taste.
The cursor flashes on the monitor. In the background the computer softly hums, like traffic noise at a great distance. My fingers tap the cool, solid uniformity of the plastic keyboard, shaping words into sentences. This foolish act of creation is suspended when I grasp the mug of coffee. Before sipping, I inhale the aroma of Peet's French roast. Ahhh…the heady scent of a fresh brew. Next, the taste. Brash and bitter, but tempered because—an indulgence—I added a dash of half-and-half.
I have my early morning commitment:  writing. On most days, I'm settled in my office chair by 4:00am, bright-eyed and bushy-bearded, ready to tackle a first draft or revise the 10th (100th?) draft of a story.
Peet's coffee is my literary communion and companion. I can't explain why I relish their French roast while scorning Columbian or Sumatra beans.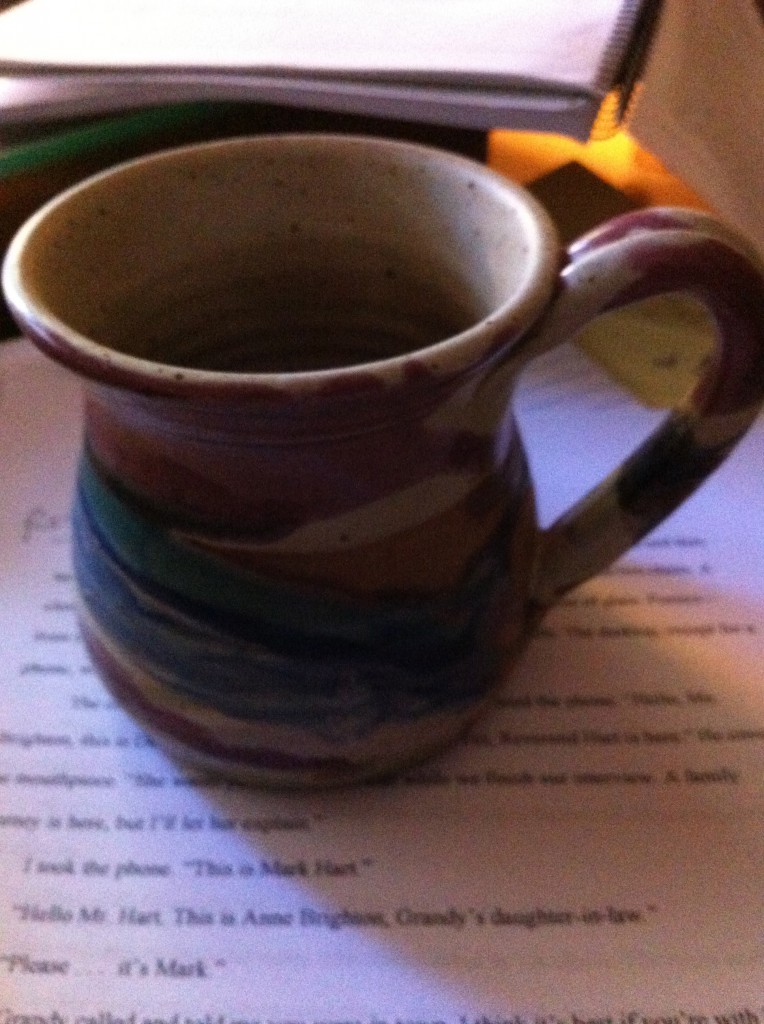 I drink from special coffee mugs (the one in the photo is used only when I'm at work on my endlessly revised novel "Ordinary Time"). My desk has a leather coaster from Yosemite's glorious Ahwahnee Hotel, a decades-old gift from friends. A photo of my wife is nearby, glancing back toward the camera, snapped during our honeymoon. A beehive-shaped kiln-fired pot holds pens and pencils. Grace, then approaching ninety and a member of Wisconsin's Blanchardville United Methodist Church, presented the sturdy container to me while I was her pastor. She died a year or so later. I keep nail clippers in a ceramic dish, always close, because as a kid I acquired the nasty habit of chewing nails. Isn't it awful how some habits haunt you even after so-called maturity? But if the clippers are close, I'll reach for them to trim my nails instead of random, destructive nibbling. Sad, eh?
Rituals, habits, self-doubt, persistence and procrastination define me.
Tokens, mementos, tools and photos create the nest where I write.
I am vividly aware, in the dark silence of a predawn morning, where it seems "nothing" is going on, that my peculiar little world includes and invites every sense I possess . . .
Sight. Sound. Touch. Smell. Taste.
And because during these early hours I include time for prayer to a Creator I cannot "see" and for creating stories out of "thin air," maybe I also welcome a sixth sense.
So let's say six senses. All operating. All present.
And yet on some mornings I am "blind" to every precious thing and person, every memory and goal. How can that be? Continue reading →