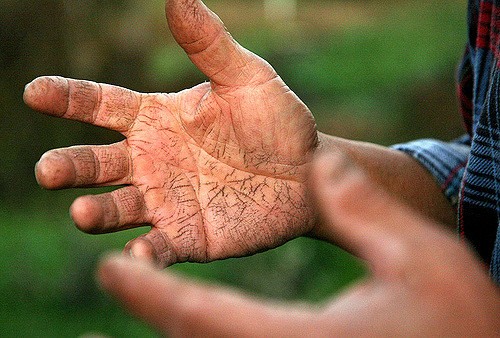 The farmers' hands were scrubbed clean and yet still dirty.
The creases on their palms were like dark rivers flowing through callouses and scars. Black streaks of grit and grime were permanently etched around nails.
Fingers were missing. A pinkie gone, leaving three digits alongside the thumb. Or the upper part of a ring finger ended at the knuckle. I recall a few pointing, perhaps giving directions to a neighbor's place, but there was no index finger to aim.
Is farming the most dangerous job in America? Oh sure, others could protest that distinction. Soldiers face bullets and bombs. Who wants to be a cop or firefighter rushing into a building ablaze with angry citizens or fires or both? Loggers with chainsaws always make the danger list. Don't forget the construction workers atop half-built skyscrapers, a stumble from experiencing gravity in a bad, bad way. Continue reading →