Mark 4:1-11 – Baptism of the Lord, First Sunday after Epiphany – for January 11, 2015

"John was in the wilderness calling for people to be baptized to show that they were changing their hearts . . ." (Mark 1:4)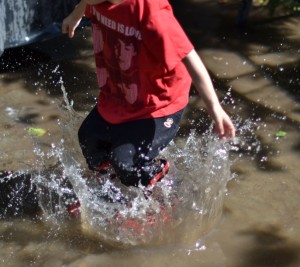 In the wilderness, clouds bunch on the horizon like gray fists. Within moments a bright day becomes gloomy. Darkness for day, wind rustling trees, temperature plunging, and then . . .
The first rain falls and creation begins again.
Along the wild coast, fog smothers a desolate beach, a moist wall of white. Swirling and still, it blurs the land and sea, the seen and imagined. Flecks of moisture cling to skin, and then . . .
A shard of sun turns drops of water into diamonds.
With a wild heart, a child scampers from puddle to puddle, a parent's warning to stay dry long forgotten. A splash here; a splash there. There's a leap from one miniature lake to another. Failure is so much fun as the pants legs are soaked to the knee, and then . . .
There's a yelp of joy and a dance of delight.
Into the wild yard, you venture, lured by ancient fears and fascination. Though it's safer to stay where there's central heat and insulated walls, why not explore the back yard during the worst of the storm? Rain pours, leaves shiver, the garden floods, the lawn transforms into momentary swamp, and you think . . .
Why did I ever think I was in control? Continue reading →