John 20:1-18 (along with Luke, Mark and Matthew) – Easter – for March 31, 2013

"Early on the first day of the week . . ." (John 20:1)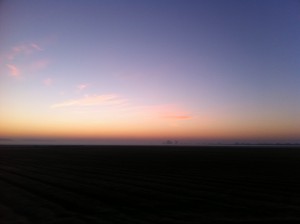 What Gospel will you read when Easter's dawn teases the new day?
Will you choose Easter celebration or Easter mourning?
When I served in churches, I'd search for Easter's official time even before Lent began. After all, sunrise in Fresno, California will be "later" than Fargo, North Dakota.
I liked discovering the official civil twilight. Civil twilight is a naval term for the first (or the last) glimpse of a defined horizon:  Night is over, but it's not yet dawn. Whenever Easter appears on the calendar, and wherever I lived, knowing when civil twilight began helped me choose the time for Sunrise Service.
On March 31, 2013 in Fresno, California civil twilight will be 6:20 AM. Sunrise arrives twenty-six minutes later at 6:46 AM. Ta-da! Now you can plan your celebration (at least if you live near me)! Quick, post the time on your church's web page. Of course, you may choose to ignore this data and start at another time because of your church's we've-always-done-it-this-way tradition or your personal pastoral preference to maximize beauty rest. Or you're a layperson and want to complain about how early or late Sunrise Service is because you have the facts about exactly when dawn will knock on Easter's door! You choose.
But let's return to civil twilight to understand another choice. The Earth spins at over a thousand miles per hour and you—whether Fresno, Fargo or far, far away is your zip code—stare toward the east. Brace yourself. Traveling at the speed of the Earth's spin is not for the faint of heart! In the dark you wait, expectant for the first glimpse of light.
Will you delight in the new day or will you have regrets? What awaits?
And what will you read from scripture that truthfully prepares you for this particular year's Easter? Hurry, the light's coming. Choose! Continue reading →