John 20:19-31 – 2nd Sunday of Easter – for April 12, 2015

"After eight days his disciples were again in a house and Thomas was with them…" (John 20:26)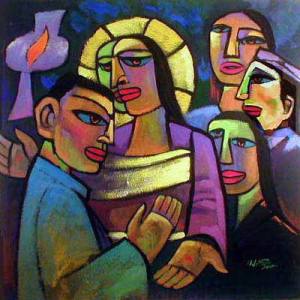 Why can't I ignore the disciple Thomas?
Each year, when reading the scripture for Lent, and then plunging into the intense, familiar verses about Palm Sunday, Maundy Thursday, Good Friday, and Easter, I rarely think about Thomas. Indeed, with a few exceptions—Peter's bumbling betrayals, Judas' fatal scheming—I'm hugely focused on Jesus.
Of course I am!
The scope of Jesus' ministry expanded when he arrived in Jerusalem for his final visit. His disciples drank too much at "the last supper" and spent part of the night asleep in the Garden of Gethsemane, physically in a stupor when Jesus prayed and collectively helpless at his arrest. Then, and elsewhere, his devoted followers barely mattered. Soon enough, they'd literally vanish, cowards or clever or both. But what matters in all the Gospel accounts, with the cross looming and Jesus' crowd-pleasing teaching and healing a distant memory, are the manipulations of the entrenched religious authorities and the raw power of the Roman empire.
Who will prevail? Continue reading →