Luke 2:22-40 – The First Sunday of Christmas – for December 28, 2014

"When the time came for their ritual cleansing, in a accordance with the Law from Moses, they brought Jesus up to the Jerusalem…" (Luke 2:22)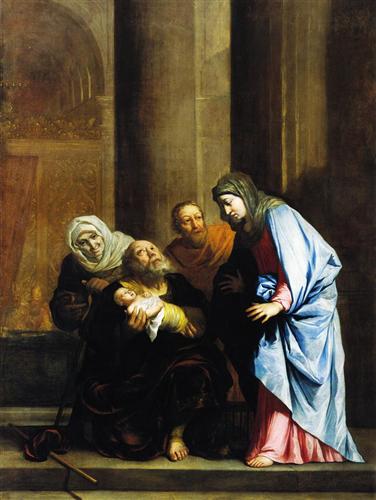 "Wait here for a moment," Joseph said, "I forgot to, need to . . ."
He didn't finish his sentence. Not to her. With a word or glance, she might stop him by shaming his anger or calming his fears.
Mary nodded, hugging Jesus closer to her chest.
Joseph rearranged the blanket around the infant's face. His hands—with their map of scars, grit he could never wash out, and the stump where he lost his left little finger while a carpenter's apprentice—gently stroked Jesus' smooth cheeks. He also caressed his wife's face. His wife and their newborn were so beautiful, each a gift that Joseph didn't deserve. And yet here they were, together. Wasn't he all that stood between the worst of the world and their dreams for the child? Well, maybe he and God would protect this miracle family, but the Almighty had secretive ways, and terrible silences.
Mary dutifully waited on the temple's expansive courtyard. Around her, as with most days, construction continued on Herod's pet projects. The temple, its glistening, sculpted stone reaching toward heaven, had been finished in less than two years a generation ago. But the open areas around the towering edifice were being expanded so merchants, beggars, and pilgrims had more room to bargain with or boast to each other. There were stairways everywhere. How could they all lead to different streets into the city? Jerusalem made Nazareth seem puny.
Joseph entered the temple, eyes again adjusting to the dim inner light, the flickering oil lamps and shards of bright sunlight. As before, the stench of sweat from weary humans, incense from mysterious rituals, and endless burnt offerings irritated his nostrils. To his left, a Levite chanted the Psalms. To his right, a barefoot, beardless man, taller and much younger than Joseph, stood alone. Two fat turtledoves dangled from his hand, the birds fluttering and fussing, unaware of their impending doom. Maybe the barefoot man-child was confused about what to do next, just like Joseph had been a short while before. At another time, Joseph might have assisted him.
But Joseph's plans urged him forward, and his family waited where there was a constant crowd of pickpockets and whores. Continue reading →