I don't want to forget the fear.
On the final morning of a church backpack I led, by a Sierra Nevada lake four pleasant downhill miles from the trailhead and trip's end, I became lost.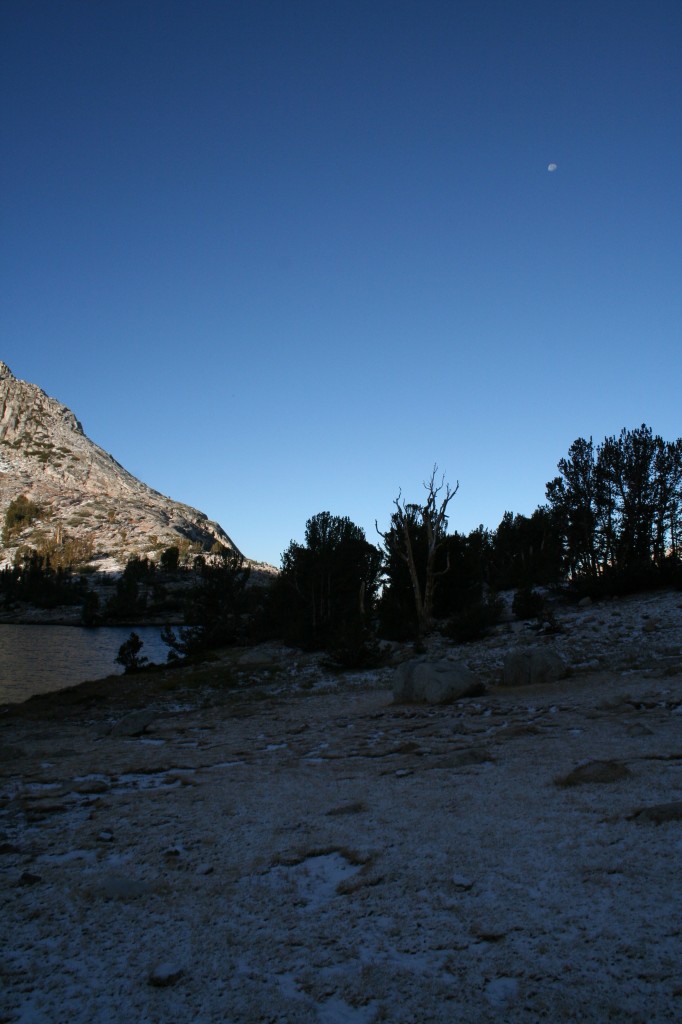 Since then I've reviewed the actions that inexplicably transformed a routine morning jaunt to standing anxiously at the edge of an unfamiliar lake. No. Not anxiety. What gripped me was primal, relentless fear. A fear that kept shoving logic, inch by inch, beyond reach. A fear that made any sound threatening and every silence even worse. A fear that caused the friendly lodgepole pines and stately Douglas firs to blur together into a foreboding green and brown wall.
The morning began with a stroll for my "constitutional." With toilet paper and trowel in hand, I made a series of mistakes. One blunder (ignoring landmarks around me) added to the next blunder (meandering further from camp than necessary into an area I hadn't explored). Worst of all, when I finished my "business," I didn't pay attention to my first return steps, instead reminiscing about yesterday's thunderstorm and the next day's obligations. Dreamily pondering, I could've been sitting in my office or walking around the block.
But I was in wilderness. Middle Blue Lake*, where we camped, went from right there to where the heck is it?
I love California's Sierra Nevada. I've hiked the Cascades and Olympics in the northwest, the rolling Porcupine Mountains of Michigan, the rugged New England stretches of the Appalachian Trail, and the "inverted mountain" of the Grand Canyon, but the Sierra remains home. The joyous interplay of sky, granite, light, and water beckon me for rambling hikes and demanding backpacks.
But there I was, probably no more than a quarter-mile from Middle Blue Lake and the companions I journeyed with, adrift in the woods. I yelled and whistled. No response. I stood still, attuned to any familiar sound. Nothing.
Then I ignored the advice of the experts: stay where you are when disoriented. After all, being lost and acting stupid are always eager to make plans together. So I started tramping through the woods, my heart pounding louder than a woodpecker searching for dinner. After slogging through dense trees and thick underbrush, I proved the experts wrong. I found a lake. Well, half wrong. The lake I stumbled onto, about the size of a baseball infield, was definitely not Middle Blue Lake. Continue reading →