Luke 15:1-3, 11b-32 – The 4th Sunday of Lent – for March 10, 2013

"There was a man who had two sons . . ." (Luke 15:11)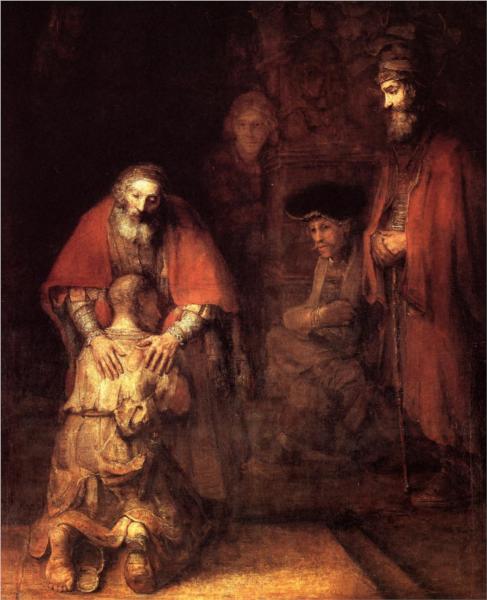 Please complete the quiz on Jesus' Parable of the Prodigal Son found below.
(This is not an open book test. Keep Bible closed. Only give answers based on prior reading or your random, desperate guesses.)
 A. Circle how many characters speak in the parable:
2Â Â Â  3Â Â Â  4Â Â Â  5
B. Where does this Parable take place (check all that apply):
___ John's Gospel
___ In other families
___ Luke's Gospel
___ Only way back then
___ Mark's Gospel
___ In my family
___ Matthew's Gospel
C. Though known as the Parable of the Prodigal Son, a better title for this story would be: (choose one answer)
___ The Dysfunctional Family
___ Don't Judge Me Until You Walk A Mile In My First Century Sandals
___ Unforgiving Jerk Of An Older Son
___ (bonus point) Your title suggestion: _______________
*Â Â Â  Â  Â  Â  *Â  Â  Â Â  Â Â  *
In his insightful 2004 book "The Four Things That Matter Most," physician Ira Byock wrote, "I have long thought that the phrase dysfunctional family is redundant." After reflecting on Jesus' The Dysfunctional Family parable for the 4th Sunday of Lent, I couldn't agree more with Dr. Byock.
Dysfunctional.
Family.
Same thing, eh? So often, when reading the stories of my faith, dysfunction is the rule, not the exception. From the get-go, Eve and Adam and their odd clan made a mess of things. Imagine yourself as a younger sibling of tricky Isaac and dufus Esau. How'd you like to join King David's family? Royally weird! Or there's Noah's drunkenness, Abraham's claim that his wife Sarah was his sister in order to placate a pharaoh, Joseph's slap-happy brothers tossing him in a pit, the disciples of Jesus and their constant grumbling and dear old St. Paul and his thinking one thing but doing another. Continue reading →