Acts 10:44-48 (and also earlier in Acts 10) – The 6th Sunday of Easter – for May 13, 2012

"…the gift of the Holy Spirit had been poured out even on the Gentiles." (Acts 10:45)
In order to fully appreciate what prompted the very Jewish Peter, a.k.a. the future first Pope, to declare that Gentiles—non-Jews!—were acceptable for baptism (Acts 10:44-48), I backtracked a few pages and verses.
Earlier in his ministry, Jesus bequeathed a new name on Simon the fisherman. Simon became Peter the disciple. In Greek, Peter means "rock." Jesus famously called the erstwhile angler a "rock upon which I will build my church." Aha! Pontiff #1 was a "rock star."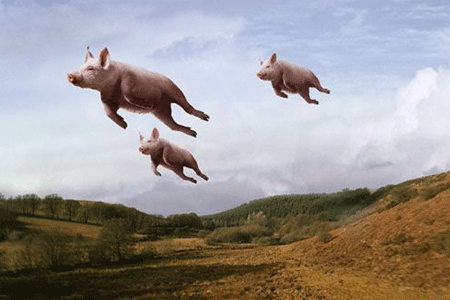 Peter-nicknamed-Rock also seemed to have stones for brains. After all, the traditional first Pope of the Roman Catholic Church—eventually known as Papa, Summus Pontifex, Pontifex Maximus and Servus servorum Dei—was the same guy who lied about Jesus. The future Pontiff #1, warming his hands around a fire while religious bigwigs grilled Jesus, denied knowing the preacher from Galilee (Luke 22:54-62). Old Rocky didn't lie once, but three times . . . and it makes me weep every time I read it. Indeed, Luke reported that Simon Granite-for-Brains Peter also wept after lying, lying, lying.
And yet I'm grateful for Peter's deceit and tears. As a sometimes less-than-honest and occasionally weepy modern day follower of Jesus, I'm glad to share some dubious character traits with Pontiff #1.
There's more to Peter's rocky start. Before Saint Metamorphic changed his mind and announced baptism could be a full-service sacrament in Acts 10:44-48, he grappled with a dietary dilemma. Near the beginnings of that chapter he did what proper Jews then and now do: he prayed. At noon, according to the Bible, he'd trudged up to the roof of a building and went about his ritual of prayer.
And lo, his prayers were answered . . . or weren't answered?
Praying can be a dangerous endeavor. Whether through traditional words, in humble silence or even when we spontaneously blather on, confessing or justifying mistakes, prayer means we're conversing with God. However The Lord God Almighty can be notoriously cranky with the Divine side of the chat. Or perhaps, to be a tad more reverent, the Holy One is oft mysterious and unfathomable.
But I'll stick with cranky because sometimes . . . I pray, but God seems silent, indifferent. It gets worse. I pray, fervently or routinely, and God answers. But it's not the answer I wanted! Continue reading →