Matthew 21:1-11 – Palm Sunday – for Sunday, April 9, 2016

"Now a large crowd spread their clothes on the road. Others cut palm branches off the trees and spread them on the road." (Matthew 21:8)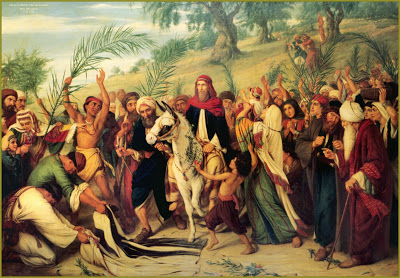 Soon there will be fists.
But first there were palms. Open. Fingers spread. Waving.
With those palms waving, did hoarse voices bellow, "Look here! Remember me, Jesus?" Or were the loud words, "God bless you! Thank you, Jesus!" Wouldn't that second variation be closer to the Biblical Hosanna?
Hosanna! Palm Sunday!
Did those witnessing Jesus' arrival wave leafy branches or palm leaves? (Only John referenced palm trees, the—in Greek—phoinix)? Some, according to several Gospels, placed cloaks on the road. Whether it was a few supporters or a rambunctious crowd, the Gospel writers depicted the greeters honoring Jesus. However, the honor was tempered by humility. There's that colt he's astride rather than a stallion girded for war. And the cloaks on the ground were, well, clothes still sweaty and dirty from wear. Nothing fancy. No red carpets. No paparazzi. Continue reading →