John 20:1-18  – Easter – for Sunday, April 20, 2014

"Mary Magdalene went and announced to the disciples, 'I have seen the Lord . . .'" (John 20:18)
Did Mary pause and turn for a last glance at Jesus before she left the clearing around the tomb?
I would've.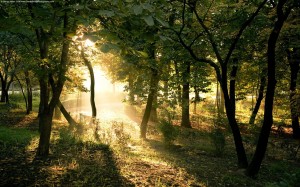 After Mary realized Jesus wasn't the gardener, he'd shared reassuring words. He'd instructed her to seek his disciples—"my brothers," John's Gospel had Jesus say—and to give them a message. In the fourth Gospel's take on the resurrection, Mary is the only woman at the tomb. The other three accounts have more and different visiting women. No other Gospel mistakes Jesus for a gardener. Matthew includes at least one tomb guard. All the Gospels describe men (or a man) in white waiting in (or by) the tomb. They are angels, or they are not. For my faith, imagination serves an essential role in (barely) comprehending the resurrection. I don't think any Gospel writer lied, or had the "better" or more "accurate" resurrection tale. And the four Easter stories—as we casually do with Christmas—shouldn't be tossed into spring blender so that, like the shepherds and magi, everyone appears at the same place with the same purposes.
I embrace imagination. No one knows what happened. Except you know how you react as you read these early morning moments.
And so I read John's version.
Mary was leaving to give Jesus' disciples a message.
Because I'd look back, I imagine she did. Continue reading →