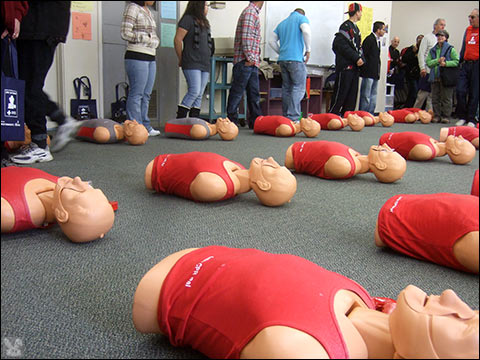 Several years ago, I earned my official card.
But, then and now, I hope the time to use the learnings from my earnings never arrives.
The card? It's similar to a regular business card or like one of those coupons a pizza joint provides for a free family-sized pie after ten purchases. It has a white background with tiny black lettering. There's a distinctive red symbol on the left side. Underneath Larry Patten (yes, my name) and next to the Red Cross' red cross are the fancy words, "has completed the requirements for CPR/AED for the Professional Rescuer and the Healthcare Provider."
After an 8-hour Red Cross training session, I can perform CPR. Cardiopulmonary Resuscitation. And I know how to use the AED device. Automated External Defibrillator. The AED—modest in size, mighty in purpose—sends an electrical shock into the body. Used properly, an AED can be the literal heartfelt difference between life and death.
At least, that's what the card with smallish print claims is now part of my skill-set. But I beg you, please don't collapse onto the recently mopped floor of the local mall, unconscious and unresponsive while doing your holiday gift buying. Yikes! Other shoppers might gawk or scurry away. But I'm the dude with the official card.
Or would that be dud?
I did pass that test! I do know the drill! Continue reading →