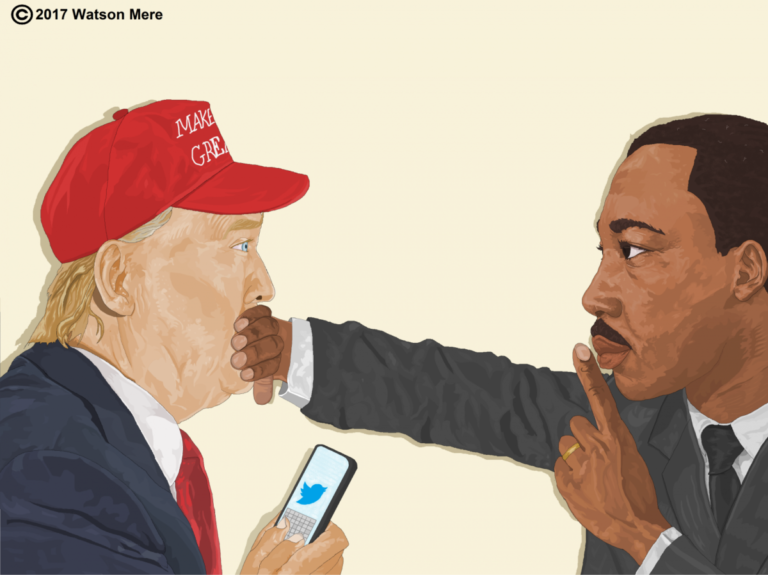 Can I avoid politics?
Probably not. (How can one avoid being political, if trying to follow Jesus?)
When—along with a zillion social media users and abusers—I stumbled onto Watson Mere's 2017 artwork, "My Brother's Keeper," my partisan spidey-senses tingled. Its depiction of Martin Luther King Jr. hushing President Trump was blatantly political. As the website Good explained,
The American-born artist of Haitian descent living in Philadelphia created "My Brother's Keeper" right before the Women's March—and Martin Luther King Day—in January.
That would be 2017's January.
With viral intensity, Mere's image resurfaced in August of 2017 after the clashes between protestors and white nationalists in Charlottesville, Virginia. For many, it was also a perfect visual for responding to the President's alleged—and behind "closed doors"—derogatory January 2018 comments regarding other countries. Those countries included Haiti, where Mere's parents were born and raised.
A women's march, and a cry for equality.
A response to protests centered around hate.
Anguish over possible inflammatory language.
Mere's "My Brother's Keeper," for current American culture and within the real and imagined perceptions of our global neighborhood, is compelling. And simple. And biased. Two powerful people from different eras, with different values. One white, one black. One is the poster child for American exceptionalism and bluster. The other is a poster child for national humility and nonviolence. And, of course, depending on your political bent and personal beliefs, you will view my conclusions about Trump or King as righteous or wrong. Continue reading →