John 14:15-21 – The Sixth Sunday of Easter – for Sunday, May 21, 2017

"I will ask the Father and he will send another Companion . . ." (John 14:16)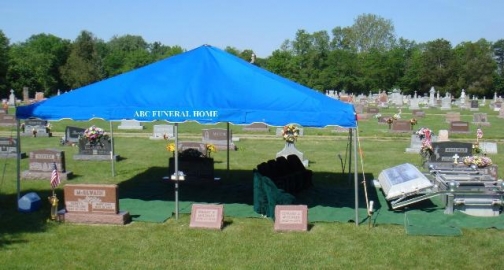 I haven't used John's fourteenth chapter at every funeral, but there have been quite a few occasions when it was read.
The mowed grass of a cemetery, with endless stone markers as sentinels, sprawls green to the horizon.
In the graveside and memorial ceremonies I handled as a young pastor, I probably chose snippets of the fourteenth chapter because of their inclusion with the suggested scriptures for "Death and Resurrection" services in the United Methodist Book of Worship.
The grave's freshly dug earth is piled in a mound, moist and wet. The dark brown hump is covered by a blanket-sized swathe of artificial grass. It never disguises the obvious contents.
Though I wonder if I opened the Bible to the middle of John because the passage had been part of movies or TV shows. If it was good enough for Hollywood funerals, it was good enough for me?
A canopy has been erected, with slender silver poles supporting the canvas material, stretched tight and secure. The family has shade from the sun (or protection from rain). Several rows of folding chairs, each slightly askew on the uneven ground, face the coffin.
John 14 also contains, in its opening, one of the most familiar of all Gospel verses: In my Father's house are many mansions: if it were not so, I would have told you. I go to prepare a place for you. How could any pastor, young or old, arrogant or humble, an angry bible-thumping preacher or a kindly absent-minded priest, not want to reassure the grieving family about a mansion awaiting their beloved?
The women of the grieving family sit on the metal chairs. Mostly, the men stand. Children fidget, maybe whispering to parents, negotiating to see if they can leave for some hide-and-seek on the inviting lawn. A boy—it's usually a boy—escapes from his parent's grasp and begins exploring the temporary "mountain" created by the grave's dirt. His father, face streaked with tears, scoops up the child and returns him to the seat by the mother. Each of them is unhappy for different reasons. Continue reading →