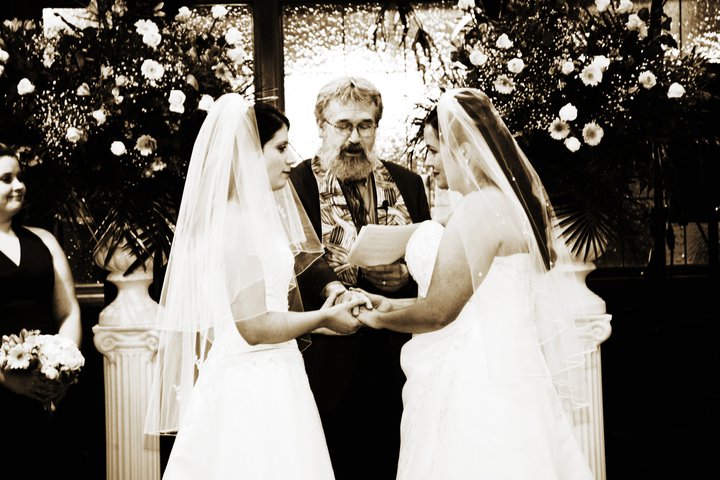 I have married hundreds of women.
No, I am not some fool for false love, careening from one relationship to another, tying the knot as quickly as I untie it.
I am a United Methodist pastor and, in the quarter century of my ordained ministry, I have helped numerous people get married.
I wrote this essay 10 years ago. I think a few magazines rejected it. Poor writing or too wordy . . . who knows!?  But today, after the Supreme Court's decisions about gay–make that human–rights, I wanted to reprint it, to recollect my decade-ago thoughts. My own tribe, the United Methodist Church, still doesn't allow same-gender marriages. Sigh. Indeed, my bishop aimed a quick digital "pastoral letter" today (June 26) at my clergy colleagues and me about not being hasty with encouraging folks in love to say, "I do." (Sorry, Bishop, it's too late. I've married same-gender couples early and often. Please note the picture of my lovely friends Susan and Kimberly from several years ago. And also apologies to the United Church of Christ's PR campaign that first used the "comma" metaphor. I'm a bad boy, with my marrying and stealing ways…)
So far, the majority of those celebrations involved a man and a woman becoming, in the eyes of the church and the civil government, husband and wife.
But in the last few years some of the relationships I celebrated were between a man and a man, or a woman and a woman.
Holy unions. Same-sex ceremonies.
While the Protestant denomination I serve gives mixed messages about homosexuals, the God I serve, in my understanding, provides extraordinarily clear messages about the importance of relationships between two people, regardless of their sexual orientation.
In the United Methodist Church we are guided by a document called the Discipline. In the Discipline these two statements are found:
Homosexual persons no less than heterosexual persons are individuals of sacred worth.
Although we do not condone the practice of homosexuality and consider this practice incompatible with Christian teaching, we affirm that God's grace is available to all.
A bit contradictory. As a United Methodist clergy, my officiating at a holy union is currently forbidden. It is a "chargeable offense," just like child molesting or absconding with the church's funds, and I could lose my ordained status if I stand before two men who are in love, in a sanctuary, vowing "till death do us part." However, we United Methodists aren't unique. Other Protestant denominations may be more condemning or less confusing with their official words, but nearly all Christian churches prevent their clergy from blessing same sex ceremonies.
But I have done and will continue to do Holy unions.
I believe that God calls us to be in covenant relationship with each other, both with diverse faith communities and as two individuals. I believe, even as someone who has been divorced, that we are called to be in lifetime covenants. As a divorced person, I know the personal cost of a failed relationships, but I also believe that Jesus' demanding words on divorce and marriage reported in the Gospels (such as Mark 10:5-12) are not as central as his more numerous sayings on forgiveness and mercy. Now having been married for nearly twenty years, I know the good, hard work of a lively, life-giving commitment. I am thankful to have a partner who puts up with my foolishness and foibles.
Everyone should have that blessing.
And frankly, I'd also like to get out of the whole marrying "business." One of the insignificant—but truthful—reasons I enjoy holy unions is that they have nothing to do with civil law.
In ministry I take only one action where I am the representative of more than the church: signing, stamping, and sending in a marriage license. No government cares for my signature on a baptismal certificate. Neither a hospital nor a police department has ever asked for my autographed seal of approval for someone's death. Yes, we modern ministers still do all the "hatch, match, and dispatch" duties like clergy have done for centuries, but only the matching, the marriage, requires our legal witness. When I marry a man and a woman, I help them create a legal union in the eyes of the state—and oh, by the way, also in the eyes of the Holy. Thanks, but no thanks! Let me just do the holy part, please.
A joy of ministry—whether it's Christian, Jewish, Muslim, and so on—is participating in life-changing events. I have watched children born that weeks later I baptized. I have been at the bedside of a grieving family when the last spoken words of love came from a dying parent to middle-aged child.
Standing before a man and a woman, or a man and man, or a woman and woman, to help them affirm a relationship is humbling. As I interpret the glimpses of Jesus' ministry recorded in the gospels, I see a great emphasis on relationship. Yes the gospels have Jesus clearly speaking about marriage between a man and a woman. But is the gender of the two in the relationship as important as faith and fidelity? Some will take their dose of the Bible literally, and stab their fingers toward certain verses to prove that only men and women should be matched, but I like what "theologian" Gracie Allen said to husband George Burns in a letter shortly before she died, "George, never place a period where God has placed a comma." I believe holy unions come after the comma.
Equal rights to people of color came after the comma. Women ordained as clergy came after the comma. Interracial marriage came after the comma. Humans have focused far too much on one restrictive form of "sacred" punctuation. How ironic that our original Biblical manuscripts, in the Old or New Testaments of ancient Hebrew and Greek, had no punctuation at all.
Certainly, the ceremonies in Jesus' time were between a man and a woman. But remember, those same ceremonies were often arranged marriages (and I've never done pre-marital counseling where only fathers were present to negotiate the dowry's details). And those Biblical marriages that some say represent the "standard," treated women as property (and no woman I've married in the last 25 years thought she was saying I do to her new owner . . . "Yep, she's got a little mileage on her, but I'll take her anyway . . .").
My understanding is that clergy have historically signed marriage licenses because they were often the only literate person available. In the history of Christian marriage there are dubious benchmark moments like Lord Harwicke's Act of 1754 in England. That law prevented the marriage of minors. You had to get a clergy signature to prove you were of legal age. Inevitably, that caused hordes of the illegally aged to scurry across the border to Scotland to get hitched in the highlands. Oh well, every time there is a clash between the law and love, guess which one prevails?
Then again, in more modern times, according to Larry Peterson's The History of Marriage As An Institution, "as late as 1930, twelve states allowed boys as young as 14 and girls as young as 12 to marry (with parental consent)." Who needs clergy approval when passion, and a desire for a lifetime commitment, arrives just past puberty! How heterosexuals treat the so-called institution of marriage can be as crass as the next Las Vegas-bound couple standing before an Elvis impersonator and as bankrupt as a family taking out a second mortgage to pay for a few white dresses, swell tuxedos, and enough liquor for Jesus to rethink the water-into-wine miracle at Cana's wedding.
I say, let the local governments sign folks up for the legal needs of one person marrying another. But don't come to me for a signature.
But do come to my office if you want a holy, humbling, honest celebration of your relationship. Come to me where I can ask questions about trust and raising children and staying as individuals even as you create a covenant between two distinctive personalities. I look forward to ceremonies where my signature is meaningless and it's the clerks at the county records office that handle the documentation.
Let me help people rejoice in the mysterious bonds of love.
Let me marry hundreds of more men and women. And men and men. And women and women.
Let the institution of marriage proclaim—for all who are blessed by seeing glory in the eyes of another—the high, holy cost of loving for better or worse, for richer or poorer, in sickness and in health, till death do us part. We will be a better people, a better church, and a better nation when love's vows are equally dared, declared and shared.