Psalm 23 – The Fourth Sunday of Easter – for May 11, 2014

"The Lord is my shepherd, I shall not want . . ." (Psalm 23:1)
Psalm 23 is an old friend, following me throughout my ministry's journey. Indeed, even before ordination, Psalm 23 frequently starred in Sunday school lessons. As I kid, I might've wished for the Lord to act like a cowhand more than shepherd (since my grandparents' ranch had cattle), but I understood the meanings . . .
How comforting that the Lord is my shepherd.
I easily picture green pastures, imagine still waters.
My cup overflows; goodness and mercy shall follow me.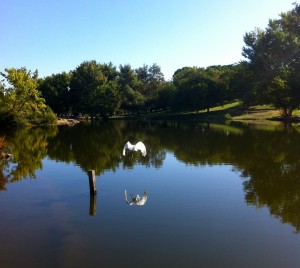 Psalm 23 is like a favorite pair of jeans.
It's comfort food, the macaroni-and-cheese of sacred scripture.
How each believer views the psalm's still waters may be different, but every distinctive memory inspired by the ancient words calms and soothes. In the six spare verses, we can be transported to a favorite beach, to the bend of a placid river, to the view of a mountain lake when the sunset paints the water gold.
*Â Â Â Â Â  *Â Â Â Â Â  *
In the year after my ordination, I was an intern in a church, a newly minted clergy testing the ministerial waters. Three other full-time pastors served the bustling church. Except for one wedding, my more experienced colleagues celebrated every "I do" event. No one trusted me with a baby (let alone an adult), and I didn't do a single baptism. I preached once, with my faulty memory recalling it as of those splendid summer Sundays where every preacher was on vacation and guess who's left to proclaim the good news?
One wedding. One sermon. Zero baptisms . . . but wait! Continue reading →