John 13:31-35 – The Fifth Sunday of Easter – for Sunday, April 28, 2013

"Just as I have loved you…" (John 13:34)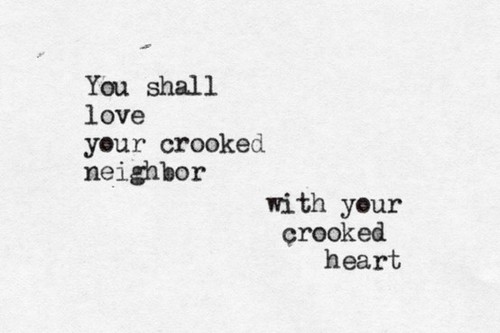 In John's Gospel, immediately after Judas departed the upper room—departed to sell Jesus out to the first bidder, departed to become one of the best or worst known disciples, departed because of his fetid fears or selfish schemes—Jesus summed up the good news in 6 words.
In the upper room, Jesus had gathered his disciples.
In the upper room, Jesus had washed their feet.
In the upper room, Jesus had broken bread and shared wine.
In the upper room, 6 stunning, simple but never simplistic words were shared. (At least 6 in English!)
You do know those 6 words, don't you?
Just as I have loved you.
Or maybe you need the context of the entire verse:
I give you a new commandment, that you love one another. Just as I have loved you, you should also love one another.
Familiar now? It's the new commandment. It's a variation of the Golden Rule. It's so easy to say and so hard to accomplish.
It's really not the Golden Rule. Isn't love your neighbor as you love yourself the Golden Rule?
Or this gilded Biblical request:Â  Do unto others as you would have them do unto you (Matthew 7:12).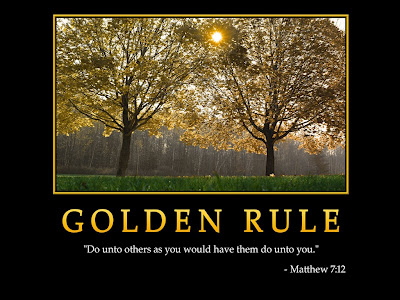 Even more ancient, how about Leviticus 19:18's You shall not take vengeance or bear a grudge against your kinsfolk. Love your neighbor as yourself: I am the Lord.
To be non-Biblical, there's Confucius with . . . Never impose on others what you would not choose for yourself.
I could keep scouring the Internet or my bookshelves for more insights. But any version of the gilded rule is usually based on me. Treat others like I want ME treated. Do I mean the ME who's thoughtful, helpful, kind, compassionate and humble? I like that ME! ME can be so good! However—and you can guess what's coming next—there's another ME. Uh-oh. The guy that's full of himself, that if he's not always right, he can at least be loud. The ME that mirrors the ABCs of human foolishness: Arrogant, Bombastic and Conniving. (Hey, I could find an awful but honest description of ME with every letter of the alphabet.)
Which ME do you want me to be whenever I treat you with my skill set? Loveable Larry or Larry the Lunkhead? Continue reading →