Matthew 15:(10-20), 21-28 – The 10th Sunday of Ordinary Time – for Sunday, August 17, 2014

"Yes, Lord, yet even the dogs eat the crumbs that fall from their master's table." (Matthew 15:27)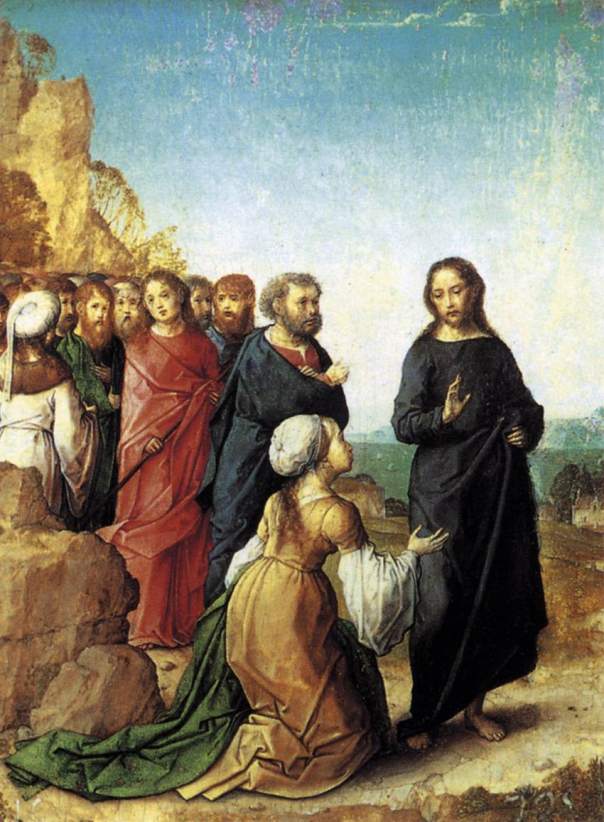 First, Jesus ignored the woman . . . But he did not answer her at all.
Then, Jesus claimed she wasn't on his to-do list . . . I was only sent to the lost sheep of the house of Israel.
Finally, Jesus insulted her . . . It is not fair to take the children's food and throw it to the dogs.
The third time certainly wasn't charming for the person known in Matthew as "the Canaanite woman." According to Prince of Peace, the Lamb of God, the One who would become the Christ, she apparently was no better than a wayward mongrel, scrabbling for discarded food.
Usually, when I read these unnerving and stark verses, I admire the courage of the Gospel writer to show Jesus in an unflattering light. I am enthralled with Jesus's change of mind. For here, in the middle of Matthew, there was odd evidence that flamed doubt about Jesus being "perfect." Here, readers witnessed Jesus not as fully divine and fully human, but far from divine and frustratingly human. How fascinating to debate what this meant (and means) about Jesus, whether we're in seminary diligently studying for the ministry, pulpiteering in a church with far from divine and frustrating humans, or cornered by a grumpy agnostic at a garage sale.
How 'bout that irksome, insulting, irritating Jesus!
And yet today, in this next reading of a familiar passage, I'm not much interested in Jesus and his heartlessness or in his change of heart.
It's that woman. Continue reading →