John 20:19-31 – First Sunday after Easter – for April 7, 2013

"A week later his disciples were again in the house, and Thomas was with them . . ." (John 20:26)
This is from the Gospel of Mark's (3:13…) list of Jesus' disciples:
Andrew
Bartholomew
James
James (son of Alphaeus)
John
Judas
Matthew
Peter (or Simon)
Philip
Simon (the Cananaean)
Thaddaeus
Thomas
For completely manipulative reasons, I put Mark's list in alphabetical order. I'll explain my manipulation later.
But, whether alphabetical or as written by any of the Gospels, name for name, Matthew (4:23…) agrees with Mark's list. Luke (6:12…) apparently swaps Thaddaeus for Judas, son of James. The Gospel of John has no list.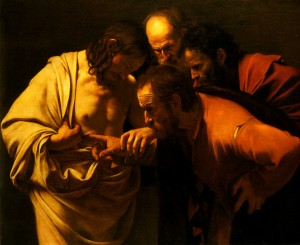 Of the above listed disciples, whom would you prefer to write an essay about?
Maybe Peter? He's probably the best known. Judas, infamous, will forever intrigue people within or outside the Christian faith. If I wanted an essay to be blessedly brief, I'd finger Thaddaeus. Who? As noted, Luke's list doesn't include him. The only place Thaddaeus received recognition occurred in Mark and Matthew where he landed on their top twelve roll calls. Unless I concocted juicy stuff about Thaddaeus, my essay could be completed in a terse paragraph.
And then there's Thomas. If only Mark, Matthew, and Luke were read, Thomas would be as familiar as Thaddaeus. Who?
But John's Gospel puts Thomas front and center. Or maybe, it's more correct to say John's Gospel puts Thomas front and off center.
During many Easter seasons, in the Sunday after the resurrection is celebrated, when the lilies have wilted and the sanctuary's less crowded, Thomas (from John 20:19-31) makes one of his pivotal appearances. And he does seem off center, for he alone—according to John—had not yet seen the risen Christ. Thomas will claim that unless he sees "the mark of the nail" in Jesus' hands, he won't believe.
The doubter. Doubting Thomas. Continue reading →