Luke 23:33-43  – 26th Reign of Christ/Christ the King Sunday – for November 24, 2013

"He replied, 'Truly I tell you, today you will be with me in Paradise.'" (Luke 23:43)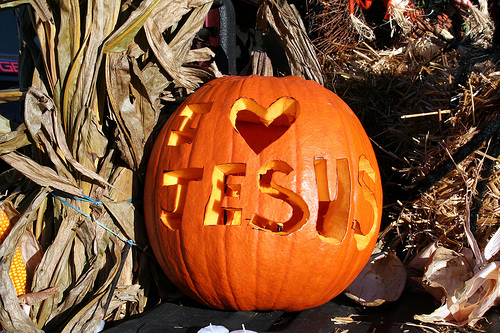 It is November. Isn't it?
When they came to the place that is called the Skull, they crucified Jesus there with the criminals.

The summer heat in Fresno has booked a flight to Australia, but the Central Valley has yet to flaunt its (in)famous wintry fog. It's a transitional season, the peculiar time when the oranges on the citrus trees still have traces of green and the green foliage on the deciduous trees are tinted orange. Autumn shrugs its shoulders and the leaves drop like dandruff. In every neighborhood, pumpkins anchor doorsteps. They once starred in Halloween and now remain, anticipating Thanksgiving. It's a restless threshold time. We wait . . . for thick fog, for raking leaves, for fresh snow in the mountains and for the coming of Advent and Christmas.
The soldiers also mocked him, coming up and offering him some wine, and saying, "If you are the King of the Jews, save yourself!"
Reading the lectionary in November always seems unsettling. Just when you're creating your grocery list for Thanksgiving or you're dreading that it's your turn to host the family Christmas gathering, Jesus arrives. He's not the cuddly infant, but the battered Roman criminal nailed to a cross. Ordinary Time limps away; Advent hasn't yet begun. In between, we are dragged toward the place called the Skull, and "suddenly" Jesus hangs between two criminals.
This brutal scene from Luke's Gospel could be ignored. Indeed, these seasonal transitions are easy for many folks . . . just let the Halloween pumpkins linger for Thanksgiving and then scoop out the gourd's innards for fresh pie at Christmas dinner. Easy as 1-2-3, right? (Well, easy except for those darn goopy seeds.)
Exchange the supermarket's pilgrim and turkey posters for Santa and his reindeer.
Let Nat King Cole and Bing Crosby start crooning carols in the malls to encourage shoppers to buy early and buy often.
Yes indeed, it's ye olde seasonal switcheroo. Again, easy.
The cross-bound, broken and bloodied Jesus? Hmmm? Not so easy. Continue reading →