A few years ago I attended a Mormon church down the block from my home. I checked their website before going. Glad I did! On their page, the Latter-Day Saints' (LDS) website suggested wearing "Sunday best" for those attending Sacrament Service.
What is your "Sunday best?"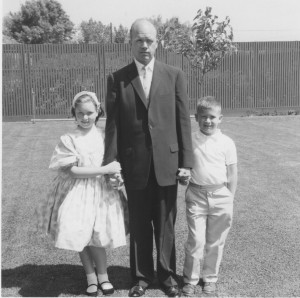 OK, I did wear nice clothes: creased pants, shined shoes, and I was color-coordinated. What a guy.
I'd rather not go "fancy" to worship, though it's more than an LDS website that challenges me. I can easily hear the echo of my parents' voices . . . make sure to dress for the occasion!
I think of the passing mention about what Jesus wore in John 19:23. When the soldiers at the cross divided Jesus' garment, the Gospel said it was, "seamless, woven in one piece from the top."
In my long-ago Sunday school days (of course always wearing my parents-required Sunday best) I assumed the garment must have been "special." Nope. Common clothes. Jesus wore what everyone else wore. Simple. Plain. Far from "special."
What is "Sunday best?" I say, come as you are. Simple. Plain.
And back to the LDS. In a Newsweek article (Feb. 11, 2008), the then recently deceased LDS President Gordon B. Hinckley was remembered and appreciated. A quote about him said, "He implored people to be better—to be kinder, more forgiving, more inclusive. And he led by tireless example."
That, I think, is the best "Sunday best" to wear. Not clothes, but wearing and living out a humble attitude and honest faith.