Acts 16:9-15 – The 6th Sunday of Easter – for Sunday, May 5, 2013

"A certain woman named Lydia, a worshipper of God, was listening to us…" (Luke 16:14)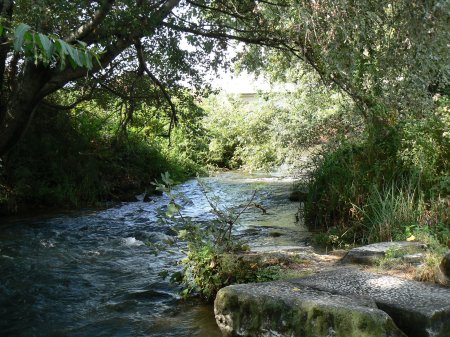 Along the banks of the Gangitis River, in the district of Macedonia, a certain woman named Lydia heard Paul's first-century message about the good news of Christ Jesus.
Soon after, Lydia and her household were baptized.
Which made her, based on the stories shared in the Acts of the Apostles, the first woman baptized on the European continent.
In Acts, Lydia spoke a singular sentence:
If you have judged me to be faithful to the Lord, come and stay at my home.
At the end of the 16th chapter of Acts, the only chapter in the New Testament where her name appeared, she was referenced once more. Following a brief stint in the local slammer, Paul and his companions beelined for Lydia's home. Then, after an interview or two by eager Macedonia-based reporters, an update of his blog and Facebook page, Paul and his buddies skedaddled from Phillipi.
Lydia was never heard from again. Like Tabitha (also a woman named in Acts), she was a charter member of the club of obscure New Testament women. We know little about Lydia, other than she was . . .
A woman
In Macedonia
A seller of purple cloth
Wealthy (or indebted) enough to have a household
Someone who met Paul
Baptized
And, with apologies to everyone else that speaks better Spanish than me, her singular statement was a variation of: Mi Casa Es Su Casa.
My home is your home.
I assume Lydia's life changed for the better, but that is only and forever an assumption. After all, she left the story.
I assume Paul's encounter with Lydia influenced his life for the better, but that is only and forever an assumption. After all, she's only mentioned in chapter 16 and doesn't appear among the friends and co-workers listed in the letters attributed to Paul.
It's easy and fun to play a "what if" game about Paul and Lydia: Continue reading →