Luke 1:47-55  – The Third Sunday of Advent – for December 15, 2013

"My soul magnifies the Lord, and my spirit rejoices in God my Savior…" (Luke 1:47)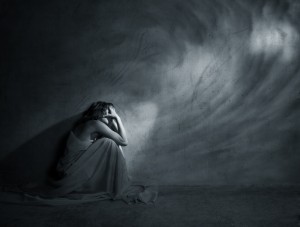 I can't read.
I can't write.
But I can listen . . . and remember.
I left my home and village to come to this place. Here, my family welcomed me, and their presence—along with food, shelter and other kindnesses—has made me feel safe.
Except, I don't feel safe.
Alone at night, I light a lamp. Then two. Then three. But it's not enough. I could light a thousand more flames and this room would still feel shrouded in darkness that has nothing to do with the night.
My mind is troubled.
And yet my soul sings with joy.
How can this be? How can I lay awake, unable to sleep, thoughts racing about all the doubts I have, all the terrible things that could happen and all of the ways the future will never be what I want and still I feel . . . confident?
I repeat the words I remembered and treasured:
My heart exults in the Lord; my strength is exalted in my God. My mouth derides my enemies, because I rejoice in my victory. There is no Holy One like the Lord, no one besides you; there is no Rock like our God. Talk no more so very proudly, let not arrogance come from your mouth; for the Lord is a God of knowledge, and by him actions are weighed. The bows of the mighty are broken, but the feeble gird on strength.
I do not speak them above a whisper, for I don't want to wake the rest of the house. It's enough these three lamps might be seen, might cause my cousin Elizabeth to come in and ask me again—for the hundredth time—how are you doing? Is there anything I can help with? Are you sure you're fine?
Of course I'm not fine.
She knows that. If I were fine, I wouldn't be here.
I repeat the ancient words again. The priest back home, who probably didn't know I'd been secretly listening as he read from the wrinkled scroll in the synagogue, called them Hannah's prayer. Did Hannah know how to read? Did Hannah know how to write? Like me, did she feel foolish or useless? Or did she only know how to trust God and believe that her child Samuel would be the one that God sent?
I repeat Hannah's words again. Continue reading →