This Website/Blog
And Yet – My weekly reflections for this site



Each week on Tuesdays, I'll post a new "And Yet" musing. Until late May of 2017, my words were inspired by the Lectionary. But after ten years, I wanted to try a new direction. Please see below for updated thoughts on the Lectionary-based reflections still "easily" found on this site.
Though abandoning the Lectionary's influence for part of my writing discipline, I hope whatever future words I share continue to nudge preachers, believers, doubters, and others who might appreciate my faithful and foolish thoughts about following Jesus.
(And if you do quote me, don't forget to give me a little credit!)
What do I mean by "And Yet?" As a conjunction and yet connects two parts of a sentence or thought. Whenever an and yet appears, it grammatically creates a word bridge to declare that more is coming. It's one way for me to remember that, with God, there is always "more." I believe, in God's Realm of Love, that even the worst news is never the last news.
The Lectionary?
When writing the weekly essays inspired by scripture (through May, 2017), I followed the Common English Bible Lectionary. Though no longer "bound" to the Lectionary, I hope the prior work is reasonably easy to find.
First, I always tried to put the specific scripture as part of the blog's "tag." That should help narrow any search for particular verses. The search feature for this blog is way down on the bottom. Keep scrolling down, you'll find it!
Second, all the Lectionary posts will have a Year A, B, and C category. If you understand the Lectionary, this will make sense and be slightly helpful. If not, well, then I shouldn't have said finding something would be "easy."
Third . . . but what if you can't find anything, but you know good old Larry must have a musty, dusty but brilliant essay on a Biblical passage that is troubling you? Just email me: larry (at) larrypatten (dot) com.
Facebook
You can find me wandering around in the realm of Facebooklandia. I write quite a bit of random stuff. Funny? Sometimes. Serious? Sure. Political? Yeah, okay, sometimes. Feel free to "friend" me. I'll endeavor to be polite.
I also have a Facebook page entitled The Kynzi Report. In March 2015, we invited a new puppy into our home. We're trying to teach her how to be a good dog. She's training us to serve her. Join in if you want to see cute pictures and read about my foibles. I'm no dog whisperer!
I add this note a year after Kynzi snuggled into our home. It's been a trying time . . . to say the least. By her sixth month, she was limping during walks and that eventually led to surgery at the UC Davis Vet School/Hospital for elbow dysplasia.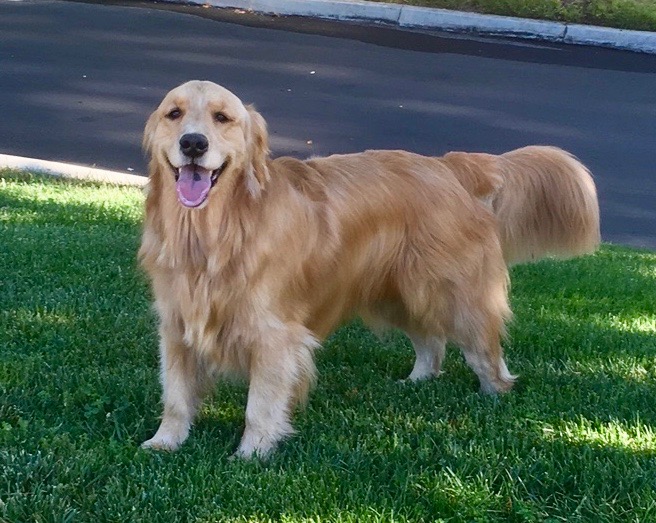 And then there were 8 looooong weeks of recovery. In other words, limited activity. Not fun, for Special K and for us weary puppy owners. She's doing better now, but continues to be a, er, challenge . . .
There's also a Facebook page supporting my Hospice Matters website.
A Novel I Have Never Found A Publisher For (maybe some day):

THE GRAVITY OF HAPPINESS – Nineteen year-old James March cares for his mother as she dies. After Mary March's death, James discovers she has a bank account in a town where they once lived. He journeys there on Christmas Eve to claim the money. During that day James uncovers his mother's past, the relationships she once influenced, and will seek the man his mother called "Christmas Joe" (who may also be James' father). Throughout his search he'll learn that everything about "Christmas" is true…even the parts that aren't.