Words heal, hurt; comfort, confront. Words mirror the worst in us or the best in us.
So do images.
How about the raw image of George Floyd prone on the gritty asphalt of a Minneapolis street with a cop's bent knee pressed against his neck? How did you react when first witnessing it on your television, computer, or phone? (A personal note: I've never been able to watch the entire video filmed by Ms. Darnella Frazier.)
Few knew of 46-year-old George Floyd or the 44-year-old Derrick Chauvin before May 25, 2020. Soon after, even for news-avoiders, it became common knowledge that Mr. Floyd had modest achievements and made unremarkable mistakes. Mr. Chauvin, a veteran police officer, could be similarly described. It would be equally easy to highlight Mr. Floyd's beneficial efforts at a Houston church and his record of criminal convictions. Officer Chauvin was awarded medals for valor during his service with the Minneapolis police and had eighteen official complaints in his personnel file.
Chauvin and Floyd were far from saints and mostly average sinners.
Now a former police officer is convicted of murder. His image—as a stoic cop with his knee on George Floyd's neck, as a pandemic-masked defendant in court, as a White guy in an orange prison suit—has become instantly recognizable for what is wrong in America.
Now an ex-con has transformed into a cultural symbol. He is more than a son, brother, friend, or another forty-something man with mundane accomplishments and failures. George Floyd's murder elevated him—his image—into an icon for the racial injustice endemic in our society.
For some, any heroic image of Mr. Floyd is wrong. While he didn't deserve to die the way he did, he doesn't deserve to be deified.
Or does he?
Mr. Kelly Latimore created the icon he entitled Mama. According to many observers, including Sojourner's Magazine (December 6, 2021), Mama is "a painting that depicts the Black Virgin Mary cradling Jesus' dead body in a style known as a pietà . . ." The image of Latimore's Jesus resembles George Floyd. Sojourner's continues:
The painting was first displayed at Holy Communion in the summer of 2020, and CUA [Catholic University of America] held a ceremony to unveil their edition—hanging outside the law school's Mary Mirror of Justice chapel—in February of this year. After the Signal and other outlets wrote about "Mama," the CUA student group Young Americans for Freedom started a petition to remove the painting, contending that the painting depicted Christ as Floyd, and calling that depiction "disrespectful, and sacrilegious."
Mama was stolen from the school.
And then replaced by a smaller version of Latimore's icon.
And then stolen again.
How dare anyone use George Floyd's image as a visual representation of Jesus!
And yet, for me, how dare we don't.
I am a retired clergy. Decades ago, when serving as an associate minister, the senior minister had a physical description of Jesus in a sermon. His words were detailed, and perplexed me. Though then relatively new to ministry, I was raised in churches and attended seminary. I had never read any depiction of Jesus, other than general assumptions about how residents in first century Palestine likely looked. My parents had Warner Sallman's popular The Head of Christ in our home's entryway. When young, I probably thought it similar to a photo. However, by my teens, I knew Sallman's work was an artist's imagined rendering.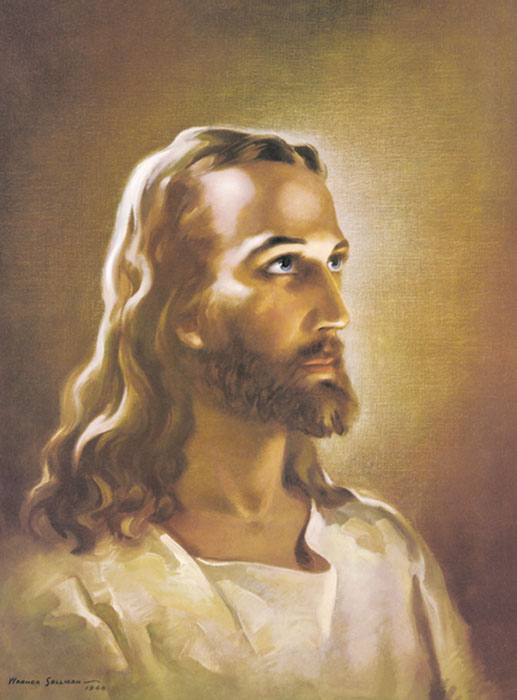 After worship, I asked my clergy colleague, "Where did you find out how Jesus looked?"
He shrugged, replying he wasn't sure. He said he'd quoted that description in a sermon years before and vaguely recalled it came from an article written somewhere by someone.
I let it drop.
No one knows anything about Jesus' physical appearance. Except maybe we do. According to Matthew 25, Jesus told a story about the impending Realm of God. Verses 37-40 declared:
Then the righteous will answer him, 'Lord, when was it that we saw you hungry and gave you food, or thirsty and gave you something to drink? And when was it that we saw you a stranger and welcomed you, or naked and gave you clothing? And when was it that we saw you sick or in prison and visited you?' And the king will answer them, 'Truly I tell you, just as you did it to one of the least of these who are members of my family, you did it to me.'
The least of these. Isn't Christ potentially seen in every stranger? Maybe it's the stranger who looks like you; maybe it's the stranger dramatically different from you.
The United States has a complex history with those labeled as different. Native Americans were slaughtered. Black men, women, and children were bought and sold. Others deemed others were casually mistreated. We all share a sordid past that festers in the soul of our present experiences.
Slavery in the future United States occurred as early as 1528. Author Clint Smith referenced this date in his 2021 book How the Word is Passed. At a Juneteenth celebration in Galveston, Texas that Smith attended, a speaker mentioned the "first non-native slave in Texas was Estevanico, a Moor from North Africa. Estevanico was captured and enslaved by the Spanish when he was a child…"
The Moor from North Africa would not be the last slave there, or elsewhere. By 1619, the first Black slaves were being delivered and sold at the British colony in Virginia.
The last slaves were freed on Juneteenth in 1865. It would be another hundred years until the Civil Rights (1964) and Voting Rights Acts (1965) were passed. Before and after becoming a nation, the United States had more than four centuries of legally-sanctioned slavery followed by the discrimination of Jim Crow laws. If we don't know the fullness of our history, we have no way to openly, candidly navigate our present.
How does a nation heal from a racist past and present? How do individuals heal?
An answer to those questions, for me, includes images like Mama. Is it disturbing that the iconic Jesus bears a physical resemblance to the murdered George Floyd? It is rightly disturbing, not because Jesus was misrepresented or maligned, but because the spirit of Christ is so often revealed . . .
In the least of these.
No one heals or learns with clenched fists, closed minds, or selective history. Healing, and learning, occur with honest eyes open to who we have been, and hopeful eyes open to who we can become.
+++++++
*Image used by permission of artist Kelly Latimore.