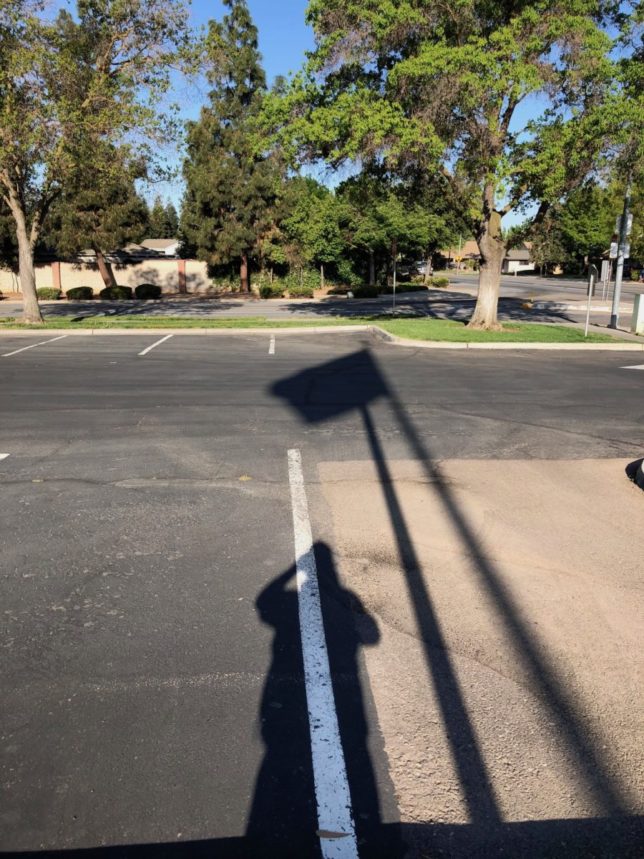 They seemed to emerge from the shadows. Such as . . .
The person who abruptly asked me about my stance on abortion.
The fellow that, after claiming all so-called mainstream media lied, refused to share what news sources informed his views.
The woman who posted an inflammatory meme about Black Lives Matter—with blatantly fabricated "facts"—that never answered my courteous reply.
In the strange, seductive landscape of social media, I encountered those three people. They are examples of the digital friends and strangers that engaged in (and disengaged from) online conversations about our most divisive subjects: racism, policing, media, and politics.
For me, their responses represent the shadow side of the American experience. We all pledge allegiance to the same red-white-and-blue flag, a symbol of our unity, as it waves over schools, government buildings, homes, sporting events, and more. And yet, a shadow is there, the murky world of our clashing views that split and splinter our country. Citizens express hatred for other citizens with remarkable ease. We thump each other with conflicting, selective facts. We mingle with the "tribes" we claim, comfortably bantering with like-minded folks while berating the "them" that is different from "us."
Have we always been divided? The Civil War was a horrific reminder of our national quarrels. Less bloody, but how we tout or doubt today's "green" power options, or the generations-ago battles over the prohibition of alcohol, are examples of other contentious disagreements.
But have we deepened and widened the divide through our online encounters?
* * *
I was engaged in a back-and-forth about President Trump's policy on "whatever," when a new person entered the conversation. His reply to my comment was asking my position on abortion. Wasn't it . . . murder? We hadn't been discussing abortion. However, like a whack-a-mole popping up, there it was. He wanted me to "pass" his litmus test to demonstrate my credibility. My take on abortion would probably determine his perception of me.
* * *
In a lengthy string of comments about police in America, several participants—none personally known by me—slammed the "liberal media." In their view, the mainstream media routinely lied about or ignored the real facts. I disagreed, shared examples of news sources I leaned on when controversial issues hit the headlines (including Reuters and the Wall Street Journal). I then politely asked which media they trusted. While one or two gave examples, my question was largely cast aside. Several of the fiercer critics of mainstream media departed the "conversation."
There, then gone! Back into the shadows.
* * *
For all of its limitations, social media can provide opportunities to learn about others who live elsewhere and/or don't think like me. In my engagements, I strive to be polite, to give responses that invite additional input. In the numerous times former President Trump was the subject of a discussion, I made sure to refer to him as President or as Mr. Trump. Why inflame others with derogatory nicknames? Can I be snarky or critical? Yes! Still, I mostly seek to share my views while gaining knowledge about a stranger's perspective.
A Facebook "friend," a former colleague, posted a meme that derided Black Lives Matter (BLM). The meme tersely highlighted how violent all of the riots were during 2020's summer. I reacted, noting that many of the events across the country were held without disruptive incidents.
My colleague disagreed, stating the meme was correct regarding the violence and death from the BLM riots.
I pointed out research from the Armed Conflict Location & Event Data Project (ACLED) that analyzed the hundreds of protests in hundreds of locations across the United States following George Floyd's murder in late May. The ACLED concluded that 93% of the protests were "overwhelmingly peaceful."
My colleague never reacted to my response or acknowledged the link to the data.
It was as if they returned to the shadows.
Some of the protests with BLM involvement were destructive. Property was damaged. Looting occurred. People were hurt and killed. Cities like Portland and Minneapolis experienced nights of anguish and long months of turmoil. However, a simplistic meme tying BLM to all things violent was and is, simply, wrong.
* * *
Several years back, a politically conservative friend from long-ago college times mentioned that liberals ignored it when then President Obama used racist language. He gave an example of Mr. Obama saying something like Republicans now had to get to the back of the bus. He blamed the mainstream media for ignoring this reference to the 1950s civil rights protests about Blacks and segregated busses. How dare Mr. Obama express loaded imagery against Republicans! How dare the media ignore it! I found the speech where Mr. Obama said Republicans were no longer "driving the car" (because of losing House and Senate seats in the 2008 election). And then I found a Fox News segment with Mr. Obama's neutral descriptions being paraphrased—twisted—into a comment with a racist slant.
My old college buddy acknowledged the sources I used were credible and reliable. But I also sensed he remained unconvinced. To this day, I wonder if he continues to share how racist Mr. Obama is, and would use the "back seat" example to demonstrate his point? I also wonder if my former colleague, with those concerns about BLM, remains convinced the protests during the summer of 2020 were all violent?
* * *
For much of my career in ministry, preaching every Sunday for years, I was selective with my resources. The books lining my shelves were influenced by where I went to seminary, by my more "progressive" understanding of scripture, and by word-of-mouth recommendations from like-minded colleagues.
I am biased! I wear experiential, cultural, and racial blinders!
But I truly try not to live in the shadows. If I express my views in the realm of social media, I won't level anger or criticism at someone and then "vanish." I want to understand what others' think . . . and why. I would like to know what resources inform their views. Can we agree on any common resources that both of us trust?
Our nation's divisiveness, even if we've always been at odds with each other, is unsettling. That much of it now lurks in the shadows only makes it worse.
I fear that too many are content to associate with those harboring the same views. In the shadowy world of social media, you can momentarily step forward, hurl an insult or join a chorus that belittles someone else's views, and then retreat back to your tribe.
Even with my many faults (and occasional online sarcasm), I prefer to pledge allegiance to openness and learning.