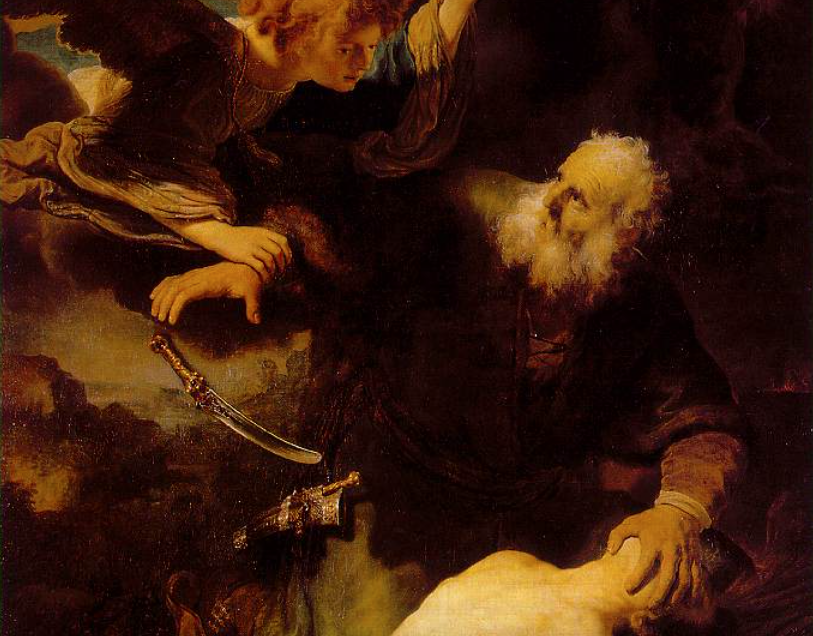 + Larry's List of Dark Corners, Holy Nudges, and Faithful Nonsense +
Jesus died for our sins.
I no longer believe that. (And yet I could be very, very wrong.)
Though having minimal academic credentials for expounding on the history and theology of the atonement, let me offer a simplistic explanation. Jesus, a good Jew, was part of a religious tradition that included atonement. Jewish religious ceremonies during (and before) Jesus' era routinely included the ritual sacrifice of animals. There was an ancient belief about blood sacrifice, perhaps most famously depicted in Genesis when Abraham takes his son Isaac into the wilderness. The eventual "first responder" for the three major monotheistic faith traditions (Judaism, Christianity, and Islam), Abraham was ordered by God to sacrifice—to ritualistically offer and kill—his young son as a demonstration of . . . what? Loyalty? Fidelity? Trust?
In the middle of nowhere, father and son gathered wood for a fire.
An altar of sorts will be created.
With his child apparently compliant, Abraham "bound his son Isaac, and laid him on the altar, on top of the wood." The father, with the knife nervously or firmly grasped, prepared for the next fatal, faithful step.
I assume you know how this ends: happily, for the humans. A nearby "ram, caught in a thicket by its horns" was less fortunate.
A test.
A sacrifice.
Honoring God with knife, fire, and blood.
In the sacrifice, Yahweh was pleased and appeased.
The fancy term often used is substitutionary atonement. For Christian tradition, from the earliest days of theology, Jesus' death on the cross was seen as a variation of that "ram, caught in a thicket by its horns." Jesus died for our sins.
Do you agree with Jesus as the sacrificial "lamb" for our sins?
Most Christians probably do. Some . . .
Believers would act like the proverbial deer in the headlights if asked about atonement, but would quickly agree that Jesus died for our sins.
Believers might struggle to explain why they agree with atonement but it was what they were told at church and therefore must be right. Their theological efforts might be shoddy, but if their nice pastor says it's true, then it's true.
Believers, with a boatload of scripture and tradition backing them up, could not only comfortably elaborate on atonement's meaning, but would embrace it as what makes Christianity a distinctive and perhaps even superior religion.
Not me.
However, I don't want to debate theology. You'd probably have some swell arguments and make me look bad anyway. Hey, this is my webpage and I like to avoid looking like a loser!
But let's talk about me as a "loser" in a different way.
Once I preached on "substitutionary atonement." At the time I thought my criticism of of that theology had been thoughtful and scripturally sound. The atonement, I proclaimed, was not the only path for believing in God's love and Jesus' good news.
It was the only sermon I ever preached that became an item on the next month's agenda at a staff-parish meeting (the official personnel committee). Some folks in the pews had complained about my theology. This was a "progressive church." The congregation was welcoming of all, and certain aspects of its ministry were perceived as controversial. They viewed others in other faiths (Jews, Buddhists, Muslims, and so forth) as valued neighbors in the community. They intentionally did not have an American flag displayed in the sanctuary. But I upset some members, and not in a good way. Yes, the old preaching adage about comforting the afflicted and afflicting the comfortable has its place, but this was . . . different.
I hit a nerve.
A faithful nerve.
A foundational belief.
No one in that lovely, and late-into-the-night meeting said I was wrong. Or said I shouldn't have preached what I preached. However, they did suggest (isn't suggest a great word?) that I talk with several of the unsettled members. And, quite gently, they also suggested a follow-up sermon might be appropriate. We were all nice. And I say that without an iota of cynicism or regret. They were right.
I was wrong.
And yet not.
My questioning of atonement theology, inspired by my humble study of scripture, and my understanding of Christian traditions, has merit. Scholars now and in the past, all far smarter than me, have also disagreed with atonement theology. However—and it's a big however—Christian scholars now and in the past, all far smarter than me, have fully and faithfully supported atonement theology.
Nonetheless, I was wrong.
Not theologically. I was "wrong" as a pastor. I did hurt people. My atonement sermon was right for me, but not necessarily right for that church—for those loving, hurting, hopeful, angry, joyous, complex people—I was then serving.
I think, recalling over forty plus year in or near a pulpit, that I gave some good sermons.
I also had my share of dull and dreary ones.
The majority, though, were good for me, and good for everyone. I tried to reveal God's mercy and Jesus' radical call to forgive. My sermons honored Methodist founder John Wesley's warm heart, and were positively influenced by "new" discoveries of "old" words like the Gnostic Gospels. They were informed by stories from other faith traditions—gotta love the Sufi tales—and from the likes of Frederick Buechner, Maya Angelou, John Muir, and Annie Dillard. In nearly every sermon, in every small town and bustling suburb I served, I sought to prompt questions that would lead to a deeper faith, and to help each lovely person see a connection between their faith and their children or job or school or life goals or failures or . . .
So, I mostly did okay.
However, on one particular occasion, I know I did not do "okay." How much, in that sermon, was I only preaching to me and my interests? But, thanks be to God and generous church members, I had the chance to listen, and to understand I may have hurt or confused others.
Preaching is scary, sacred business; it ain't for the faint of heart.
And yet preaching is such a privilege for those seeking to grow, learn, and proclaim that in God's realm, the worst news is never the last news.
+++++++++++
Image – Rembrandt's "Abraham and Isaac" (1634)
Note: I am, with some final essays over the next weeks, bringing these weekly faith musings to a close. For an explanation, see #1: And Yet. Two more musings to go (since I decided not to include my thumbs in the count):
August 27: #7: As Is
September 3: #8: The Call