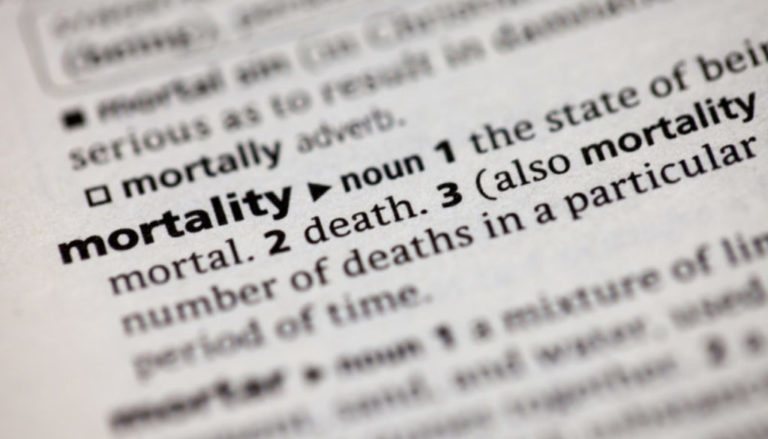 + Larry's List of Dark Corners, Holy Nudges, and Faithful Nonsense +
Death has been good to me.
It has been a teacher of faith, and I have (mostly) been a willing student. Though confident more lessons will come—some potentially harder than I can imagine—I remain grateful for my encounters with death.
Did we discuss dying and death and how they'd impact a pastor back in the by-gone days of seminary? Not much. There were, inevitably, arguments over Jesus' death. But that was theological, a contemplation of differences in the Gospels, and in the whys and hows of myriad Christian traditions. Death was abstract. Odd, though (or maybe not) that I recollect one other glimpse of death when recalling seminary days. A student named Jim died by suicide. He was there for a few semesters. We played chess. Probably discussed Rudolph Bultmann. Possibly shared a beer. He drifted through a few semesters and then died by his own hand.
Sigh.
No one talked about it.
We knew nothing in seminary.
There have been numerous deaths that mattered personally to me in my profession. I'll mention three, since who has the inclination to read about a thousand funerals? Truthfully, that number is an exaggeration! Except that anyone who has been in ministry for over forty years has witnessed—in literal and figurative graveyards, in hospitals, in living rooms with rearranged furniture, in humbled or trembling or arrogant hearts—a considerable amount of . . .
Death.
My first death:
One of my earliest ordained actions was not baptism. Nor was it serving communion on a Sunday, officiating a wedding, preaching a sermon, praying before a potluck, welcoming a membership class, or any of the other formal and informal activities of ministry.
Death came to visit, shoving near the front of the line.
When a student intern at a lively suburban congregation, my primary responsibilities involved—surprise!—youth work and Christian education. With three full-time clergy on the bustling staff, all likely relieved they could worry less about keeping the youth distracted with stuff Jesus would be proud of, I didn't get many pastoral left-overs. I listened to a gaggle of sermons. I witnessed how one pastor did communion compared to another.
But then, one day, the church office phone rang. It became my call.
Someone had died. That someone was not a member of the congregation. The person calling, who explained his father had just died, was also not a member. However, the caller desperately pleaded for a pastor who could do the funeral. Three full-time ministers, all busy as ordained beavers, weren't available.
Give it to the kid.
Not long after the call, I entered a home where a family was stunned by death. A mid-forties son, the one who had placed the call to the church hoping for a minister (any minister), was now an emotional wreck. There I was, months into my official ministry, with a whole lot of book knowledge about God and Jesus, now trying to comfort a roomful of people.
Ralph Waldo Emerson was right: "Sorrow makes us all children again – destroys all differences of intellect. The wisest know nothing."
Death, ever the teacher, said to me, be tender with them. I tried . . .
Next death:
It was at my third church.
And it was also one of three churches I then served.
Years after ordination, supporting my wife's dream of earning a Ph.D., we moved to Wisconsin. Ah, the land of Cheeseheads! One of the church openings near where Jeanie would be working on her doctorate was a three-point charge. Three churches, located where there were more cows than people, each separated by a pedal-to-the-metal fifteen-minute drive, awaited me.
First worship at nine o'clock. Then, before the service ended, I sped to the next Sunday adventure, arriving after the opening prayer. With no time for greeting anyone at the second congregation, I took another hasty drive for the final worship. In the third church, I could actually spend time with the congregation. An exhausted time. A time of wondering how bad the first, second, or third sermon had been.
On my initial Sunday at the second church, I had already been "warned" that an older gentleman would cater to the pastor's needs. He unlocked the church every Sunday. He cranked on the heater in winter and the air conditioner in summer. He was the guy—this is how I would recognize him—that always brought a glass of water to the pastor. Sermonizing is thirsty work! Have a sip of water before you give the pew-dwellers a dose of Gospel sound and fury.
There was no older gentleman serving water on that first Sunday. What I didn't know, and what others in that church on my first morning didn't know, was that he was in the hospital. I only found out when I was called by a member of the "middle" church after completing worship at the last church. Tell the pastor that Mr. Smith (not his real name) was not doing well.
Three worship services and then off to the hospital. There's always one more thing in ministry!
Mr. Smith died before my second Sunday.
I had seen him in the hospital. What a sweet, cranky, loving, funny guy. His wife, and this I don't make up, was named Grace. Grace-filled she was.
Mr. Smith had offered water to many young and old preachers over the years. He was a big pillar in a little church. He and his wife were beloved in that community where everybody really did know your name. I happened to be the pastor when Mr. Smith took his last breath.
I wept for a man I hardly knew. And I did his funeral with humility and a deep belief that God had received him in the Realm of Heaven.
Death forced me to plunge deeply into the remarkable life of a small church in a small town in a nondescript spot on Wisconsin's map. Often, a pastor has no idea if he (or she) has made a difference. With that church, and that family, and that community, a sad death helped me become a trusted part of their lives.
Death, ever the teacher, said to me, love them. I tried . . .
Last death:
I have written about the Tattoo Lady elsewhere. If you googled "larry patten" and "tattoo lady" you might find my 2012 Spirituality & Health article.
While serving what became my final church, a daughter unexpectedly phoned for a pastor. (In a minister's career, out-of-blue calls are S.O.P.) The daughter had heard my church was, er, liberal. Progressive. Open-minded . . . or wishy-washy depending on your religious views! Her mother was dying and the daughter was seeking a pastor that could offer comfort and support. She did not want a minister that might judge her mother's tattoos.
Why not me?
I visited her Mom several times. I eventually officiated at her simple memorial service.
The church I was then serving as Senior Pastor (notice the capital letters) was, and is, a wonderful congregation. And yet I was not happy. The endless personnel issues felt like a burden. The constant obligations—multiple worship services, frequent night meetings, community demands—were relentless. With my 70+ hour work week, Jesus was getting a good deal! Was I? Was my wife? And then a cold call came.
I visited the Tattoo Lady.
I sat by her bed. She indeed had tattoos! I never mentioned them. Neither did she. But we did talk about love, God, heaven, hope, her beautiful and irksome daughter, her broken dreams, and men that had abused her. I served her communion. I baptized her in Jesus' name.
And then I helped her daughter bury her.
Next to her, maybe with the Holy whispering in my ear, or maybe it was merely a breeze, I realized (or eventually realized), that I'm a small church fella. Perhaps her dying also nudged me to rekindle hospice thoughts. Full-time ministry has many rewards, but my balance sheet included long hours and futility. As a Senior Pastor, I was constantly reminded of my weaknesses and rarely had a chance to explore my strengths.
Death squeezed beside us in the Tattoo Lady's bedroom. While I then thought myself a lousy pastor, I believed I made a difference for her. Those were whole and Holy moments, where tenderness reigned, and where love was a mutual, equal gift.
Death, ever the teacher, asked me, is it time for a change? And I answered . . .
[And by the by, what has death taught you?]
*********
I am, with some final essays over the next weeks, bringing these weekly faith musings to a close. For an explanation, see #1: And Yet.