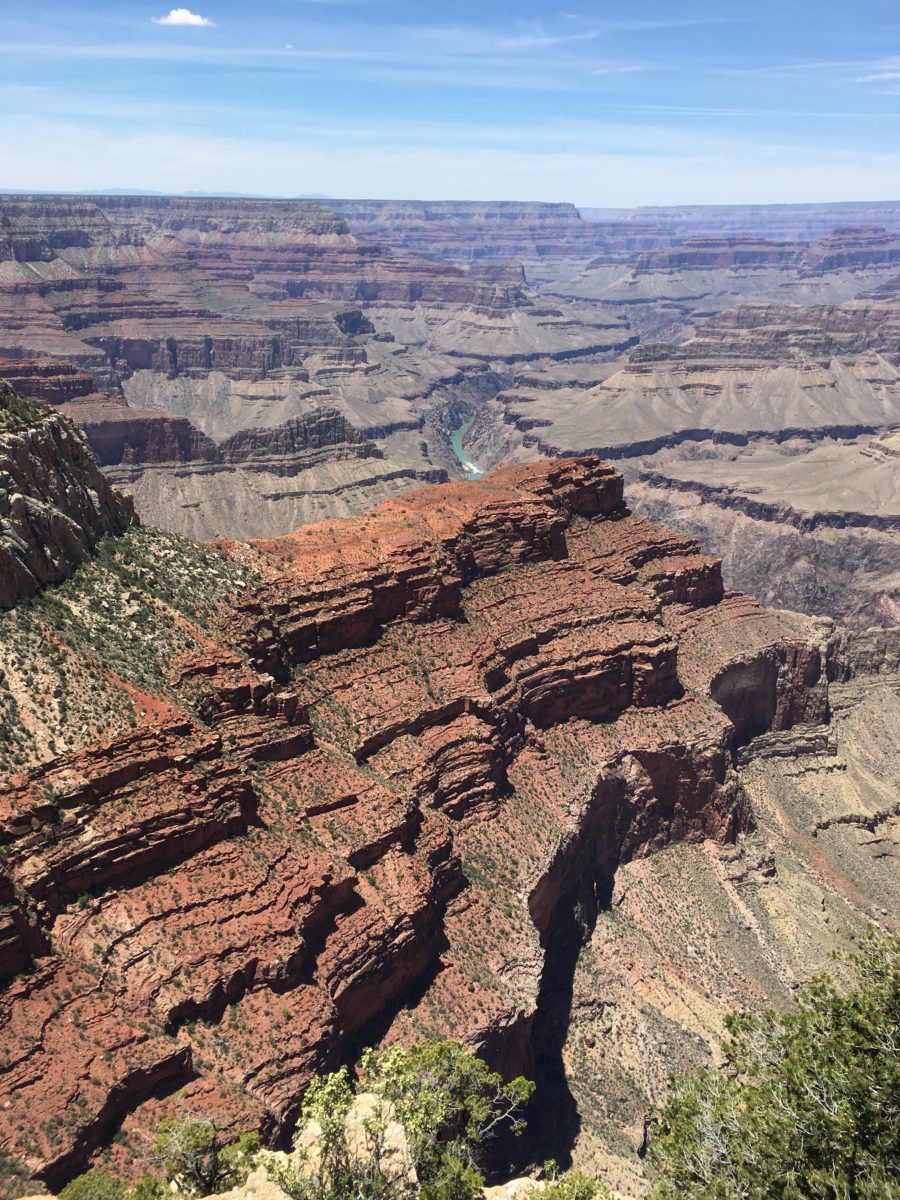 The Grand Canyon is . . . grand.
And then rattle off more glowingly descriptive and never adequate adjectives.
While heading for Colorado and a family gathering, we stayed in Flagstaff, Arizona for several days and couldn't resist an opportunity to visit the nearby park. My wife Jeanie had never seen the breathtaking "hole in the ground." I had visited the Grand Canyon twice, once as a kid, and once in my mid-twenties while in seminary.
Flagstaff, a boisterous burg in Arizona's northern half, is an easy drive to the park's entrance. Though limited by time, my cranky knees, and a dog in the backseat (pets aren't allowed on the canyon's below-the-rim trails), we at least wanted to buy an overpriced T-shirt and to make sure Jeanie witnessed one of the natural wonders of the world.
And yet she wanted more.
After entering the park on the quieter east side, called Desert View because, well, there is a sprawling expanse of Arizona desert to view, Jeanie declared that she not only wanted to go "Oooh!" and "Ahhhhh!" at the edge of the rim, but hoped to see one of the top reasons for the existence of this vast, glorious chasm.
She wanted to see the Colorado River.
From the rim.
A gregarious geologist could best explain the nuances of natural history that carved this 6,000-foot deep canyon. A river flowing through the desert, year after year, millennia after millennia, was surely aided by other factors. Wind. Rain. Rocks that eroded. Rocks that were stubborn. But I am not that geologist, and will leave it to those smarter than me to detail the myriad Hows?, Whys?, and Whens?
But surely the river played a huge role?
And Jeanie hoped to catch a glimpse of its liquid path.
Here I pause. For the paws.
Our puppy Kynzi, now four, had serious surgery a few years back for elbow dysplasia. While all national parks restrict dogs from tramping along wilderness trails, we had the extra concern of a dog with a rebuilt but unsteady limb. Frankly, our sweet Kynzi even struggled on the paved, easy-peasy South Rim Trail. It was also a June day in the high desert, not a good match for a golden retriever's thick coat. We quickly arrived at a point where our gentle explorations along the edge were over. Kynzi was panting and limping. Her happy heart was willing, the rest of the body not so much.
But Jeanie still hadn't spied the river.
We concocted a plan. She would hop aboard one of the free park shuttles and continue to a landmark that—according to a brightly-colored national park pamphlet—promised tourists a hint of the Colorado. Jeanie hurried away. Kynzi and I slowly returned to our starting point. After finding a nice spot in the shade, not far from the restrooms and the Bright Angel trailhead, we awaited Jeanie's return.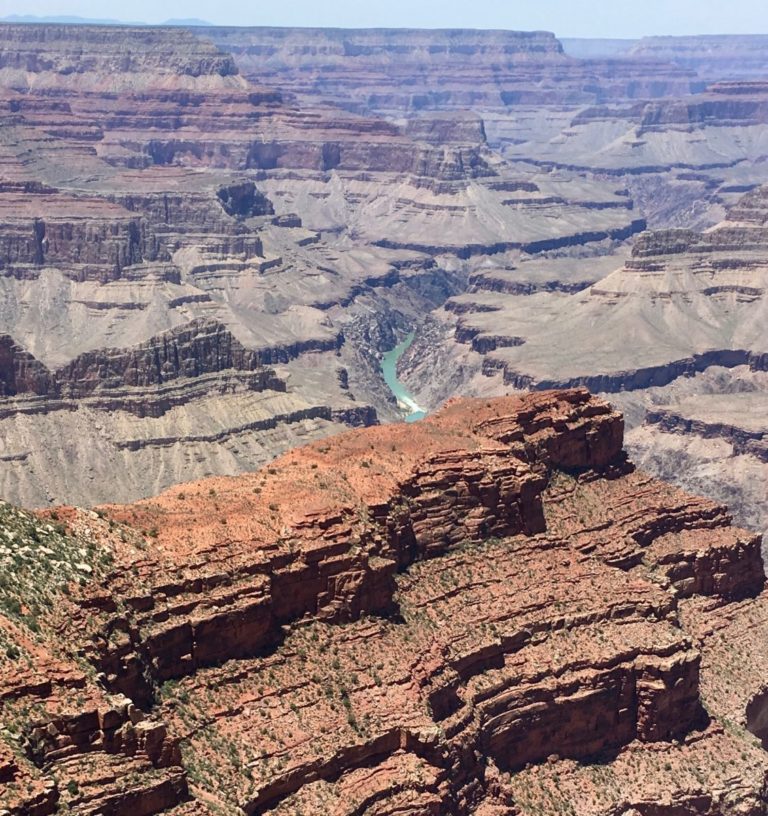 And return she did, an hour or so later.
With pictures to prove she had seen the river!
Well, sort of.
She showed me one of the pictures. Which was a lovely shot of the glorious canyon, but where was the water?
Wait!
She tweaked the smartphone's screen with her fingers, expanding the digital image.
See!
The river.
Barely.
Hardly.
And yet there! I could see that she did spy a sliver of the mighty water below. She, a mile and more above the river that wanders through this wonder, could now say: I have seen it!
+ + +
In 1979, near the end of seminary, I hiked into the Grand Canyon with several friends. Down and down and down we journeyed. We would eventually explore the "bottom" for several days. If studying a topo map of the Grand Canyon's floor, you could likely find Clear Creek. We placed our tents near that simply named stream, a base camp in the heart of the heart of this extraordinary slice of geology.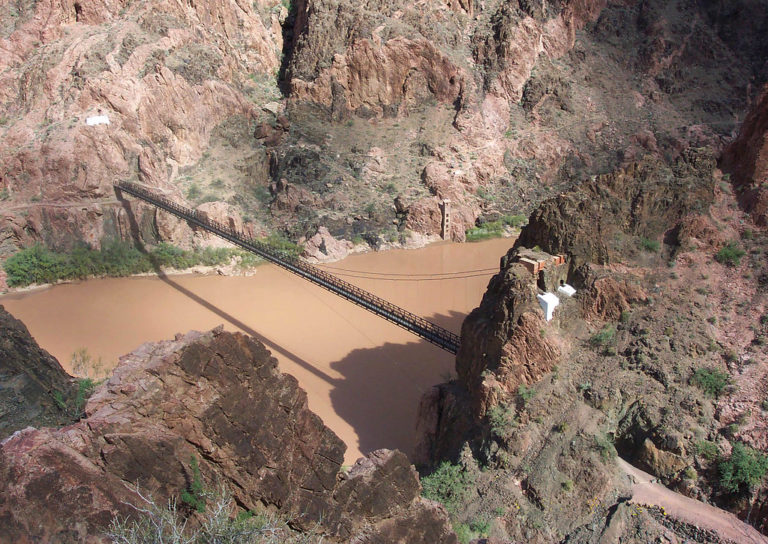 I recall standing in the Colorado River, its muddy eddies lapping over my boots, with the rim above, a temple of stone that trapped the sky and teased the clouds. It was, in my memory, a milk chocolate-colored river, a swirling dervish. Though tamed by dams, it also birthed white-capped rapids.
To trek from rim to floor is to revel in the ages. What had been exposed a thousand years before? What about a thousand, thousand years in the past? I can say I knelt at the river, astounded by its strength, and yet isn't a river always and forever changing? It's never the same, even in the moment of capturing it by memory or camera. There it is. There it goes. How can I fathom, let alone describe, a canyon of immense danger and beauty, of sublime sun-splattered colors and the dark darkness of night? Once, eager and young, I camped in a side canyon, bedazzled by stone and light.
But I could not remain.
Up and up we hiked. Lungs and legs bursting, we finally walked on the level again.
Geology became theology. In the canyon depths, daily baptized by water's gifts, my senses never wearied of beauty. St. Francis of Assisi cautioned, "There is no use in walking anywhere to preach if your walking isn't your preaching."
+ + +
How do we glimpse God? For me, I wonder at the wonder of the Creator. Alas, more often it's me reading about God. From the (translated, interpreted) Bible. From some saint or sinner who also has glimpsed God. Most often we speak of the Holy with layers between Creator and creation. I wield the words of others—a Bruce Lopez, or a St. Francis, or a Gospel writer—and find comfort in the glimpses they have also had.
We know so little about God. There. Then, absent. Or is the absence or distance less God's fault and more my own distractions, fears, and lack of patience and reverence?
Glory abounds, where in my suburban backyard or the national park rightly called Grand. But I am dull-witted and tentative. Barely awake most of the time. Still, there are these awe-filled and fleeting experiences. I recall sweat on my brow and a prayer in my heart when the water—a mile deep and steeped in mystery—swirled about my earthbound feet.
+ + +
Jeanie showed me her picture.
She had captured the river, leaning over an edge to see the liquid thread of life that created, and keeps creating, the grandest of canyons.
May all of us have hints and nudges where ongoing creation is glimpsed.
++++++++++
"I do not know, really, how we will survive without places like the Inner Gorge of the Grand Canyon to visit. Once in a lifetime, even, is enough. To feel the stripping down, an ebb of the press of conventional time, a radical change of proportion, an unspoken respect for others that elicits keen emotional pleasure, a quick intimate pounding of the heart.
"The living of life, any life, involves great and private pain, much of which we share with no one. In such places as the Inner Gorge the pain trails away from us. It is not so quiet there or so removed that you can hear yourself think, that you would even wish to; that comes later. You can hear your heart beat. That comes first." ― Barry Lopez, Crossing Open Ground