I am not certain of when I first met Ray. But I remember the last time with him.
Wrapped in a blanket, Ray lay on his couch, home from another stint in the hospital. In his mid-eighties, his flesh was failing. Several cancers hammered his exhausted body, along with numerous other debilitating ailments.
"You get my age, you get everything," he said with a smile. (How could he smile?)
There had been many trips to the hospital, some overnight, some lasting a week. It took more time to recover, and often any recovery was less about reclaiming "normal" and more a hope to gain enough strength to have a meal with his beloved wife Dorothy. Or maybe to putter in the yard. And yet now, on his couch, a venture outside seemed as likely as him walking on the moon. His mind, however, remained sharp.
I sat by his couch as we chatted. I was a young minister about to leave for my next church. Ray Hart was an old man, a disgraced minister about to die.
Scene 1 – The Senior Pastor's office
If I don't recall when Ray and I met, I'm sure one of the earliest times was in our boss' office. Ray was the unpaid (or poorly paid), easy-going minister of visitation at a church in San Leandro, California. I was the new kid on the clergy block, recently ordained, just starting in my first "real" appointment as—surprise—the guy responsible for youth groups and Christian education.
Was our introduction at a formal staff meeting or a spontaneous gathering in the senior minister's expansive office? Maybe it was after Ray had shared about a recent visit to a sick church member or the senior minister had asked me how things had gone with a youth event, but I asked Ray how long he had been a minister.
He paused.
I knew from church scuttlebutt that he had been an Army chaplain during World War II. He had served God and his country, and made it out alive. Ray probably had a lot of grim, bloodied stories about offering communion near battlefields. I'm sure he'd counseled lonely, frightened soldiers even younger than him.
"Well," he said, "I'm no longer a minister. I gave up my orders."
At some point, and it could have been in the safety of the senior minister's office, I discovered that Ray had gone through a divorce after World War II. His troubled marriage with a troubled woman fell apart. He was to blame; she was to blame. While Eisenhower was in the Oval Office, not long after praying over scared soldiers thousands of miles from home, the Methodist Church forced Reverend Raymond Hart to turn in his ordination papers.
He was disgraced. Shamed. But he stood upright when he spoke about this with me.
I listened to the man who would become my friend and mentor in that first appointment. I had been ordained in 1977 . . . and was officially divorced two years after that date. Which is to say, a couple of decades after Ray left the church for his "transgressions," I had been welcomed and supported despite my failures.
Oh, the deep wounds we carry.
Lent's question: how can the church be so cruel?
Scene 2 – With Ray and Dorothy in their cozy, modest home
Long after his divorce, Ray and Dorothy met. Love at first sight? Probably not, but they seemed destiny's middle-aged children and were soon married. They would be together until Ray died. Both born in New England, they relished a mutual history: geography and a passionate love for serving God. Though Ray may have been the official unpaid "minister of visitation," it was really a joint effort with his gracious second wife.
I wonder how many visits they made together? Whether in a hospital or home, Ray and Dorothy delighted in caring for others. To gently support a troubled soul, to pray with someone facing surgery, to reassure a young parent. They embraced their role of being the face of Christ with enthusiasm and humility.
Ray said, while we sipped coffee at their kitchen table, that visiting was different back in the day.
"How so?" I asked.
"It was all about wearing out the shoe leather. After the war, I remember spring in Maine was a muddy time. And I'd go door to door, visiting the church members." He grinned. "They expected me to come. No one was surprised when I knocked at the door, hat in hand, shoes soaked through to my socks. But things have changed."
I waited for him to continue.
"It's now about the rubber meeting the road. You youngsters have to drive everywhere. You're Jesus on wheels."
He was right. And he was soon wrong. In the years after Ray's death, it would keep changing. I suppose there are pastors who still wear out their shoe leather, but how many "visit" with texts, Facebook, and emails? Once, in the beginnings of my ministry, I could occasionally stop by, unexpected, and end up sitting on a sofa and praying with a church member.
Nowadays?
Beware being alone with someone of the opposite sex.
Beware of how you spend time around children.
Be mindful that many church members are too busy or too weary or too private to welcome the pastor into their home. You better make an appointment to visit. Better still, just text 'em.
Ray nodded and sipped his coffee, probably thinking of all those ruined shoes.
Lent's question: how difficult is it to create and build community?
Scene 3 – Arguing with Ray
With the strident confidence of youth, I lead a class at church about how Christians must condemn weapons of mass destruction. This was the Reagan era, when the United States and the U.S.S.R. were literally rattling nuclear-tipped "sabers."
Ray listened to me. Ray argued with me.
He had stood, likely near my age when we became friends and colleagues, with young men and women who were living with fear and death every day. A war raged across the globe in the 1940s, with evil afoot, with millions of innocent and guilty souls hanging in the balance of military actions. Ray would debate, until his last breaths, the good and awful reasons for dropping atomic bombs on Japan.
"Lives were saved," he said.
"Lives were lost," I might counter.
Ray shook his head. "There are no ideal decisions when more horrible things might happen if we didn't use the bomb."
"But how could we–"
On we debated, the old man who had experienced the best and worst of humanity. The young man, full of himself, wishing to change the world with God's love.
Lent's question: why has our divided society made healthy debate so difficult?
Last scene – Ray is near death on that couch
"On what you said about nuclear weapons," Ray muttered. "I don't know that you're right, but you've made me think about how I could be wrong."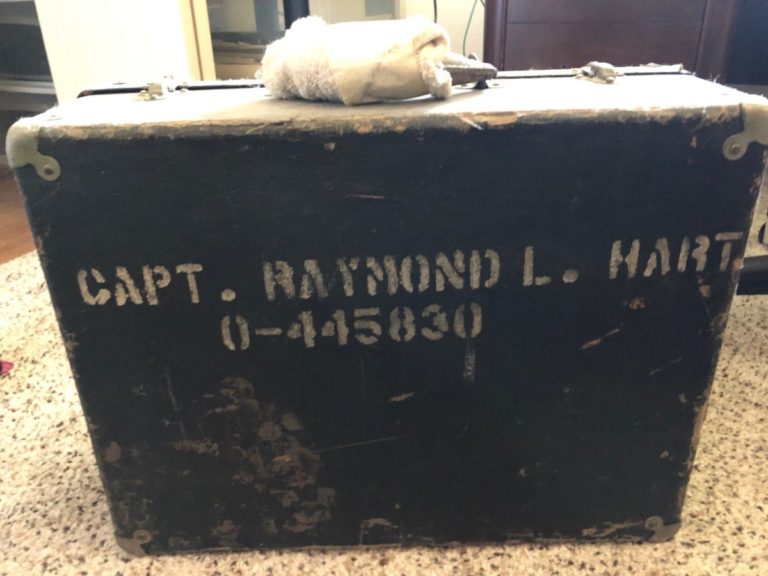 In our last moments together, we gently argued. Awkward, as men can be, we expressed love for each other. Ray knew I was about to leave, to soon begin my next church appointment. I knew he was in his final days. We didn't talk about death, or heaven, or World War II memories, or the anguish of our divorces. We talked like old friends who only lived in the present, stubborn in our beliefs, wanting the best of the best for the other.
The best I learned in ministry was rooted in my friendship with the Not Reverend Raymond Hart. Jesus, who I believe always placed more emphasis on forgiving relationships than formal religion, was served well by my beloved mentor. Once an Army chaplain, once an eager pastor with muddy shoes, once a disgraced minister, Ray—to his last, ragged breath—forever sought ways to grow as Christ's servant and to share God's blessings with each and every person.
I hope, whomever reads this, that you have had a Ray Hart in your life.
Lent's question: what will you learn today that will humbly help you be the face of Christ for the other?
(Top image from here.)