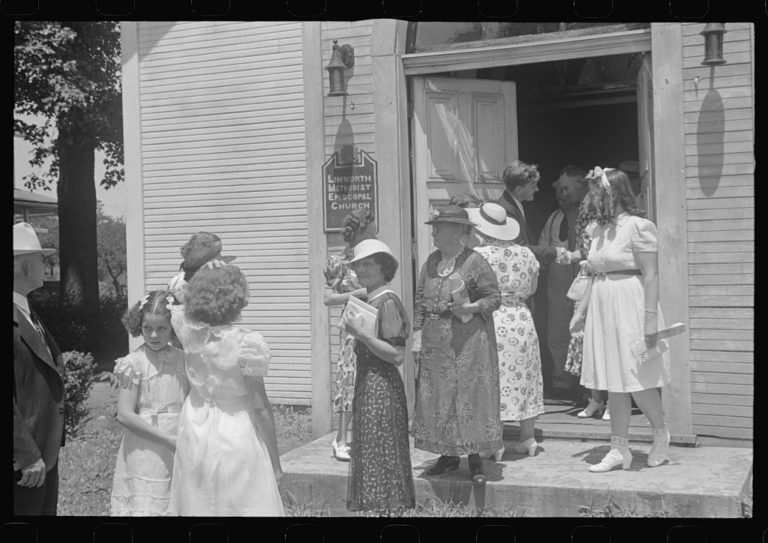 Why, after a worship service concluded, when the few or many congregants had trooped through the exit door to "greet the pastor," did I only remember that one?
That person did not like the sermon. And yet, all of the other encounters at the door were compliments or friendly chitchat. Nine of ten, or ninety-nine of the hundred, as they headed for the parking lot and home, paused for a handshake, a hug, or offered a smile with:
Good sermon, Larry.
It was what I needed to hear today, pastor!
You were speaking just to me.
I never thought about that verse in that way before.
Don't forget the trustees meeting on Tuesday.
I like your tie.
I would mumble a thanks, likely nodded and grinned, and maybe asked about an ill family member or the recent birth of a grandchild. On every Sunday, I sought to be attentive to each departing person who had worshipped with me only moments before.
Then that one person arrived. And said,
I was offended when you slammed the church.
He was a retired pastor, once a United Methodist district superintendent. A visitor that day, he apparently hadn't liked one of my sermon stories about the foibles of church business. He was irked. (And possibly irked before entering the sanctuary.) After letting me know how insensitive I was, he strode away.
God says homosexuality is a sin. Don't you know that?
Early in my ministry, in the bygone days of Ronald Reagan and AIDS and rampant fear (or hatred) of all gays, anywhere and everywhere, there would be the occasional statement made about how stupid I was to claim the Bible said next to nothing about homosexuality. Even when I was right, I was wrong.
How dare you say that the Christmas story is a myth!
Hadn't I done a good job of explaining the lack of historical proof for any census by the Roman Empire? Hadn't I thoughtfully explained the symbolism of the wise men's gifts? Hadn't I stressed that each of us have different paths for our beliefs and interpretations and no one—not even the preacher—had the singular, correct view about Jesus' birth?
Most of the critical comments in all the churches I served, like the majority of compliments, were fairly neutral:
Didn't get it, pastor.
I wish you'd speak louder (softer, clearer, slower, better).
Nothing there for me today, Larry.
I repeat. These "negative" responses were rare. It would be one person, on one particular Sunday in warm May or cold December. Weeks, even months, would go by and all was nice. The neutral remarks were neutral. The friendly smiles and hearty handshakes were abundant; frowns and furrowed brows were scarce.
And yet, those unsettling comments, whenever they came, seemed to stick with me like the proverbial pebble in the shoe. Even after a diligent search, the minuscule sliver of stone remained cleverly hidden, with each step feeling more like a boulder than a grain of sand.
Why do we—why do I—dwell on the negative?
On decades of Sundays, I sought to preach the good news that got Jesus nailed to a cross. How could I not expect to upset some folks? Didn't most of Jesus' disciples head for the hills when the rough going got really rough? Good old John the Baptizer, with far less verse time than Jesus, with a hard-edged message that could curdle your milk, didn't just get a few snide comments from his detractors. He literally lost his head. If you're gonna proclaim the Gospel, with integrity and honesty and vulnerability, there will be those listeners that get in a lather. A bright yellow warning label should be prominently displayed on every pulpit.
Right?
After the retired district superintendent huffed and puffed away, or after the guy that only appeared for Christmas and Easter berated my myth vs. fact musings on Bethlehem's story, I remember being the last one left at church. I brooded. Silently prayed. Muttered aloud. Alone in the sanctuary, the lights off, the grand piano again covered until choir rehearsal, the leftover communion elements still to be put away, and there I was asking myself why I was such a lousy preacher.
A lousy person. A lousy . . .
How foolish to waste any time thinking that!
But now, with pulpits behind me, I suppose I still do.
Why do we so quickly and wrongly think so lowly about ourselves? Or maybe I'm the only one with self-doubts, with that pebble in the shoe that is as sneaky as it is sharp?
Not long ago, I stumbled across this from writer and educator Brené Brown's Braving the Wilderness:
Stop walking through the world looking for confirmation that you don't belong. You will always find it because you've made that your mission. Stop scouring people's faces for evidence that you're not enough. You will always find it because you've made that your goal. True belonging and self-worth are not goods; we don't negotiate their value with the world. The truth about who we are lives in our hearts. Our call to courage is to protect our wild heart against constant evaluation, especially our own. No one belongs here more than you.
Don't I belong here with my faults? My mistakes. My old good or bad sermons. My next and new words that may hurt another, but even more my words that—I know in my heart of hearts—truly helped another.
Let me repeat Brené Brown's declaration. To you. To me. No one belongs here more than you.