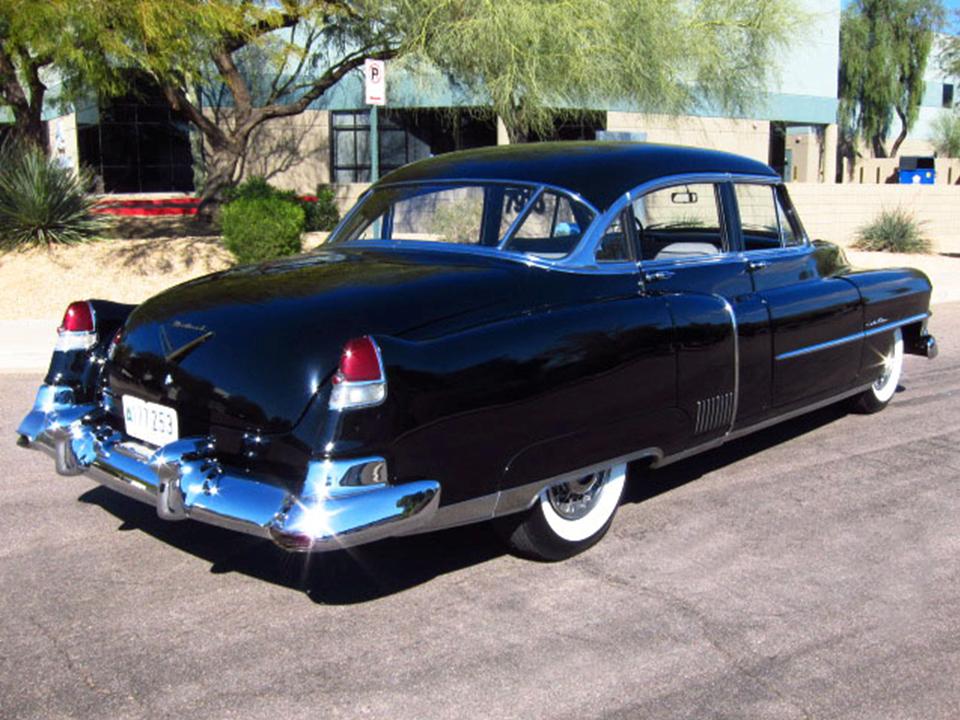 The light was dwindling as the late December day ended. Above, the first stars welcomed the beginnings of another long winter night. Oh, how cold it seemed in the California suburb where I then lived. (For it would be years in the future when living in a Wisconsin zip code that I understood the huge difference between a coolish night and teeth-chattering cooooold.)
Still, I shivered and waited outside.
My grandparents' 1952 Cadillac had just arrived. It was black like the night, with a backseat as big as a sofa. Its engine purred like an eager lion and the headlights could illuminate the world. The four-door luxury sedan had journeyed across the center of the state to arrive at my house.
As I watched my grandfather cautiously back the Cadillac up to our open garage door, I never once questioned why he hadn't merely turned left into the driveway to easily park the car in front of the house.
I knew—or maybe 'tis fairer to say I lusted after—what awaited in the trunk of the Cadillac as it inched nearer to our house. Wouldn't it smarter to unload the contents of the trunk and get them under our Christmas tree if the car's rear, rather than front, was closest?
Even in my child's eyes and memories, on that long-ago and faraway Christmas, I thought the Cadillac my grandparents owned seemed an aberration. Fancy and prestigious, it represented a stark contrast to the backbreaking work that consumed their lives. They owned a 150-acre ranch in Merced, California. As a kid, I had no idea if they were well-off or barely making it or in between. They were my beloved grandparents who toiled on the land. They had cattle, but not many. They had a walnut orchard, but then or now it would be viewed as a modest grove of trees. Born in the 19th century, Grandma spent her summers frugally canning fruits and vegetables. Grandpa had made much of whatever money they saved by being the right guy at the right (or wrong) time. Too old to serve in World War II, his prodigious skills included concrete and cement work. That expertise led to many opportunities during the build-it-fast, build-it-now war years of the mid-1940s.
Following the war, their dream of owning land had become possible. (And perhaps, eventually, as a kind of reward to himself, my grandfather bought a Cadillac. Did it prove that a poor boy from the hollers of Tennessee had made it in the world?)
And yet it was near Christmas, and I didn't care about family history or how my grandparents were doing that night, or how the blessings of faith are truly revealed.
Nope.
I wanted that trunk open. There be presents there!
Presents for my cousins and aunts and uncles and my family too. Presents for me.
The contents of the shiny trunk, as I shivered and waited, would soon be revealed.
And lo, my grandfather released the lock.
And the largest trunk in the known universe of my childhood longings, now open, now revealed, served as evidence of the real meaning of Christmas: gifts! Lots of lots of gifts!!
Oh, may the angels sing! Oh, joy to the world!
+Â Â Â Â Â  +Â Â Â Â Â  +
A cousin that lives in North Carolina owns Grandpa's Cadillac. Passed down from his parents—my Mom's sister and her husband—it has remained in the family. I've been told that he can still take the Caddie out for a spin.
The Cadillac is, for me, a magical reminder of Christmas gifts.
Now, of course, I can admit to not remembering any gift—for me or anyone else for that matter—that emerged from the trunk on Christmases past. The presents I'm sure were unwrapped. There were oohhs and aahhs, followed soon by Mom bluntly reminding me to thank Grandma and Grandpa for their gifts.
In the holy, humble mythical journey to Bethlehem, there was never anything like Cadillacs or Santa's reindeer on the path. There was only a family trudging toward a precarious future; only foolish, faithful dreams on cold desert nights.
What I now know, what I'm grateful to remember, is I too had a family that loved me. The trunk that opened seemed immense to my naughty and nice kid's eyes. Oh, how I focused on any present with a "for Larry" tag attached. And yet it wasn't what was in the trunk that mattered. It was Grandma and Grandpa beside it. It was my parents, with their smiles and stern warnings, that mattered.
Advent, now that I'm older than my grandfather was when he slipped the Caddie's gears into reverse to maneuver up the driveway, is a fragile, fleeting time. Advent, this wondrous artificial season before Christmas' preposterousness, nudges us to remember. To dream. To proclaim the best and only gift . . .
Which is love.
But it's more than that overused word. This bold season of preparing and waiting, speaks to a dangerous love. In the third Sunday Advent, the passage from Luke has the crowds—the tax collectors, soldiers, and maybe even you and me—asking John the Baptist, "What then should we do?" Change, the cranky Baptizer basically demanded. Dare to be honest, fair, hopeful. Dare to prepare for the coming of Love—a vulnerable, sacrificial, and available for and to everyone Love. Dare to change! The journey of Advent is not about opening a trunk of presents, but a demand to open our locked hearts.
++++++++++
My grandparents' Cadillac, at a recent North Carolina "car show" organized by neighbors: