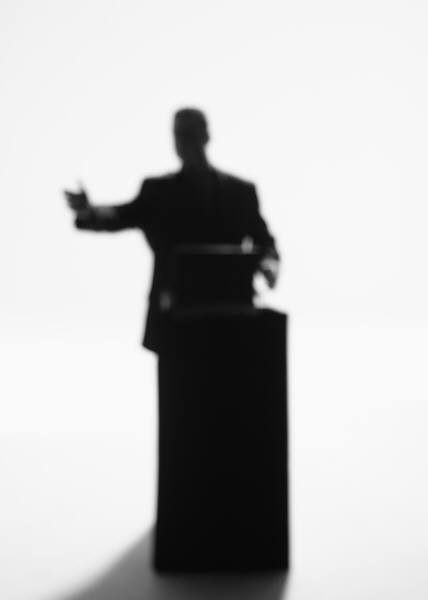 She looked sad. Vulnerable. While others departed worship, after the post-sermon handshakes and "Good message, Pastor" comments, she lingered. After a few moments, we were alone near the entry to the sanctuary.
Like others, she offered nice, neutral words about my sermon, and then she asked—
+Â Â  Â Â Â +Â Â  Â Â Â +
This was my second or third Sunday at a new church. What I already suspected, and what was confirmed as my beard grayed and my accumulated sermons eventually numbered in the thousands, is that everyone in a new congregation appears similar during the initial Sunday encounters. As a new pastor, you can't tell who will be supportive or critical. You don't yet know the quiet person who shares healing responses when a committee fights over a divisive mission project. You don't yet know why a woman often cries in the back pew, why a family is always late to worship, or why a man sneaks a single rose in a vase on the table in the narthex. You don't know the gossips, peacemakers, hotheads, or dreamers.
+Â Â  Â Â Â +Â Â  Â Â Â +
"Would you listen in on a phone call with me, Pastor?"
(She was young. Attractive. And, yes, seemed sad and vulnerable.)
Not waiting for my answer, she instead rushed ahead with an explanation. "I need someone I can trust to hear my ex-husband's lies. He always lies, but then no one believes me. I have to call him right now about a court date and wanted you to listen to everything that's said."
She paused.
"Please. It would help me so much. He lies all the time."
She had it planned out. She would call him on the church secretary's phone and I would listen to the conversation on the phone in the pastor's office . . . my office.
I wish I had asked more questions. I wish I hadn't been so tired. I wish I didn't think I should help everyone.
I agreed.
She called. I listened. This is so long ago that all I remember was a meaningless, stilted chat between two people that no longer liked each other. I felt a witness to nothing.
Except.
The call ended, and she profusely thanked me as if I'd become her hero. What had I really done? And yet there I was, alone with a woman in an empty church on a Sunday afternoon in a small, quiet town that was all new to me.
+Â Â  Â Â Â +Â Â  Â Â Â +
In these recent months, after the October 2017 New Yorker article and its disgusting revelations about Harvey Weinstein, I've wondered about sexual harassment, about all the casual, cruel ways that people (men) in power can abuse and misuse others.
In other words, the #metoo movement.
I have been a person in power. Oh, yes, modest power. Limited power. But as a pastor in a church, you do have power. When you are one of the few pastors in a small town, you can wield a surprisingly large amount of power throughout the community. When you are a male clergy in a modern suburban church in Anywhere, America, where many of the groups and committees are predominately female, power and authority can be . . . seductive?
I don't think, in my forty plus years of ministry, that I ever did anything to hurt a woman in the churches I served.
Or did I?
Would I know for sure? My words have power. My touch has power.
Good power; not so good power.
The young woman that asked me to witness her conversation left that church in a handful of weeks. Apparently, she moved away. I can't recall why. For me, the new pastor on the block, she was like everyone else. Outwardly smiling, saying those nice things about my sermon. And also, outwardly appearing to need help.
Please, pastor . . .
Nothing happened. On that Sunday, on a lazy July afternoon, me weary from greeting all those new folks at a new church, we parted ways.
And yet that odd feeling, faded but not forgotten, of the power I possessed. Doesn't a hero earn a few rewards? Oh, how weak faith, and weaker flesh, can twist in the wind of rationalizations.
In the same congregation, several years later, I recall another woman. I was no longer new. In many of the churches I served, like other pastors in other churches, I became the go-to minister for certain problems. Various local leaders sought my advice and confidentiality. Funeral homes knew I'd do funerals for "strangers." Couples asked me to marry them because I'd married a friend of a friend. And sometimes, rarely with an appointment, a person dropped by for assistance. For a kind prayer. For a few dollars. For an informal confession. Maybe they were a long-time resident. Maybe they were passing through town.
She came one weekday. It was late afternoon. The church secretary had already left.
Another empty church.
Hurting. Alone. Without transportation. She'd finally gotten away from someone or somewhere and had made it this far up the highway. Where I served was her hometown, the place she'd once escaped. Now she'd returned, hoping to get to an aunt's or second cousin's home (where she would be safe). The bus had dropped her off and she still had miles to go. She'd heard about the pastor at the church that helped people.
Me.
She told me her story. It could've been fact or fiction. Or both. She was desperate to get to a safe place.
I drove her there.
A long drive.
She looked at me as if I were a hero.
"How can I ever thank you?"
You see, I can reminisce, selectively choose a few examples, and tell you—and tell myself—that nothing ever happened.
I was good guy.
I tried, in all those years of professional ministering—in rural settings, in the hustle-bustle of the 'burbs, in hospices alone with hurting people in their homes, with eager college students in campus ministry—to be a pale, frail imitation of Christ. Serving the other. A wounded healer.
But I have flirted, haven't I? Received or given a hug that lingered? Haven't I placed my hand in the wrong place at the wrong time?
How do I know if I have hurt someone? Mislead another? Taken advantage of the moment?
I don't think I did.
And yet, in the troubling, overdue lessons of #metoo, what man isn't guilty?
Harvey Weinstein may be the grim, grubby poster child for deplorable behavior, but he isn't alone. Back in 1974, Representative Wilbur Mills was caught in the headlights of a scandal for his dalliances with stripper Fanny Foxe. Mills was then Speaker of the House and arguably the most powerful elected Democrat. With Fanny in mind, fast forward to our current Republican president and Stormy Daniels. Spin the history wheel again for Rev. Jimmy Swaggart. A "famous" Pentecostal preacher, he laid more than his hand on prostitutes in 1988. Fast forward once more to progressive New York governor Eliot Spitzer's 2008 adventures with, er, "escorts."
My limited examples* are rotten low-hanging fruit, of powerful men abusing women. Nonetheless, those examples point to the obvious: conservatives and liberals, people of all faiths and no faith, young and old, rich and poor, all have done awful things.
Without being able to definitively answer, I ask: have I hurt, unsettled, abused, or taken advantage of any women in the churches I served? My lack of an answer is not rooted in evasiveness or self-protection. In many encounters with others—female and male—I truly don't know how my words, gestures, or silences were perceived. What I do know, and what #metoo has finally and rightly amplified, is that (using the language of my faith) Christ-like care must be taken in all relationships.
Every day, in every relationship, truthful work is required. It is demanding work. When I acknowledge the temptations of power, the frailty of flesh, and the quicksand of assumptions, I have a better chance of helping create honesty and equality with my "neighbor."
I hope and believe we are in the midst of positive change for our culture. Lasting change?
Please, yes.
+++++
* For a now out-of-date (from 2008), but longer list of dreary male predators from various political and religious persuasions, read Leonard Pitts' opinion piece. I found it in an old Seattle Times . . .