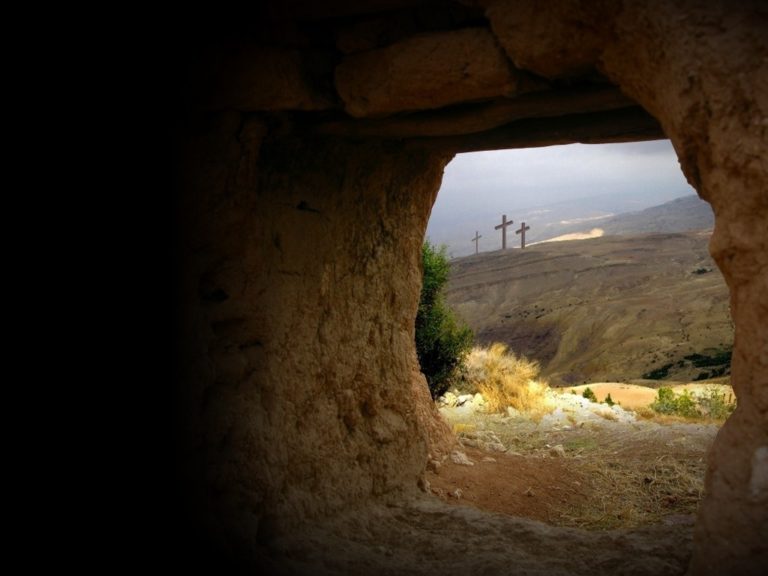 My inaugural Easter as an ordained minister was one of my last first things.
Firsts matter. They are remembered, defining or confining us.
In the summer after a bishop laid his hands on me, with the title "Reverend" linked to my name and vocation, I served—for a first time—communion. I would marry teenaged sweethearts (they divorced a few years later), participate in baptisms, visit the dying, comfort the grieving, witness open graves and closed hearts, teach Sunday school, help celebrate Christmas, make a hundred (or more) mistakes, and once or twice I even preached.
Having wrangled a position as a student intern—taking a year off from seminary—I worked with several other pastors in a suburban congregation.
With a summer start, Easter was forever away. And then it came. Being ordained made it different. Though "only" an intern and newbie pastor, anticipating that first Easter loomed as a pivotal experience.
Church was part of my family's life since before I could remember. And yet, truth be told, on several childhood Easters, my church-going-Bible-believing-Christ-centered-God-loving parents announced we were home-bound.
"It's too crowded," Mom explained.
"We'll give others room in the pews," Dad offered.
Maybe not going to church for Easter only happened once or twice in my youth, but I'm confident that those fickle childhood recollections are accurate enough. There are pictures of my family dressed for church and I suspect those were Easter "Kodak moments." On some Easters, my older sister and I scurried in the backyard, hunting for eggs. She was adept at finding the treasures. I needed parental hints to fill my basket with the foil-wrapped chocolate morsels.
Yes, I'm sure we attended Easter services when I was a munchkin. I'm equally sure we stayed home for a few. (The crowds you know. The fuss. The muss. Strangers grabbing pew real estate that really wasn't theirs, visitors standing or sitting at the wrong time during worship.)
And then came my first Easter as a fresh-faced pastor, as Jesus' newly ordained worker bee.
It was a thriving suburban church with three busy clergy. It was long ago and feels like yesterday. It was California and spring was busting out everywhere. The world, as always, was in turmoil. There were wars somewhere. Politicians cheated, lied, or both. The stock market was lousy or wonderful, but investors—as is their nature—were anxious. There was poverty and plenty. The future appeared bright . . . or grim. On the world spun.
People were there that I'd never seen, except maybe at Christmas in a shadowy sanctuary with flickering candles. After a rousing Joy to the World, we all departed into the expectant darkness.
Easter is well lighted; you can see all the faces.
We waited for the first service to begin, me in a new robe, me with one or two funerals and one or two weddings, and one or two baptisms, under my belt.
There was hardly a seat left. Music preluded us. Overhead, bright banners swirled. A temporary garden of white lilies surrounded the altar. Children giggled. Adults squirmed.
The clergy—me beside them, pretending to know what I was doing—prepared to process into the sanctuary. And that's when I whispered words that may have shaped the rest of my ministry (though I didn't know it then) because of the senior pastor's response.
I muttered something like, "Look at these hypocrites, showing up once a year for worship."
So young and cynical!
So young, confidently judging others!
The senior pastor glanced my way, whispering, wondering, "How often does your entire family get together, Larry? This is a homecoming. It's a reunion. I'm glad everyone is here."
I won't say all my judgments ceased and I immediately saw the errors of my youthful insouciance. But how right he was!
Right and joyful.
Right and welcoming.
Who knows exactly what unfolded during that first Easter? Every Gospel sings a different tune. Oh yes, there was agreement on the early morning hour. The tomb was empty. Women demonstrated more gumption than men. But I don't have to revisit the Easter accounts to state the obvious: none of our sacred texts are in "perfect" harmony.
After all, Easter, from first one to this one, dares us to claim faith. And in that first one—where darkness faded and dawn brightened, with disciples that awoke in oppressive dread and went to bed later with shards of hope—faith prevailed.
In that first ordained Easter for me, I glimpsed what I eventually witnessed elsewhere. All are broken and wounded. All dwell on old mistakes and hide new hurts. And yet, in inexplicable ways, with fleeting or firm conviction, we believe there is more. That Easter, in its clash of life and death, its battle between the empire's cruelty and God's grace, reveals a triumph of Holy, forever love.
In the churches I served since that first one, as my fancy clerical robe frayed, as the pages in my Bible became dog-eared and wrinkled, as I prepared to declare again that "Christ is risen," I tried to offer a home for all. An Easter home—a way station, a place of respite—for every stranger, neighbor, doubter, believer, hypocrite, procrastinator, and outsider that had spent far too much of their daily lives in darkness and dreariness.
The world we humans create is always in turmoil. Jesus is crucified in so many ways. Fools we are, and on more than just this April 1.
And then . . . Easter. Which is more than a calendar date.
Darkness fades.
Light shines.
We are invited home, to hear the counter-cultural good news that Christ is risen, and that we are forever loved.