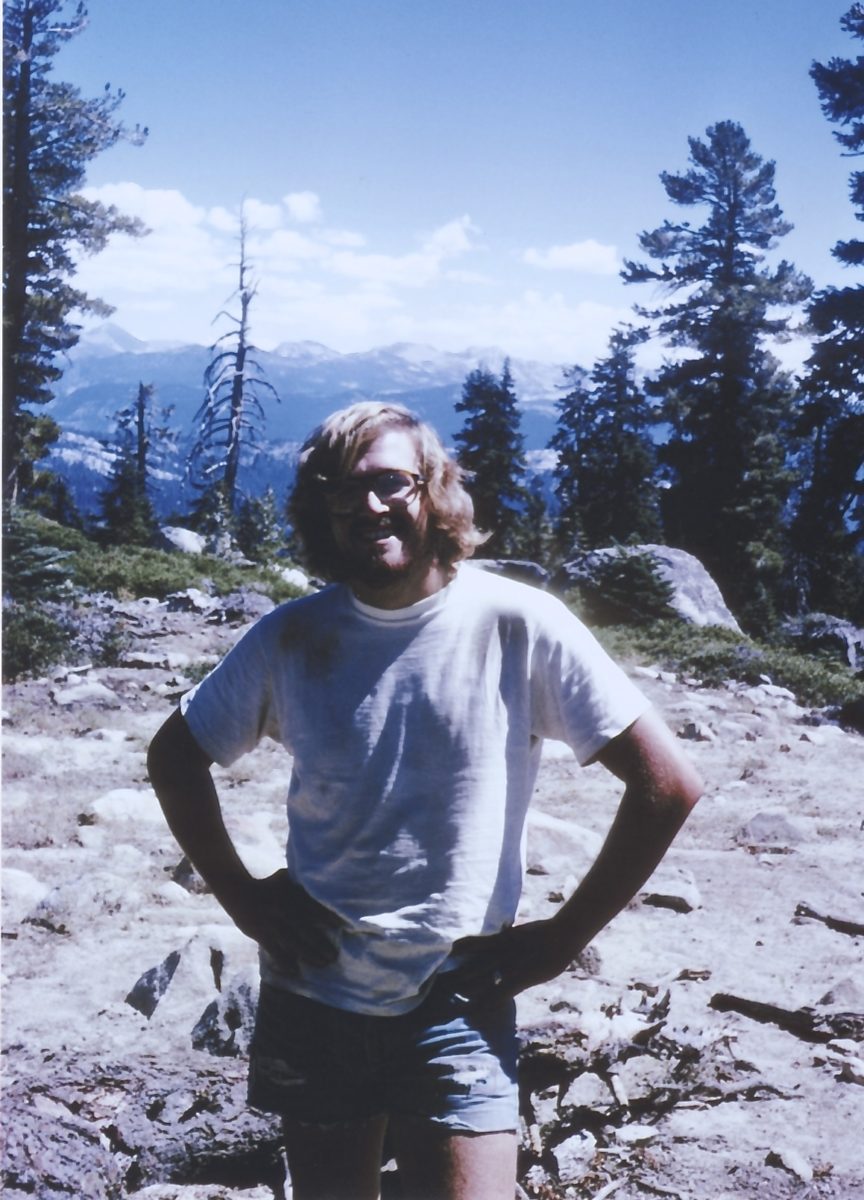 I plan to retire from the United Methodist ministry this year.
Everything will change; nothing will change.
Earlier this week, with an email quieter than a whisper in the front pew, my district superintendent informed me that a committee approved my request. Their decision would be forwarded to a next person or group and soon—with hands raised or voices murmuring "Aye"—my experiment as an active clergy will conclude in its forty-first year.
Anyone hear the angels singing about my demise? (Yeah, I didn't hear 'em either.)
I've spent long, arduous seconds poring over scripture, seeking the Greek and Hebrew words that might refer to retirement or pension or social security. I'm still looking. Retirement is a modern addition to human folly.
I figure my ministry has all been bonus or a burden since my early thirties. Around the time I departed my first appointment as an associate pastor in an urban church to start my second appointment as a solo pastor in a rural town, I became older than Jesus. Depending on which Gospel you want to place your bets on, Jesus was crucified in his early thirties.
No retirement for the Prince of Peace. His savings plan was far different than mine.
Then again, there's the founder of Methodism, the revered and endlessly kinetic John Wesley, who (it could be argued) never retired and preached his final, albeit brief, sermon on his deathbed. He's reported to have possessed the strength at eighty-seven, after several fare-thee-wells from and to friends, to proclaim in his final breaths, "The best of all, God is with us." Not a classic three-point sermon, but a darn fine homily if you ask me. (On some past Sundays, I should've preached just those eight words and left it at that.)
I haven't regularly preached since a Bush was president, though I do have a swell story ready for any retirement ceremonies I likely won't attend. In younger years, at annual church conferences, I listened to the old farts when they retired, as they were given a spot in a program to share their wisdom or whimsy. Back then, I decided at my retirement, I'd tell one particular tale I first heard in seminary. Telling the tale probably won't happen. I've been avoiding all forms of official church gatherings where votes were tallied or tabled for over a decade.
Why avoid those hallowed gatherings? I'm an introvert (though I can fake appearing extroverted). I don't like crowds. I'm not much for meetings lasting days rather than hours. Additionally, most of the remarkable women and men that were once my youthful peers have retired. Or they left the ministry. Too many have died. Some remain active, hopefully still eager to declare God's fierce love from a pulpit and on another day to comfort a church member wrestling with guilt or cancer or a job loss.
For the most part, without any fanfare, after a committee—composed of many pastor-colleagues who've never met me—takes their final vote on my retirement, I'll calmly tip my metaphoric ball cap, and bid good tidings to these wondrous four decades.
Chronologically, here's the vagabond path I've taken after a bishop laid his hands on me for ordination on a hot, stifling June night in Redding, California: seminary student, student intern pastor, associate pastor, solo pastor, pastor of a three-point charge, new church start pastor, solo pastor (again), campus minister, hospice chaplain, senior pastor, and back to hospice with the absurd title of bereavement support specialist.
Beware any minister with a title including special or specialist . . . Liars! Fools!
In between there were leaves-of-absence and a token sabbatical. There were escapes from weekly preaching and yet always a hunger to proclaim the Gospel.
I have my favorite laypeople in the far-flung spots I served. I'll honestly confess to day-dreaming of serving a place where all the favorites were magically joined into one congregation. I suspect we wouldn't get much done, but oh the fun we'd have!
Jesus saved the world by the time he was thirty or so. (Though Christendom still hasn't figured out what he was saying about being neighborly and loving God.)
Me, I've slogged into my sixties with nary an accomplishment.
Still, this, though . . . I remember fleeting glimpses of glory, where God's nudge and my feeble gifts met at the right time for the right person in the right moment.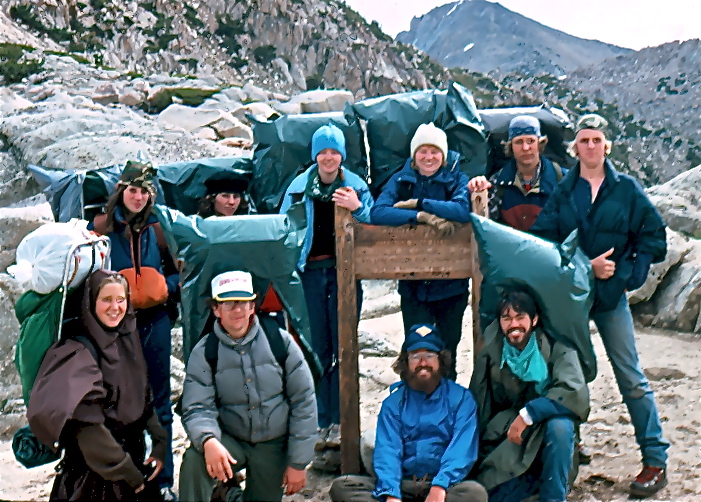 The very best of my ministry happened on church backpacks. The mountains, to paraphrase John Muir, did all the preaching for me. There is good news in alpenglow, campfires, and the Milky Way reflected on a still, dark lake. Nothing like being in community with others who are tired, stinky, and literally willing to walk a mile (and more) beside you.
I've been with those who experienced their worst pains, who shed tears of incredible joy and shameful sorrow, who said "I do," who breathed their last, who thought suicide the only answer left, who bravely exposed their souls to me while revealing the anguish of a child's death or the sweet words of forgiveness offered by an estranged family member.
A thousand funerals, weddings, communions, baptisms. (Yeah, I rounded off the numbers.) A thimbleful of great sermons and enough mediocre ones to overload a garbage truck.
I know my failures.
My hypocrisies.
My guilt and regrets.
My dull-witted actions and the dreary times I did nothing.
And yet, if only because I believe the Holy longs for creation to remember and rejoice in the best of who we are, I also know that in humbling moments, I've helped make a difference for some individuals, some congregations. All we can do is offer ourselves, our feeble faith.
Retirement does officially change a particular relationship with my denomination.
And yet for a while, as long as they'll have me, I'll arrive in my hospice office and try to help. In spite of the callouses on my soul and my clever ways of procrastinating and prevaricating, June 2018's official retirement won't prevent me from still stumbling after Jesus.
++++++++++
"Part 1" is tacked onto the title because I'll likely have more retirement musings in a month or year or decade from now. I'm nothing if not long-winded.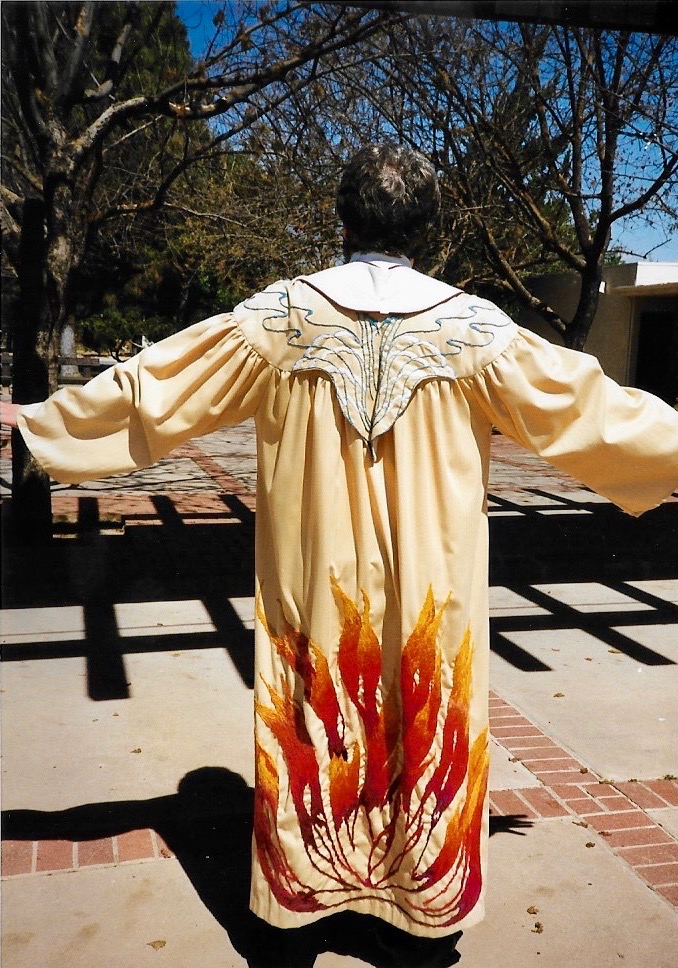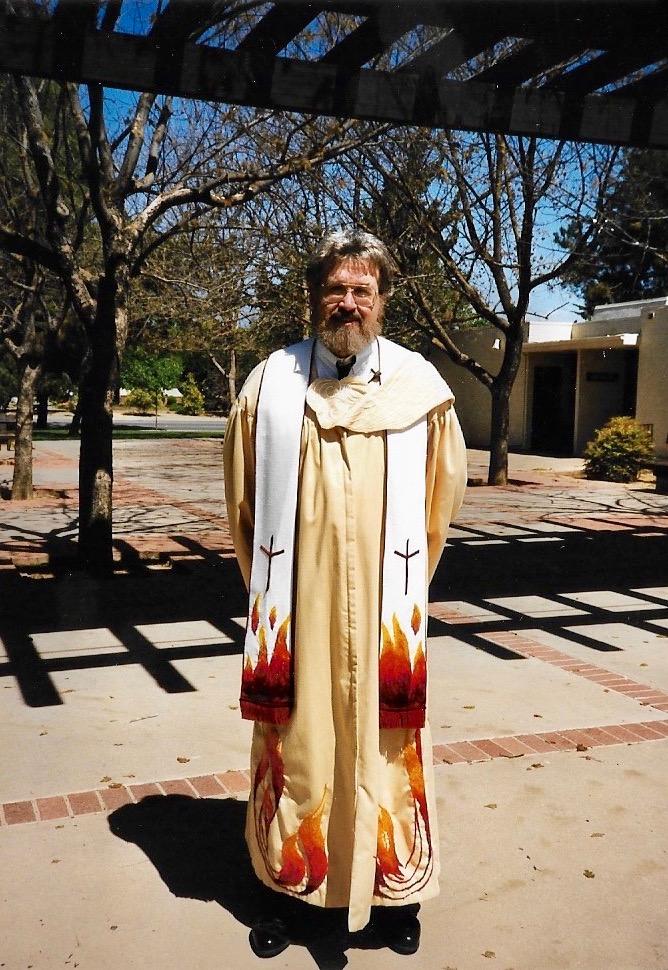 A robe Gail Tanquary made for me when I was an associate pastor at First UMC San Leandro, CA. A long while back – but Pentecost remains aflame! (Photo taken at my last church. Whoa . . . I still had some non-gray hair!)