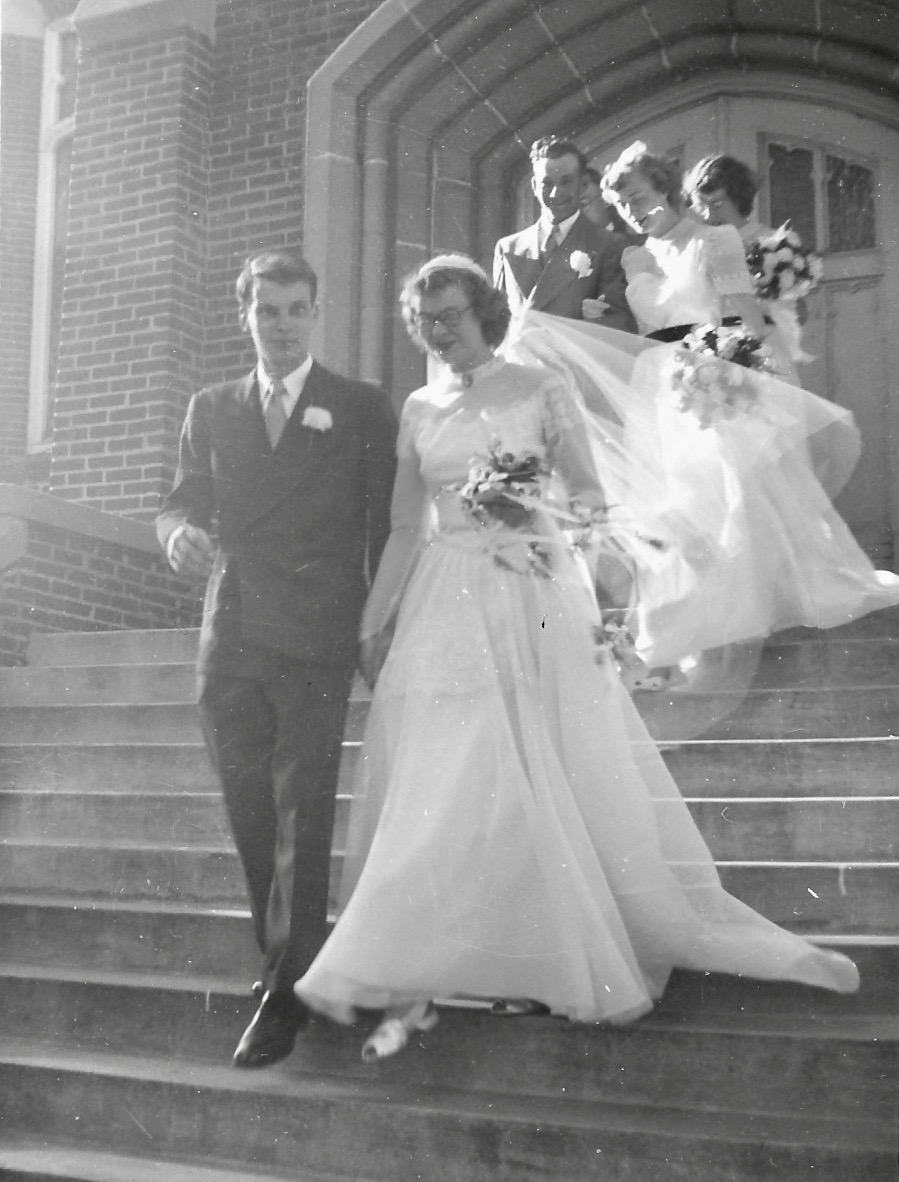 Yesterday, on Sunday January 21, 2018, Ruth Behrend died.
She was my mother-in-law. Jeanie's Mom. She was, and I shall be completely forthright here, the best mother-in-law ever. Sorry, but however much you have loved and admired your mother-in-law, I got to have #1.
The picture above is from her and Wil's wedding in June of 1950. The one below is from about a half-century later for their 5oth anniversary. Wil and Ruth are surrounded the most extraordinary gifts that they gave to the world: Char, Jim, Jeanie, and Dan . . . their kids . . . and their kids' kids.
My first real experience with Ruth was 1983, the year before Jeanie and I were married. Ruth was visiting Jeanie in the Bay Area. At that point, we were seriously dating. I was a mumbling, bumbling associate pastor in San Leandro and Jeanie was a gorgeous babe getting her Master's Degree. Since Jeanie was responsible and had to go attend classes, she "dumped" her Mom on me for entertainment. As a pastor who only worked on Sundays, I had the time to keep Ruth busy. It was an extraordinary day. I took Ruth around to various spots in the Bay Area and every single moment was fun. One of Ruth's gifts is that she always asked questions. She had a sneaky, lovely way to find out about the other person. Truly, what a joy that day was . . . spending time with (though I didn't know it yet) my future perfect mother-in-law.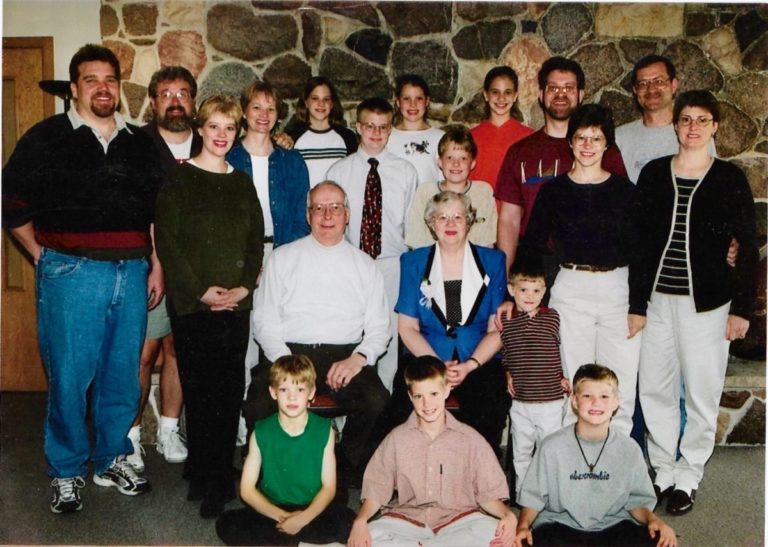 Here is the sadness . . . over her last, final years Ruth had some form of dementia. As with so many, in the myriad tragic ways that dementia steals people's personalities, Ruth's world shrank. But she and her husband Wil had prepared for any possible future, and she lived in a Moravian-connected retirement facility that took care of all of her needs. While she could no longer recall her husband or her children, she was still lovely and kind and as gentle a spirit as ever.
Here is the joy . . . Ruth was one of the most extraordinary women I have ever met. She earned a Bachelor's Degree from St. Olaf College in Minnesota. She married one of the most generous and gracious men I have ever met. Wil Behrend, a Moravian pastor and bishop, wooed her in Door County, Wisconsin. He was a student pastor. She was the waitress waiting at table where he was getting free meals. Hey, it was either pay the kid-pastor a salary, or give him free food!
In 1950, they married and Ruth dealt with diapers for the next eight or so years. About every two years, another kid was born. Char, Jim, Jeanie, and Dan had—let's be honest here—the most perfect childhood.
Simply, I love and loved Ruth.
One of the most precious memories I have, and it will be with me until I can longer remember the best or worst of my life, is watching Ruth and Wil walk beside my Mom and Dad during Jeanie and mine's wedding in Yosemite. While our parents never spent much time together, on that wedding weekend they got to know each other. On the morning of the wedding, I watched our two parents stroll by. They were chatting and laughing in the most beautiful place in the world. It seemed, in that moment, there was only love, only joy, only family, only grace, only beauty.
Now, for Jeanie and me, our parents have all died. The memories are treasures. The tears flow. We know how blessed we were, how blessed we are. Ruth is now within God's forever care, forever love, forever beauty.
And I suspect she's asking the Holy questions, letting God know that she relishes getting to know Him. (Or Her.) Love endures, a tender ongoing gift. Thanks be to God for Ruth.