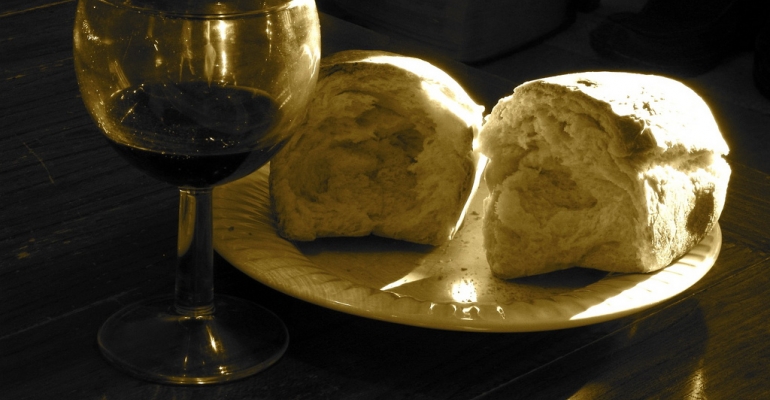 In a church I served, several of us arrived early, positioning a couple of bread-making machines throughout the sanctuary. With the batter already inside, they were switched on. We then hurried to other chores to prepare for that Sunday's communion service.
When worship began, the fragrance of baking bread filled the sanctuary.
Mouth-watering.
Nose-tickling.
I'm guessing there were random stomachs grumbling in the pews. We wanted worshippers eager for communion. We wanted them, young and old, visitors and veteran members, to anticipate the meal. Usually, communion includes a meager portion of a simple drink and a nibble of bread. And yet, the various ways Christians have celebrated communion are reminders of larger-than-life gifts. We gulp forgiveness. We are nourished with renewed life. We recall and claim Jesus' ministry to all.
However, and whenever, the holy meal is celebrated it is a sensual moment. Taste, smell, touch, sound, and sight are all engaged.
Though communion's tradition is rooted in that last night before Jesus' arrest, weren't there uncounted meals and blessings before? Weren't there humble communions prior to the institutionalized church later dubbing it a Holy Communion? How often did Jesus break bread with his disciples? How often did he gather 'round an impromptu meal with "sinners" to share a loaf and plunge into conversations about God and neighbor? Weren't there meals alone with men and women? With children. With ne'er-do-wells. With Pharisees haunted by guilt. With religious authorities scheming to embarrass or condemn Jesus. With neighbors that knew him as a kid. With Zacchaeus who couldn't imagine in the morning that he'd break bread with Jesus in the afternoon. With Mary and Martha and Lazarus, enjoying hearty bowls of stew with them long before a tomb became Lazarus' not-so-final resting place.
Meals are conversation. Chatter. Laughter. Telling tall tales and remember-when stories.
Meals include stolen glances. Eyes closed for prayer. Eyes open to spy second helpings.
Meals are children giggling and glasses clinking as toasts are exchanged.
Meals are for inhaling the rich, spicy flavor of well-cooked food, redolent with the bounty of field and farm.
Meals are grasping hands for grace, clasping hands for greeting.
Hear the silence after the one across from you at table tells of the day's woes and worries, of its wonder and wisdom.
A meal is where—and so many cultural and faith traditions mark this as the sacred rule of table fellowship—enemies and strangers and foreigners and immigrants and sojourners and estranged family members, and (yes, Mr. President) those from allegedly "shithole countries" will be:
Welcomed and
At home and
Safe.
+Â Â Â Â Â  +Â Â Â Â Â  +
I recall Mom making fried chicken. Standing over the stove, she deftly handled a cast iron skillet, shifting the meat in the just-right oil. Snap! Pop! Sizzle! Yes, soon the kid called me would eat as much as I could. And yet, years after enjoying my last delectable piece of chicken (a recipe from her Tennessee-born mother), it's the sound of the preparation and the sound of her sweet voice that lingers.

I recall being at table with my wife on the night we were married. In Yosemite's Ahwahnee Hotel, we dined in the "nook," at the far end of the great dining hall. I could gaze at the other tables and diners, sprawled across the expanse, or outside the window, in the waning light, able to glimpse where Yosemite Falls tumbled a half mile from valley rim to valley floor. And I looked into Jeanie's eyes. What I saw, everywhere, was blessing.
I recall the times I've made apple pies, with crusts inspired by Alice Waters (who is a real chef) and the fruit concoction inspired by Betty Crocker (not so real!), and having the baked dessert cool on the kitchen counter. Oh my, the aroma! I've served that pie to family and friends. They, noses seduced by the heady fragrance of Granny Smith's finest, have uttered oohs! and ahhs!
I recall mountain-cold hands in the morning, wrapped around my Sierra cup as I poured fresh-brewed coffee on a backpack. (Yeah, I often carried a lightweight French press pot!) The alpine air around a lake seemed brittle, the shade from the surrounding trees still harbored the night's freezing temperatures. But oh, what joy when my hands warmed to the coffee.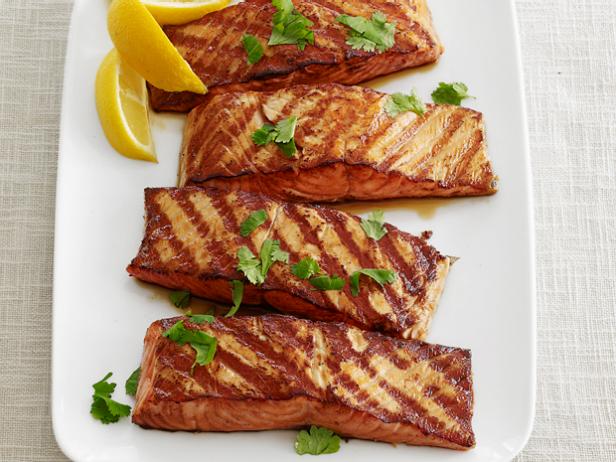 I recall the tender, perfect taste of a salmon grilled by John. He was a young minister then. And I was even younger. An associate pastor soon to leave the church, John had taken several young adults on a retreat near Santa Cruz. For an evening meal, he bought a salmon—literally caught hours before—and grilled it for the final night of our retreat. I'd never tasted salmon like that in my barely two-decades-old life. And I was also beginning to "taste" the possibility—God's luring, God's nudging—of seminary rather than law school. Though, mid-bite, I had no clue that God's love instead of human laws would shape the next forty years of life.
I imagine those who have sat with me, plates full and wine poured and fine chatter. We were and are broken hearts breaking bread. The table of memory stretches to include the backpacks, youth retreats, church potlucks, festive weddings and somber funerals, holidays, and so many other times of celebrating meals that included love and loss, joy and sorrow, announcements and confessions, tender words and tough decisions.
Meals bless and nourish us.
Communion happens every day.