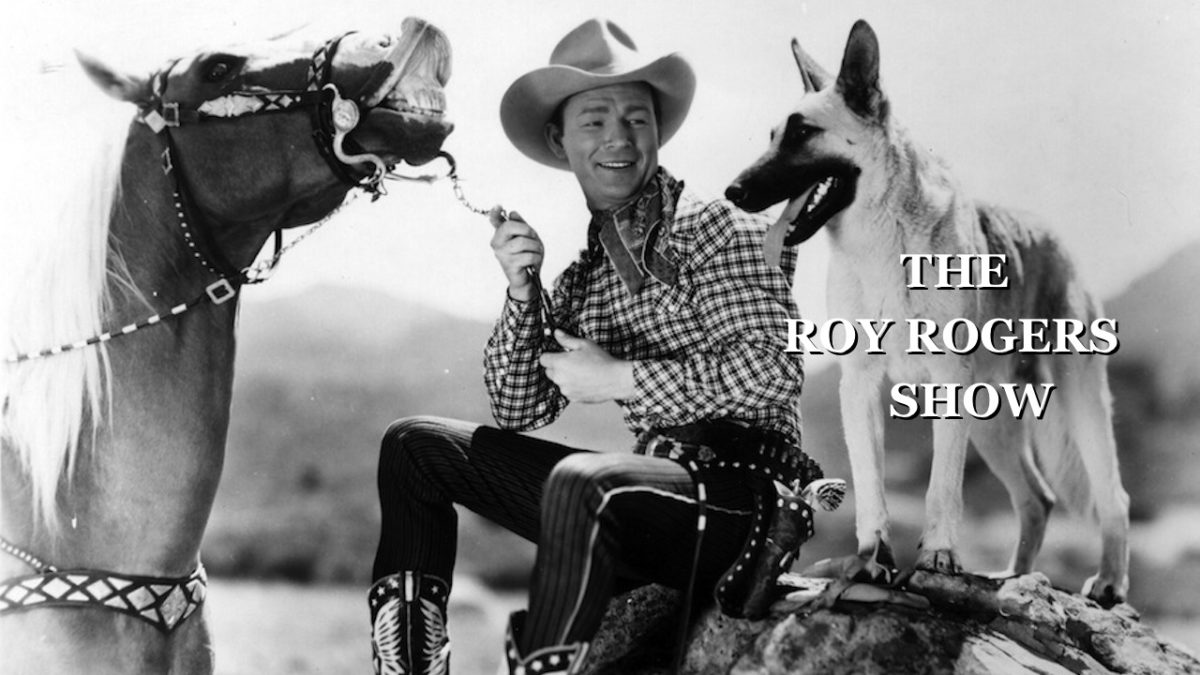 "The beginning of the good news of Jesus Christ . . ."
In my beginning . . . I wanted to be a cowboy.
Enthralled by Roy Rogers' heroics, I longed to ride horses and lasso the bad guys.
The Roy Rogers I wanted to emulate lived in a black & white televised world between his ranch house and the "wild" outdoors where dangerous events (like bad guys doing nasty things) happened. But all was resolved in a tidy half-hour. Yup, pardner, I sat transfixed on many Saturday mornings in the 1950s, figuratively galloping across the west with Roy. He, astride Trigger. Me, at the edge of the sofa.
Giddy-up!
I know Leonard Franklin Slye (Roy's real name) is dead. I know beloved Trigger died and was stuffed, resurrected as a museum display. But Roy lives on in reruns. Over the decades since childhood, I've randomly stumbled onto his show. He is fixed in celluloid moments, forever young, forever brave, and forever a daring cowboy.
I wanted to be him. See that picture of little ole me? That was me, a six-shooter on my hip, four years old and convinced of my future.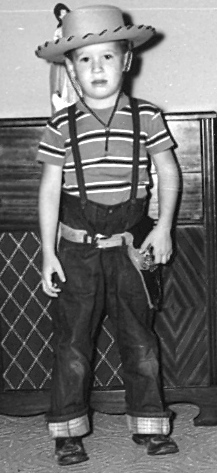 Later I wanted to be a writer. I wrote my first novel in high school. It was a spy novel, set in Italy. I'd never been to Italy, but writing is about making things up, right?
Then a lawyer. Then a minister. In the beginning.
What about you? What pictures do you have lying 'round, at four or so years of age, where there is a hint, a hope, a hankering of what will be your future prospects? Where did you begin? And then what happened?
*Â Â Â Â Â  *Â Â Â Â Â  *
Enough kid stuff!
Ironically in this first part of Advent season, in this time of holding our breath for Christmas, the oft-used readings from Mark's Gospel involve the very adult Jesus. For Advent, the "beginning" of the Christian Year, it's Mark (with a mature Jesus) and not Matthew or Luke (with Joseph and Mary dreaming about Bethlehem), which momentarily can take center stage. In a week or two, with Christmas beckoning us forward like a magnet ringed with sparkling lights, the Gospel lessons will veer toward Luke's more familiar "beginnings." We will soon enough sing about the infant holy, infant lowly.
But it's Mark now . . .
John the baptizer appeared in the wilderness, proclaiming a baptism of repentance for the forgiveness of sins. [Mark 1:4]
Mark with a glimpse of the full-grown John the Baptist. Mark with us waiting for the equally full-grown Jesus to appear, a solitary figure tramping along the Jordan's meandering banks.
Mark is the shortest Gospel, and written earliest. Like all of what we think we know about Jesus, infant or adult, Mark wrote after the end. After the resurrection.
Of course, that's also the case with Luke and John and Matthew and the scores of other known or unknown gospels written about the life of Jesus after the end. And if you're a believer in predestination or another complicated (or uncomplicated) way of explaining theology and history, or simply one who thinks that God has a precise plan for each person and for the whole universe, of course Mark's opening feels confident. Organized. Inevitable. It's all a done deal.
And yet . . .
Advent, these four Sundays asking us to hold our breath for Christmas, never feels confident and organized to me. In Matthew and Luke there are the angelic "fear nots," the demanding dreams of Joseph and Mary, and the drumbeat of Rome's arrogance.
And there is Mark's Jesus. Where did he come from? What did he want to be when he grew up?
When did Jesus become the Christ? When was his beginning? When did he become One who deeply, boldly, passionately, foolishly, faithfully entrusted his life to the Holy? In truth, that's a question that haunts and inspires my faith. I don't know the answer. But I don't believe Jesus becoming the Christ was confident and organized and inevitable.
I think of where I began. I look at that picture of me. Four years of age. How serious I am. I wanted to be Roy Rogers. Ride the range. Always be the hero. Have everything happily and easily wrapped up by the final credits.
It never works out that way.
Still, whether standing in the muddy Jordan or striding along the dusty road to Bethlehem, we are invited to imagine what might be.
Mark's Gospel starts like a horse surging for the finish line. I like that Mark has no birth story, no tale of angelic messengers or bewildered parents. It is not what we expect. Suddenly, there Jesus comes. If you believe Joseph and Mary's son knows everything and that all is meticulously planned, I'm glad for your interpretation of the events. It's not the version I'd hang my cowboy hat on.
What will happen next?
A beginning is upon us.