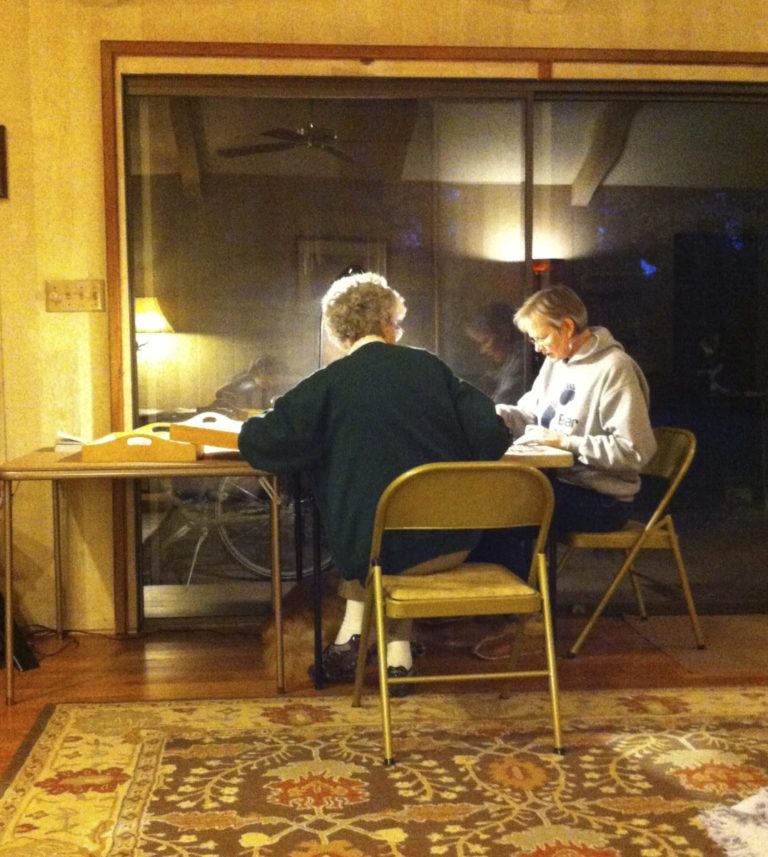 On the day after 2013's Thanksgiving, I took the picture* included with these thoughts. With our ubiquitous smart phones, we can create images anytime, anywhere, and with anyone. The stills and videos we take and take and take appear online, potentially viewed by millions—though more likely by a handful of family, friends, and accidental gawkers.
Most photos come and go. Most, even the so-called "viral" ones, have a shelf life that can be counted in days or weeks. Most don't matter.
This picture mattered.
Matters.
It's my mother. My wife. Our dog.
Hannah, our beloved first golden retriever, would die a year later, at the advanced age (for her breed) of fourteen years. Mom, happily focused on a puzzle, had about nine months to live. She died the following August.
In this picture, Mom is grieving. Except that she's not. Her husband of six-plus decades had died the year before. Dad's insidious spiral into dementia spanned years. Like many spouses caring for a loved one with a progressive neurological illness, Mom's deepest grief occurred while Dad continued to live. His death was a delayed, prayed-for blessing.
Still, in the photo, she's a widow.
When she married Dad, she was just shy of her seventeenth birthday. Mom went from living with her parents and attending school to becoming a military wife. A teenager for the first three years of marriage, she turned twenty mere months before Japan's surrender in World War II. Her generation witnessed Charles Lindbergh's flight to Paris and Neil Armstrong's "one giant leap" onto the moon. How rapid the world kept changing! Her parents could reminisce about the War to End All Wars, and she would watch television with me, her son, as the body count in Vietnam increased every day. Why was the world always at war?
So much my mother experienced. The best. The worst. The mundane. The magnificent.
She was doing a puzzle with my wife Jeanie.
Hannah, our diva dog, lay curled at her feet.
A day before, she'd hugged my older sister and her husband goodbye, as they returned to their home after Thanksgiving. For another day or so, instead of driving home with my sister, she lingered with us. We walked. We talked. We watched old movies. We laughed at the antics of our silly, aging pets.
I think, with so many of the holidays that have become overblown with cultural expectations and advertising's non-stop hype, that it's the day after the hoopla that is better.
I don't mind fussing over the turkey preparations. Jeanie and I make a life-changing stuffing from a recipe found before we were married. The apple pies I usually bake for Thanksgiving provide a seductive kitchen fragrance. But oh, how wonderful the day after is, with its leftovers and easy-peasy meals.
Mom stayed by herself at my home for Thanksgiving once.
This picture captures it.
I didn't plan for the light to be so perfect. I didn't direct Hannah to doze at the perfect spot beneath the card table. Sometime, on this day, Mom stewed over the puzzle by herself. Jeanie had also briefly settled onto a chair to add pieces by herself. And yet at this moment, in a quiet home after Thanksgiving, with warm lighting, with pets snoring, and with the occasional murmur of conversation or the whispered "ah-ha" of finding the right puzzle piece, my mother and my wife had fun together.
This picture, spontaneously taken, depicted the best of my world at that moment. With her back to the camera, it might be nice to see her face, but I can "see" it. Meaningful pictures and stories invite our imagination.
I write this on the verge of another Thanksgiving. And so, thanks for (if you have) reading this far and allowing my indulgence, my gaze back at fleeting memories.
No surprise, my wandering musings are for more than personal recollections, for more than one of the precious pieces of my low-key life. In this hurly-burly time of holidays, from the tricks and treats of late October to the ringing in of the New Year several months later, faith is our companion. Though riddled with candy, Halloween is married to All Saints Day. Thanksgiving, born in the hazy history of Pilgrims, decreed by Presidents as a national event, focuses on sitting around a table of food and expressing gratitude rather than frantic activity by a tree with bling and lights. How did a gritty manger scene become a consumer extravaganza? New Year, that darkest and drunkest of celebrations, nonetheless hints to the God-fueled, spirit-led (but not alcohol-based) belief in light overcoming darkness, in the new emerging from the old.
Our holiday season often seems like an obstacle course of relatives we'd prefer to avoid and road trips taken in the teeth of nasty storms. We buy gifts for folks we hardly know, eat too much, gain too much weight, and yet . . .
It's a time where grace might happen. You may, while heating leftovers or briskly walking to battle your appetite's regrets or puzzling over a puzzle, have a transcendent moment. A loved one lingers at your door before leaving and the right words are finally spoken aloud. A loved one stays a day or two longer and you share simple moments that will last a lifetime.
God's effusive, elusive gifts happen. (And occasionally, our eyes open at the right moment to experience their sublime manifestation. The incomplete is made complete; the unknown is known.)
And this I also believe: every scriptural reading, for any season, is incomplete. In whatever the ways that we interpret the birth of Jesus, however we embrace or doubt the Gospel accounts of Jesus' ministry, and whether we comprehend an empty tomb literally or metaphorically, all are but glimpses of history and fragments of faith. They are solitary word pictures, never telling the whole tale, forever striving to reveal a holy story.
For as long as I am able to remember, I will look at this picture with humble gratitude. It captured a moment, a truth, a beauty, a warmth, a love that is forever enduring.
I hope you have pictures*, and moments and memories, like this.
++++++++++
*And if you do have pictures,  how I'd love to see them and for you to tell their story.
Also . . . with Thanksgiving upon us, and the December celebrations approaching, I used personal holiday pictures for inspiring these thoughts above and on my Hospice Matters site. If you want to read about the "other picture," go HERE.