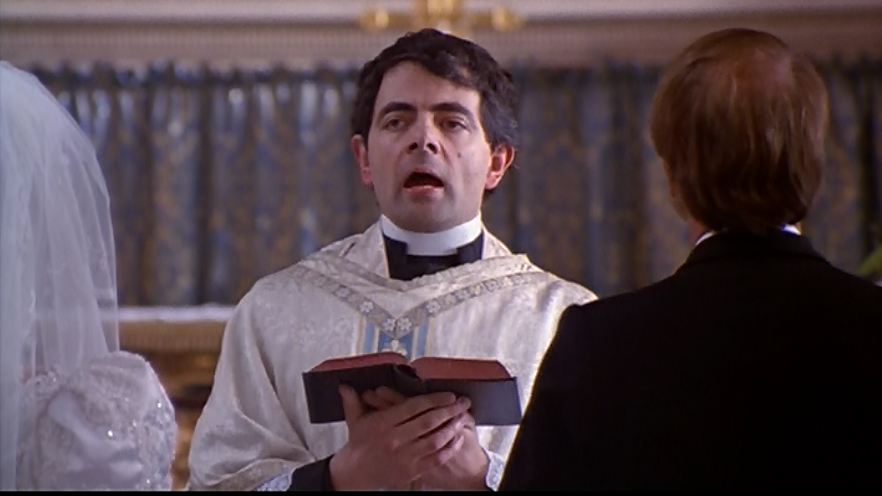 It was my first church where I was a full-time minister.
I recall spotting the best man striding purposefully towards me. It was after the wedding service, but before the reception had begun. He was pale, skinny, and so (so) young! In a tuxedo looking like he'd co-starred in a teen slasher film that ended badly and predictably at a prom, he stopped in front of me.
"Thanks," he said, "for doing Tommy's wedding."
"You're welcome." (I don't remember the groom's name, but why not Thomas? Tommy to his pals.)
"He wanted me to give you this." The best man reached into a jacket pocket and then handed me a folded envelope.
"Gotta go take pictures for the wedding party thing," he said. "But thanks, again."
I slipped the envelope in my Bible. Since the wedding was for the granddaughter of one of the long-time church members, I knew quite a few in attendance. I socialized, soon moseying over to where pictures were being taken and posing for a friendly photo with the new newlyweds. The reception followed. Boring me, I left early.
It was on the way home that I glanced at the envelope.
No note. No thank-you card. Other than my name block-printed in purple ink on the outside, nothing personal. There was cash inside: a Hamilton and three bucks. "Hamilton" is the slang based on the guy depicted on the currency. Alexander Hamilton, one of America's Founding Fathers, may currently be better known because of the Broadway musical.
Mr. Hamilton, a signer of the Declaration of Independence, is worth ten dollars.
I was given $13 in cold cash by a skinny kid in a shiny tuxedo.
Hey, I wasn't in ministry for the money!
+Â Â Â Â Â  +Â Â Â Â Â  +
Based on the number of comments from multiple years, one of the most popular posts* on this site wondered about how much to pay pastors for ceremonies like weddings and funerals. In the Internet's vast and restless ocean of web pages, there aren't many who care about my faith-based pontificating. However, several "strangers" have stumbled onto my digital beach, their search engines hinting that I may have the answer to a troubling question:
What should I pay the pastor?
After all, a minister will soon help my beloved and I declare, "I do."
Or, a minister is burying Grandpa next Saturday.
A friend (and fellow pastor) told me his standard response when asked by couples about how much he charged for weddings. He then served a congregation in a popular California zip code. Many out-of-towners wanted their ceremony in his picturesque sanctuary. He'd tell 'em, "I have no set fee. Just pay me ten percent of whatever the wedding will cost."
Many out-of-towners wanted their ceremony in his picturesque sanctuary. He'd tell 'em, "I have no set fee. Just pay me ten percent of whatever the wedding will cost."
He was joking. I'm sure it was his way to start a discussion about finances during the pre-marital counseling. Then again . . .
At that church where I was handed thirteen bucks for a wedding, several retired ministers were in the congregation. One had been in Reno, Nevada right after World War II. He received calls 24/7 from eager couples desperate to exchange vows. Overwhelmed by the requests, he prepared a packet that included practical advice for newlyweds, information on personal finances, a brochure about sexual intercourse (whoa!), and the fees for him to perform the ceremony. (Witnesses and music cost extra!)
Now that's organized!
Some churches I've served had guidelines for building use by outsiders; details for weddings and funerals were clearly spelled out. Other churches left decisions up the minister.
I've always assumed if you were a church member, you had no "obligation" to pay. I was your pastor. For others, I often asked that people pay me what they could, but to make the check for the Pastor's Discretionary Fund. Wedding and funeral "income" contributed to the church's support for those in need.
If you're a pastor reading this, what do you charge? Does it matter if the person is a church member? Does it matter if it's a fancy wedding or a simple graveside service?
If you're a layperson, how much do you think pastors should be paid for a wedding or funeral?
Along with thirteen bucks, I've been paid with:
A case of beer.
Bottles of wine.
A plate of cookies.
Nothing (at times intentionally, other times . . . not!)
Lovely notes.
Gift certificates to restaurants.
A couple of twenty-dollar bills warm from an ATM.
$1,000 check.
What am I worth as a pastor? How often have I said, and meant every word, pay me what you are able? Is it fair to put the decision back on those seeking my services?
Occasionally, I've thumbed through magazines devoted to "perfect weddings" and found nothing—or nearly nothing—on the clergy's role. Weddings involve fancy clothes, exquisite food, memorable honeymoons, and . . . oops! Does anyone know someone who can do the ceremony? Now, in a lot of places, anyone can legally marry the couple. Complete an online form or two and you're ready to say, "Dearly beloved, we are gathered here today . . ."
And yet people who aren't part of churches, or who simply wish to do what is right, want to know how much to pay for "services rendered."
This is my best answer: ask the person doing the ceremony. Don't be shy!
My second-best answer: based on what you can pay, overpay her or him! (Hey, I'm biased and most clergy aren't getting rich!)
My third-best answer: give yourself.
Which is to say with #3, tucked in my desk, are notes thanking me for being a part of a person's life during a wedding or funeral. Or thanking me for a sermon that touched their heart or a prayer in a hospital shared during a crisis. Personal notes are treasures.
And that case of beer on the list of what I've been paid? Years ago, I had next-door neighbors barely making ends meet. We had some fun (and cheap) dinners together. We swapped stories about this and that, including the beer I enjoyed drinking after a backpack. They asked me to marry them. It was a simple, lovely ceremony. And because their finances were tight, I got a case of my favorite brew. Back then, it likely cost a Hamilton, give or take a few nickels.
I've done bunches of weddings. I still think about the couple that lived in the apartment next door and their generosity.
* My earlier "popular" post about paying pastors is HERE.
Image is actor Rowan Atkinson from 1994's "Four Weddings and a Funeral"