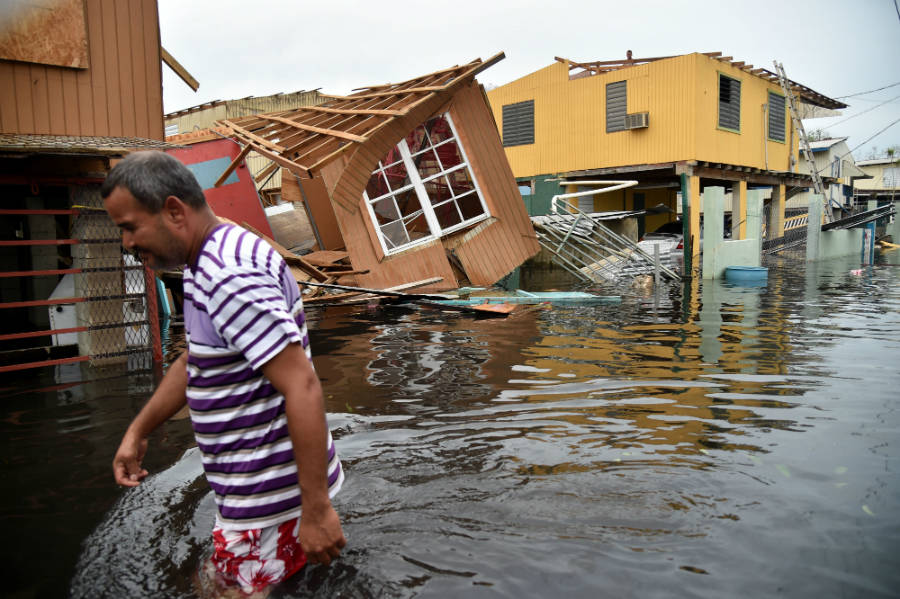 I want to rant about Trump.
How easy that would be. Isn't he a smidgen like the Gospels' Pontius Pilate? Our current president seems like a two-dimensional character from another place (modern New York substituting for ancient Rome), wealthier than most, ambiguous in faith, and morally flexible. But he's large and in charge. Thankfully, there was no known tweeting by the prefect of the Roman province of Judaea.
Why rant?
Maybe because I've read and seen too many reports of hurricanes swirling in these last weeks. They have been randomly destructive, liquid and violent proof of climate change (or close enough to that apocalyptic theory to unsettle a few naysayers). And yet the leader of the free world spews and sputters over a game played with an oblong ball.
How can we be so cursed (certainly not blessed) to have POTUS devote even a splintered split of a second to whining about, and swearing at, overpaid players of a child's game? But he did. He does. People have died. Homes were destroyed. American citizens reel from the oceanic fury, thrust into chaos and ruin by a slew of hurricanes.
This president, a nattily-dressed mogul with a personal wealth that rivals Delaware's 4.1 billion or South Dakota's 4.5 billion annual budgets, is different than me. (And maybe you.) After all, I've never declared bankruptcy or insulted war heroes. I don't have the heart of a miser or the greedy urges of the rich lusting to get richer. I don't scheme to brand my name . . . everywhere.
My rant could go on.
And yet I think of those hurricanes.
They have made me feel helpless. I've prayed. I've sent money through the United Methodist Committee of Relief (UMCOR). Do my dollars matter? I like to think so, especially when added to the dollars of other donors. Sadly, my resources are limited. Too many children are starving. Too many families don't have a roof over their heads. The groups in Fresno (my zip code) that serve the homeless need and deserve additional resources. I regularly contribute to Angel Babies, a program run by the hospice where I work. Its support of families numbed by the death of a precious infant have changed lives for the better.
Yesterday, I tossed a mailed invitation for my help from Doctors Without Borders into the recycling bin. Into the bin went the Salvation Army's request to make Thanksgiving a tiny bit better for impoverished Fresno families. I help a couple of groups; I can't help them all. Sigh.
The world is swamped by misery.
The poor you will always have with you, Jesus apparently said.
Boy, was he right.
Unlike my president, I don't call a Manhattan penthouse home, "decorated in 24K gold and marble" and "designed by Angelo Donghia in Louis XIV style." Still, aren't I rich? A house in 'burbs. A two-car garage. My dog and cats have never known hunger.
How can one have faith—a vulnerable, gritty, open-to-God, following-Jesus kind of faith—while eating at the trough of luxury? Sending money in the cruel aftermath of Harvey or Maria takes a few clicks at my computer. Then I can go take a nap. Or walk the well-fed dog.
I read the Gospels and aren't I more like the Herods and Pilates?
If you've read this far, have I made you feel guilty? It's possible, especially if, like me, you know where your next meal is coming from. But my goal, in spite of futile Trumpian rants, isn't to promote guilt. It's also not about encouraging angst for a president whose interests are bent on, and bent by, self-aggrandizement and touting a cringe-worthy version of American exceptionalism.
No.
It's just that modern faith is hard.
Hard in a wounded world of selfish walls and self-serving tweets.
Hard in a poor world brimming over with too much poverty and too much wealth and too much distance between those extremes.
I slouch behind Jesus, a twenty-first century believer burdened by American wealth, with just enough gumption to boldly, humbly pray for peace. Not a general "peace for the world," but specifically for the places and relationships around me.
Recently, hospice colleagues gathered to "debrief" about a patient's death. Confidentiality requires I withhold any details. But trust me—it was an awful experience that can shatter your soul. I'm not exaggerating. Nothing felt right or wrong, only overwhelming. At the end, words spent, emotions raw, our obligations as a health care agency satisfied, we hugged.
Each of us.
All of us.
It's there my faith still lives. Still hopes.
I rant about politics, especially with the President's intentional divisiveness. I understand disagreement over policies, but the barrage of insults and invectives corrode any possibility of common ground. I am staggered by the distant destruction of hurricanes and know not what to do. But in a moment, in a room, with co-workers torn in two by guilt or regret or second-guessing or self-doubts or personal dread, I give and receive a hug.
I trudge along the way, Jesus far ahead and out-of-sight, and weep with my weary neighbors.
It is all I can barely do.
+++++++
Image from here: Hurricane Maria caused widespread damage in Puerto Rico. It hit within weeks of Hurricanes Irma striking Florida and Harvey flooding the Texas coast. Credit: Hector Retamal/AFP/Getty Images