John 24:13-35 – The third Sunday of Easter – for April 30, 2017

"He said to them, 'What are you talking about as you walk along?' They stopped, their faces downcast." (John 24:17)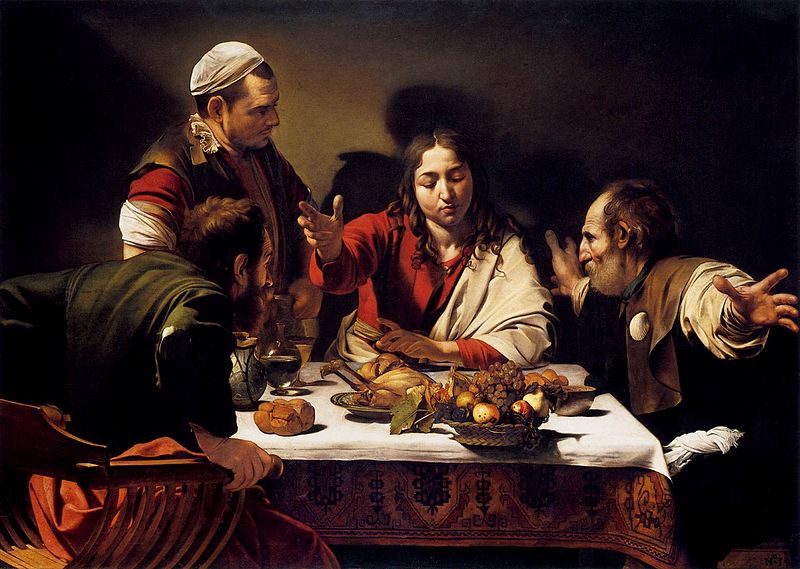 It was a mundane phrase that unexpectedly felt the most appealing and revealing to me.
In the midst of the magnificent "road to Emmaus" passage, after Jesus joined the two melancholy disciples, but before either recognized him as the risen Christ, they tell this "stranger" what had just occurred in Jerusalem. Cleopas and his never-named companion chattered about Jesus and his "deeds and words." They told about the religious and political leaders despicable, fatal reactions toward the Nazarene.
Then a phrase was used (by the Common English Bible, or CEB) during their anguished account of the worst story of their lives. Cleopas or the other, maybe dramatically pausing, maybe collecting his thoughts, or maybe rushing the flowing stream of explanations, said,
But there's more . . .
In the modern New Revised Standard Version (NRSV) and the venerable King James Version (KJV), the English translation for the opening of verse 22 is a similar, "Yes and besides all this . . ." The sturdy, popular New International Version (NIV) chooses the simple, "In addition . . ."
I prefer the CEB's But there's more . . .
Lazy or cranky, I have little interest in slogging through one of my old seminary tomes for the original Greek. Please, if you do (or if you've bookmarked a snazzy website for searching your geeky Greeky queries), I look forward to learning from your eager endeavors.
I'll stick with the translations.
I'll stick with what has stuck with me as I read (again) about Emmaus and wonder (again) about my tenuous faith.
Cleopas and his companion, whether hesitating or gushing more words, followed the there's more with details about the events involving the tomb where Jesus' dead, dead body was laid to become bones and memory.
And yet their there's more transported me elsewhere.
+Â Â Â Â  +Â Â Â Â  +
Perhaps it's because my current ministry in hospice, where I try to keep my Christian learning and leanings on a back burner while honoring the diverse needs of patients and families and their faith. I know there's more than the Christian story. There's also more than only one version of the Christian story.
I hope to support those without faith, or following faiths different than mine (like Buddhist or Muslim) by respecting their needs. I am no expert on my own faith, let alone others. But in the worst or best (or both) times of helping the dying and the grieving with faith journeys different than mine, I ask myself: how can I be their companion? What can I say, or not say, that will give them a glimmer of hope? Often my choice, on my better days, is silence. They know more than me. They have had experiences different than mine. I have no interest, when another is struggling with a beloved's death, to compare or contrast faith traditions.
Mine is not the only path; theirs is not the wrong path.
Once, in a room of hospice volunteers, where we were celebrating the unselfish work of these men and women, the host at the microphone gazed at me before our breakfast and wondered . . .
Could you say grace, pastor?
And so I did.
But I kept Jesus' name out of it, though Jesus is one I follow.
Afterwards, one of the participants, whose husband had died in hospice care, and who now volunteered for hospice, touched my arm and thanked me for my brief blessing.
"I'm Jewish," she said. "Just wanted you to know that I was glad to be included in your prayer."
+Â Â Â Â  +Â Â Â Â  +
There's more for me, regardless of other faiths and others without faith. There is so much more of my own beliefs that I don't understand, can't describe (to myself or you), and any time I use words to give expression to these feelings, I mostly falter.
With honesty, I know I can't begin to comprehend God's love and mercy. With honesty, I struggle and mostly stumble when I try orienting my life to make visible the inexplicable forgiveness that Jesus shared, even with his dying cross-bound breath.
When I return to the Emmaus account, and read the thirty-first verse—Their eyes were opened and they recognized him, but he disappeared from their sight—even in my office where I'm the only one around in this still dark, pre-dawn house, I cry . . .
Stay Jesus!
Explain more to Cleopas and that other fellow!
Explain more to me!
Give me more! Help me understand, if not "all," at least to understand God and Jesus and faith and myself a little better.
And yet he disappeared.
More didn't happen.
I am not left with more, but left with barely enough.
Those two befuddled, blessed disciples returned to Jerusalem. They said, for they had nothing else to say, that Jesus was made known to them when "he broke the bread."
I believe they also realized they were broken.
Again, with honesty, it's more that I realize in my faith, in my bumbling journey to serve, that I too am broken. I hardly know anything. There is so much I don't know compared to what I do know.
But there's more . . .