Luke 23:33-43 – Reign of Christ / Christ the King Sunday – for Sunday, November 20, 2016

"He replied, 'I assure you that today you will be with me in Paradise.'" (Luke 23:43)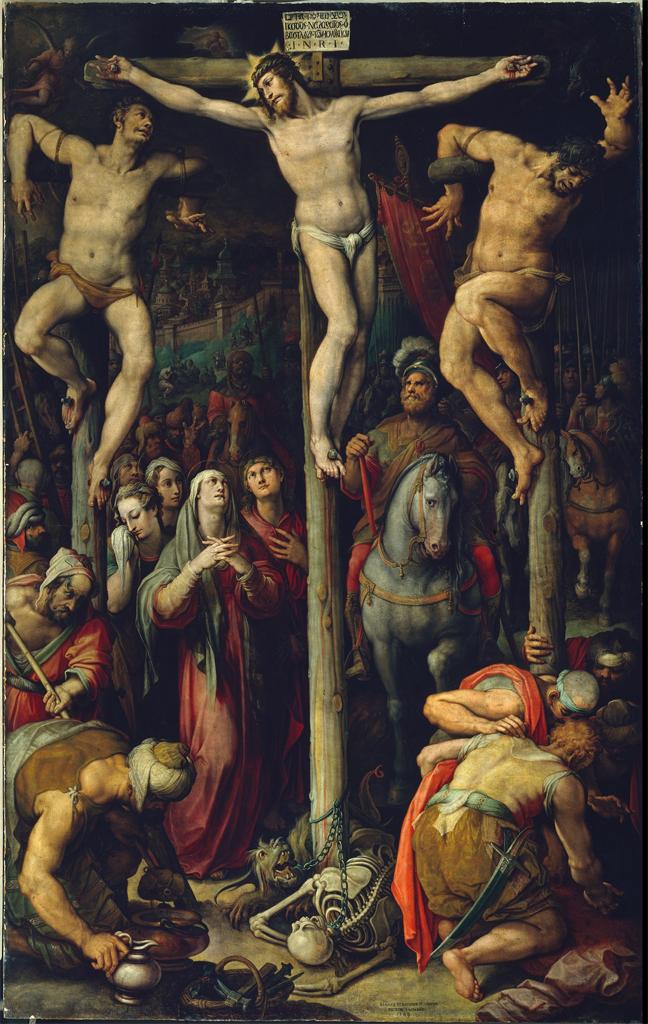 It is November.
Here in Fresno the summer heat has booked a flight to Australia. Our famous Tule fog has made its gray, murky entrance. It's a time of transition, when the oranges are still green and the green leaves on the deciduous trees are turning orange. Autumn shrugs its shoulders and leaves drop like dandruff. Pumpkins anchor doorsteps, once the hollow stars of Halloween, now anticipating Thanksgiving. It's a restless threshold time, a season betwixt the seasons.
Reading the lectionary in November is unsettling. Just when you're creating a grocery list for Thanksgiving or dreading that it's your turn to host the family Christmas gathering at your house, a Biblical guest arrives. It's Jesus, and he's nailed to that humiliating cross. The lectionary readings have dragged us toward the place called the Skull, with battered Jesus hanging between two criminals.
We could ignore it. Folks who aren't part of churches already do. The transitions are easy for them: let the Halloween pumpkins linger for Thanksgiving or buy some new ones and use the gourd's innards for fresh pie to serve for dessert. Easy as 1-2-3, right? (Well, easy except for those darn goopy seeds.) In the supermarket, exchange the freestanding, life-sized cardboard cutouts of the Pilgrims and turkey with Santa and the reindeer.
It's ye olde seasonal switcheroo! Again, easy.
The cross bound Jesus? Not so easy.
For worship, we're strategizing where to position the Advent banners in the sanctuary. Soon clergy or laity or both will light symbolic candles and proclaim familiar scriptures, all of the wondrous fuss focused around the focus word of the day. Maybe it'll be faith. Maybe peace. It'll be upbeat, though. Advent has rough edges, but nothing we can't gloss over for the kids.
But there's this damn, er darn, Sunday. The threshold separating summer and winter. Between hot and cold. Between you and the baby Jesus. Abruptly death cackles. Good Friday elbows in for an appearance, like an embarrassing relative who promised to stay one night, but brought lots of suitcases. It's the very adult Jesus on the cross, bookended by two criminals. One snarled insults. The other whispered compassion. And Jesus said what was traditionally known as the second of his seven last words: "Today you will be with me in Paradise."
Paradise yanks me to a halt between summer and winter, between the Pilgrims and Santa.
What is Paradise?
It's a word with Persian roots, meaning enclosed garden, a peaceful spot. Is a paradise where only good things happen? It would feel like paradise if I didn't have to dust or vacuum the house! It would seem like paradise if all the drivers on the road used their turn signals in the proper way! I'd declare it paradise if I never received another recorded call from a politician! (Can I hear an "Amen!" to that third example?)
We like the notion of paradise. While the word itself is barely a blip in the Bible (three total references, I think), it's all over our maps. For personal amusement, I googled to see if I could find a "paradise" in each of the 50 states. Here's my list:
Paradise Shores, Alabama
Paradise, Alaska
Paradise Valley, Arizona
Lake Paradise, Arkansas
Paradise, California
Paradise Hills, Colorado
Paradise Green Neighborhood, Connecticut
Paradise Ridge, Delaware
By the letter "D," boredom set in. But I'm confident the next state—Florida, alphabetically speaking—boasts a Paradise. (Go ahead, you do a search!) Paradise was easy to find, though Connecticut did prove a tad difficult. While "Paradise Green Neighborhood" may not have a zip code, it looked like a swell location. And I did find a Paradise Pizza in Oakville, Connecticut. Have a slice if you drive through Oakville.
Summer's over, winter's not here. For a moment, with pumpkins littering the neighborhood, with Santa poised to take pictures with the kids, Jesus hangs on that cross. Bloodied and ridiculed, the person who does not resemble the Baby Jesus rightly unsettles us. And yet Jesus, tradition claims and the lectionary reminds, shared the second of the "last words" with the promise of paradise.
Paradise, a place barely mentioned in the Bible, is probably somewhere near where you live. But I don't think of it as a place, or as a heaven to be achieved. It's not really a town in a state, more a state of the soul. In the heart of the heart of my faith, I imagine paradise as a challenge and promise to help me live through the threshold times. Will I snarl and condemn those near me? Will I be compassionate and turn to support the other? Which direction is paradise?
There's paradise today. Not a spot on the map. Not even a pizza joint. But at the very least, between the cross and the cradle, it's a Christ-like hope guiding us through the most difficult seasons of our faith.
[Image: Johannes Stradanus – "Crucifixion" (1569) . . . which I first saw in a recent edition of the "The Christian Century . . .)