Isaiah 65:17-25 – The 26th Sunday after Pentecost – for Sunday, November 13, 2016

"They won't labor in vain, nor bear children to a world of horrors, because they will be people blessed by the Lord, they along with their descendants." (Isaiah 65:23)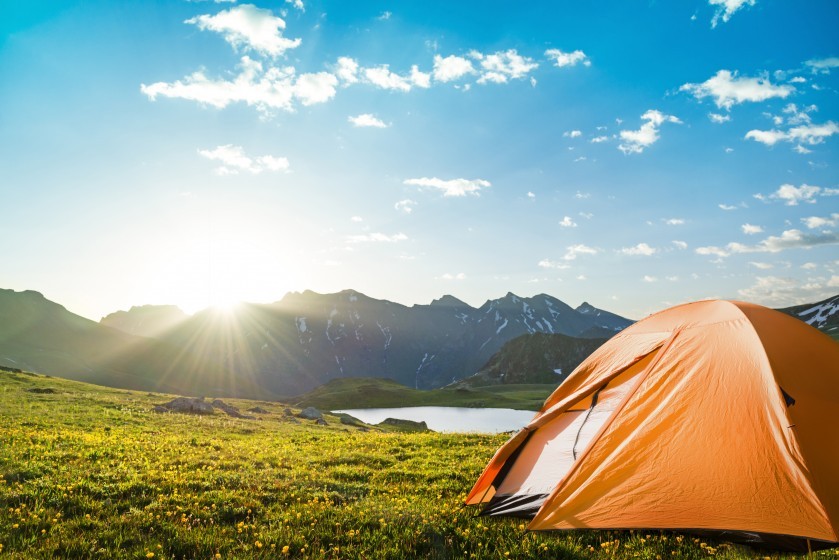 The Bible, and the Old Testament prophets in particular, can spin stark images and warn of impending danger. God has a long, anguished memory when the Children of Israel stray. God is often judgmental. God frequently seeks revenge.
But not always, for Isaiah dreams joyous dreams. In the 65th chapter, there is a longing of a "new heaven and new earth."
Just around the lectionary corner, the world according to the Bible will quake and groan, shake and tremble, as various apocalyptic passages "prepare" believers for the mayhem before the manger. Grim those passages are. Terror reigns; hope shrivels.
But not in this passage! If the mariners of by gone days were right, and it's a red sky at night and sailors take delight, and red sky in the morning and sailors take warning, let a red light in the final gloaming shine from Isaiah's words.
I have glimpsed glory like old Isaiah described. I have witnessed God's dream of a human community no longer in tears. No longer suffering. No longer having children bearing a "world of horrors."
Once, on a backpack in the Sierra Nevada, I poked my head into a rain-streaked, mud-stained, four-person dome tent and found the missing youth. For brief shimmering moments, I also found Isaiah's divine dreams revealed in sweaty, smelly teen hikers.
I had led a youth group deep into the wilderness. They were friends and strangers, popular and geeks, first-time hikers, extroverts and introverts, on the cusp of adulthood, each one a joy, and sometimes all of them a pain in the butt. My butt.
We'd tramped through rain. We'd set up camp by a lake the color of steel under a dreary, dripping sky. Kids whined. Kids complained. And then, during a mid-day calm in the storm, I realized they'd vanished.
Gone. All of 'em.
Then I heard laughter. Though there was nary a breeze in the granite lake basin where we'd established our camp, I saw one of the tents sway back and forth. Most backpacking shelters are designed with a limited number of occupants in mind. I've owned one and two-person tents, slender strips of nylon held together with precise stitching and supported by featherweight metal poles. They weigh next to nothing until stuffed into a pack and you're trudging up and up and up a mountain. This particular swaying dome tent, with its wondrously flexible poles, claimed ample space for four "average" campers.
Ten kids were inside. Or was it more? God's memory may not fade, but mine does.
Knee to knee, sitting upright, creating a circle that seemed to be impossible in the ridiculously cramped space. Except, when I briefly entered, there was room for one more.
They were playing cards. I can't remember what game, for this was a thousand years ago when they were young and so was I.
They were children.
Some didn't know each other at the trip's start.
Some would leave from that mountain sojourn and never ever venture onto a Sierra trail again (too cold, too dirty, too wet, too many insects, too hard to carry a pack, too far from toilets and television).
And yet, squeezed like ice cubes in a tray, like eggs in a carton, like commuters in a New York subway, they all smiled. Giggled.
How could Isaiah believe? Dream? Hope? How in this awful world, for it was awful then and it's assuredly awful now, could the old prophet dare to share any Holy optimism? Hate always seems to make the headlines, the Almighty always seems divinely missing, and the wolf and the lamb—the literal and metaphoric ones—seem forever to be predator and prey. How could any of us believers truly believe in a world that could be different? That was better? That was shaped by compassion?
I wasn't in the tent long. Not because there wasn't room, for in that four-person tent with ten (or more) people playing cards, it felt immense enough in that wet mountain moment to contain just enough extra room for the whole world.
I left them playing as I went about doing other mundane, necessary camp chores. I was glad they were no longer "missing." And yet I knew, in the heart of my heart, that they had also found each other within those thin nylon walls. I could guess they'd soon revert to their old ways, when we returned to the flat land and home, when the backpack was a memory. Those kids would reclaim their introverted and extroverted ways; passing in high school hallways without a nod to the stranger they'd shared a tent with. Still, in that wet, sloppy, glorious moment, they were community.
And I believed and believe in Isaiah's dream.
It was only kids on hike. Nothing revelatory happened. All I did was read a stretch of scripture that dislodged a recollection from "back in the day." But isn't it our stories, our accumulation of transformative memories—of dreams, if you will—that nudge us to celebrate God's ongoing creation?
We glimpse, in sanctuaries and street corners, in dull meetings and at a family's holiday table, and even in dome tents, these precious moments. Look, I am creating a new heaven and new earth, Isaiah dreamed, past events won't be remembered . . .