Luke 18:9-14 – The 23rd Sunday after Pentecost – for Sunday, October 23, 2016

"Jesus told this parable to certain people who had convinced themselves that they were righteous and who looked on everyone else with disgust . . ." (Luke 18:9)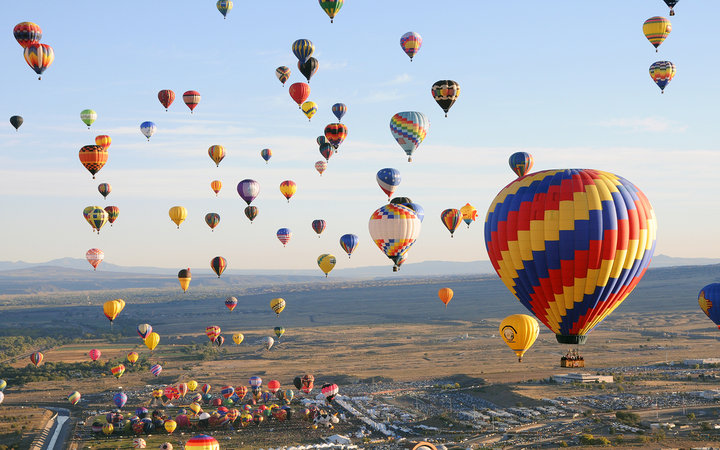 Some folks were on a hot air balloon ride, touring the countryside while suspended in a large wicker basket.
Cars appeared to be toys, humans looked like tiny figures in a video game. Hundreds of feet above the ground, they ooohhed and ahhhhed while the balloon climbed into the blue. Introductions were done informally and one of the passengers happened to be a minister.
Unfortunately the young lad piloting the balloon didn't inspire confidence in the paying customers. He seemed a lackadaisical surfer dude with nothing better to do with his time. The waves weren't any good today, might as well take the balloon up.
Problems started . . . perhaps a faulty burner or unexpected gust of wind. The balloon lost elevation. The pilot panicked. He had no idea what to do, but—whew—everything returned to normal in seconds. However, the group remained anxious and agitated.
A passenger implored the minister, "Do something religious!"
(Here, let's take a brief pause for the punch line.)
"Should I take an offering?" the minister said.
I don't recall where I first heard this story. But how I delight in that silly punch line! Maybe no one else chuckled, but I did, and still do.
What does it mean to do "something religious?" Pray? Yelp for God's help? Bless, curse, or anoint the balloon's fickle burner? Hey, why not pass an offering plate?
If a person's cynical about religion, I suspect they'll think anything religious is useless or harmful. Preachers are purveyors of guilt. Churches lust for your money. Hypocrites crowd the pews. It's easy to find examples of faith-based foibles. Headlines frequently reveal another pastor's ordained stupidity. I don't need to list current or past ministerial mayhem because you can easily create your own.
In the summer of 2008 I attended a writers workshop at Washington D.C.'s National Cathedral. Built by the Episcopal Church over a period of decades, it's an impressive structure and campus. Communion is served every morning in one of the many smaller chapels located within the Cathedral's sprawling interior. Various priests lead the services. Some are retired while other clergy are actively serving parishes locally and globally.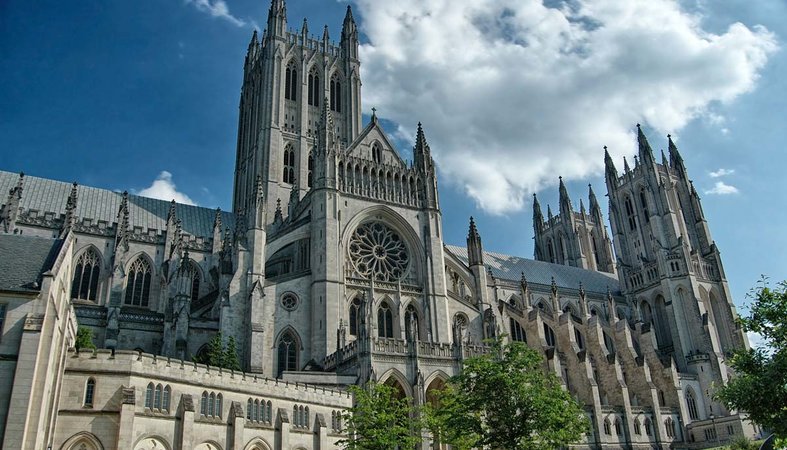 On one morning a slender, gray-haired priest shared about his involvement in the Civil Rights protests of the 1950s and 60s. Quiet and sincere, his humble accounts about seeking to serve God naturally lead into the sacraments.
A different priest led the next day's worship. And I do mean different! This guy's homily sounded as sincere as a kid brother forced to apologize for sprinkling salt on his sister's breakfast cereal. And then he celebrated the Eucharist. He hoisted the chalice up in the air . . . and kept it above his head for long, long minutes. He bellowed the words of preparation as if we, the congregation, were at the opposite end of a football field. He spent an eternity scraping the "holy" breadcrumbs off the altar (and chalice and paten and his robe) with what appeared to be a special knife.
One priest breathed spirit into my morning; the other knocked the wind out of me.
Do something religious?
Drop a dollar in the offering plate? Recite the Lord's Prayer? Shout the words of communion? Volunteer at the homeless shelter? Knock on the door and warn about the impending apocalypse? Teach Sunday school to junior high kids?
In Luke 18:9-14, Jesus told a story of two persons who entered the temple. The first bragged about faith. The second, well, didn't.
The second was humble. Humble, from the Latin humus. Earth. Grounded. Lowly. We walk upon the good dirt, never calling attention to our journey.
Trumpeting faith may be the worst way to share our beliefs with others. In Peter Scholtes' popular hymn from the 1960s, the title and refrain boldly declared, They'll Know We Are Christians By Our Love. But I've also been shown love by Muslims, Buddhists, atheists, and complete strangers. Overt, humble, and humbling expressions of love are not unique to one group.
I like to think I'm humble. I like to think I help create the good earth, the welcoming humus for others, that I serve my neighbor's needs and not my self-interests. Don't tell anyone, but I like to be noticed. I crave attention. I think I'm right most of the time. One of Scholtes' lyrics in the hymn is:
We will work with each other, we will work side by side
And we'll guard each one's dignity and save each one's pride
How often have I loudly sung that song in various churches? Often!
How often do I "guard each one's dignity?" Infrequently. I'm mostly hot air.
Do something religious?
And yet when I truly and faithfully do something religious, you'll never know it.
[Raymond Watt's balloon image from here; Cathedral image from photophiend.]