Galatians 1:1-12 – The second Sunday after Pentecost – for Sunday, May 29, 2016

"If I were still trying to please people, I wouldn't be Christ's slave." (Galatians 1:10)
It's never easy to craft a note with honest, heartfelt criticism. Especially when it's to a person, or people, you deeply care about.
When Paul wrote to the folks at Galatia, his intentions were obvious in the opening sentences: confronting their false faith, challenging them to choose "the grace of Christ," and asserting his claims to authority.
Galatians is the ninth of twenty-seven books in the New Testament.
According to most scholars, it's indisputably one of Paul's authentic works.
Along with Romans and the Corinthian correspondence, it reveals Paul's theology, serving as a benchmark for "Pauline" Christianity.
For believers, it is sacred text and holy verses.
And yet, isn't Galatians first the most difficult of love letters?
Paul frets. Paul worries. Paul struggles. Paul . . . loves.
When reading Paul, I try to remember he was once a real living and breathing person. And really important! Paul was arguably the primary human reason for Christianity emerging as an institutional church (which isn't entirely a rosy tale . . . but that's mud-slinging and finger-pointing for another day). Jesus, the one who became Christ, never sojourned more than a few days walk from his hometown. His public ministry unfolded over a mere handful of months. At his crucifixion, save for several courageous women, his followers had become doubters and denouncers. After the resurrection, his revitalized band of disciples was underwhelming (and under-employed) fisherman and ne'er-do-wells.
Then came Paul.
Scholar. Pharisee. Roman citizen.
Jesus traveled Palestine to preach the "Good News;" Paul traversed an empire. So, yeah, Paul was a big, big deal.
But wait . . .
There were those persnickety, stubborn, wayward Galatians. He loved 'em, and yet also _______ 'em. At first I used "hated" for filling in the blank. But was Paul instead disappointed or upset or angry with these beloved friends? Regardless of what negative word might describe his frustrations, Paul loved 'em.
So he wrote them a letter.
Though Paul may have used professional or amateur "secretaries" to transcribe his spoken words, I imagine him alone. I imagine a singular man with an anguished heart, driven by devotion for God's purposes and the path of Christ.
Every word will matter.
Every sentence will persuade or dissuade.
I don't believe Paul was writing for the ages (Hey, my stuff will get top-billing in the Bible), or hoping to wow God with his brilliant metaphors, or scheming to achieve the first century version of more Google hits, but for this precarious moment and these precious people.
What does it mean to share faith so that another will understand?
The answer often given—and truthfully it's always the best answer—is that actions reveal faith. Do we say we love God . . . then how do we treat our neighbor? Do we claim forgiveness as the foundation of a living faith . . . then have we prioritized forgiveness with any who have hurt us? Have we, and Paul surely knew Jesus preached this, given our clothes to those who needed them, offered a drink to the thirsty, food to the hungry? Faith is welcoming the stranger as beloved without judgment. Faith is what I do in the light of the day or the dark of the night . . . and the actions are exactly the same. Faith is what I do when everyone is watching or no one is watching . . . and the actions are exactly the same.
My faith must be seen, felt, and heard by another.
But Paul, once among the Galatians but now absent, only had sparse writing tools and a longing to love people he could no longer touch.
The truth? I barely comprehend the intricacies of Paul's theology. No seminary professor experienced an ah-ha moment because of my comments in a class. No church I served was revitalized by my interpretation of Paul's justification by faith. And, with more truth telling, I disagree with Paul in some of the little I do understand. I'm also aware that whoever has read this far in this essay—whether clergy soon to preach Galatians or a curious believer seeking to discern the nuances of Paul's letter—won't glean much about the ninth book of the New Testament.
Sorry . . . but I don't care to dissect or debate my (or your) theological views right now.
Instead, I humbly celebrate Paul. Once, long ago, as a brokenhearted lover of the people of Galatia, he poured out his soul.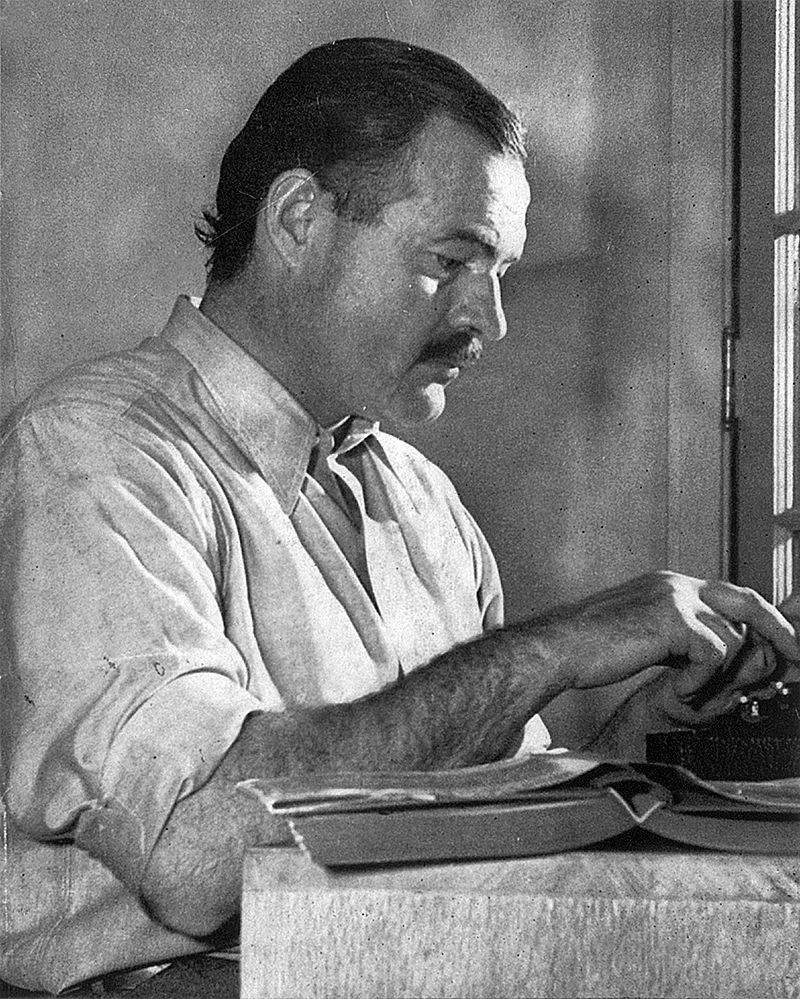 Ernest Hemingway famously stated: "There is nothing to writing. All you do is sit down at a typewriter and bleed."
Of course, Paul didn't have anything as sophisticated as Hemingway's Royal Arrow. But alone, on blank, foreboding expanse of parchment or papyrus, he bled ink for Christ's sake.
(Images . . . Rembrandt's Paul the Apostle, c. 1657; Hemingway photo by Lloyd Arnold, Wikipedia Commons.)