John 10:22-30 – The 4th Sunday of Easter – for Sunday, April 17, 2016.

"The Jewish opposition circled around him and asked, "How long will you test our patience? If you are the Christ, tell us plainly." (John 10:24)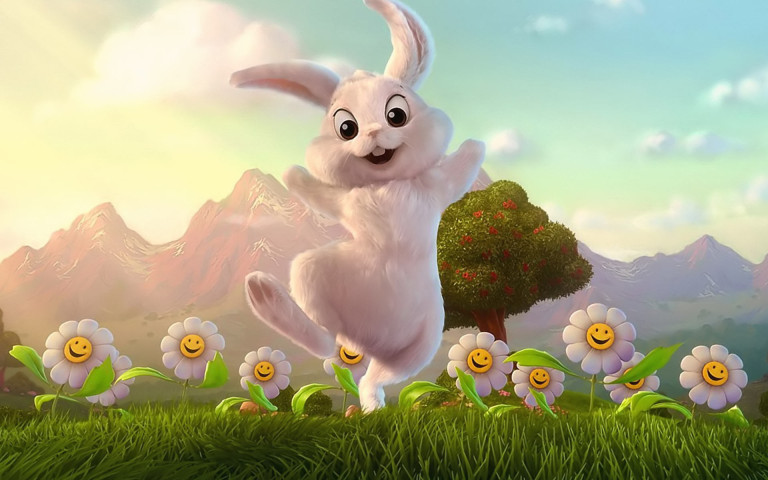 In the months before Easter, the bunny escapades unfold. We smile. We smirk. Believers or not, we all suffer the bunnies.
I shopped at my local grocer and there they were: on posters or candy wrappers, bunny paws pointing to overpriced chocolate treats, and bunny ears angled to tease the shopper into buying eggs.
Of course! Easter + Bunny = decorated egg. I get it.
Not.
A week or so before Easter, I placed my food items onto the checkout counter's conveyor belt.
The clerk grinned and asked, "Are you ready for Easter?"
"I don't think I ever am," I replied.
"Yeah, I've gotten my chocolate bunnies and stuff to color the eggs. I'll be ready." She rang up my total, grinned again.
Now it's after Easter.
Don't we highfalutin Christians call this season Eastertide, as if there's a big tidal wave following the resurrection? Now the bunnies, one by one, depart. Swept away in the tide? Still, I notice an occasional rabbity image lurking with the after-Easter sale candy, or a spring banner waving in a front yard with the faded rainbow colors of wildflowers or a pink bunny gone pale. They're not yet tucked away with the winter Santas and autumn Halloween paraphernalia.
I always wonder about the bunnies and eggs: unsettling, but safe.
Are you ready for Easter?
The Gospel scene this week unsettles. John 10:22-30 depicted Jesus during the winter, long before the cross and tomb and the resurrection alleluias. Jesus visited Jerusalem and some locals taunted, "If you are the Christ, tell us plainly."
Wait! It's after Easter and the scripture reading grabs our metaphoric hand and marches us back to a long, long before Easter story?
See, more unsettledness.
Why not? I think it's hard to figure Jesus out, then or now, between the time of Santa's reindeer and Easter's bunnies. I think long stretches of the Gospels keep coming back to this unsettledness . . . if you are the Christ, tell us plainly. The disciples got it, but then they didn't. Healed people loudly rejoiced, but then quietly departed. Luke's bold shepherds diligently searched Bethlehem, but soon they too vamoosed. The writer of John, with his nasty, surly way of belittling "The Jewish opposition," always had the Jews not getting it.
So many don't get it.
It was hard then.
And now. Who is this Jesus?
Are you ready for Easter?
+Â Â Â Â Â  +Â Â Â Â Â  +
A few weeks after the clerk asked about my Easter readiness, I trekked through my neighborhood, no longer spotting any Easter banners on lawns or paper bunnies taped to windows.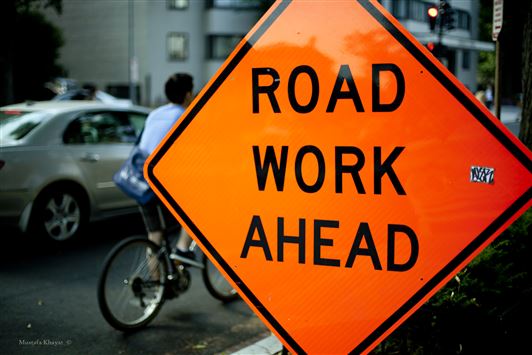 But I spied a new sign: Road Work Ahead.
The streets were torn-up. Farewell to our local potholes and faded traffic lines. I once lived in Wisconsin where a typical joke involved the Badger State's two seasons: Winter and Road Repair! When the weather finally warmed, a few precious months were available for work on the highways and byways. During one August, a friend and I planned a multi-day bike tour through northern Wisconsin. We identified campsites, spots to view Lake Superior, and chose routes to avoid traffic. But we forgot one bit of homework. Since it was the season of "Road Repair," some places were being, well, repaired. In several sections the asphalt had been eliminated and carted away! Road repair? More like road-be-gone! Whew. Not good for biking adventurers with skinny tires and heavy panniers! We pedaled more miles than planned!
Road work ahead.
That's how I view Easter's tide. It's what is demanded after the bunnies leave, after the alleluias have been sung, after the He-is-risen! sermon is discarded on the preacher's desk underneath last month's trustees report.
The earliest Christians, those that gathered in the dangerous years following Jesus' ministry, were called "people of The Way." In our inadequate ways of living out our faith we have created many seasons for celebrating. And, even with the modern commercialization of a Christmas or Easter, I appreciate all of them. I like the rhythm of Advent to Christmas, Lent to Easter, the brief burst of Pentecost, and the long Ordinary Time. And yet, regardless of where I live or how I celebrate, I think there's mostly one season.
Road repair. Road work ahead.
As a Christian, I shudder when other faith traditions are maligned. My choice to follow Jesus, and my calling as a minister, doesn't lead me to condemn different religions or believe my way is superior. In this year's presidential primaries, Senator Ted Cruz called for patrolling "Muslim neighborhoods" with police. While it's sadly easy to mention other examples of bigotry or bullying from the desperate-for-media-attention candidates, I cringed at Senator Cruz's comment. For me, one of the worst parts of John's Gospel was how the writer labeled Jews as the "opposition." Blame a group. Shame a group. Damn another group. That's not, in my view, the path of Jesus.
Sigh . . . so much road work ahead.
We remain a people of the way and on the way. Friends carry hidden hurt. Strangers feel lost. Loneliness shadows everyone. The streets of our neighborhood are torn apart and it has little to do with filling potholes. Tell us plainly . . . are you the Christ?
The Christ-like work is always before us.