Luke 24:1-12 – Easter – for March 27, 2016

"It was Mary Magdalene, Joanna, Mary the mother of James, and the other women with them who told these things to the apostles." (Luke 24:10)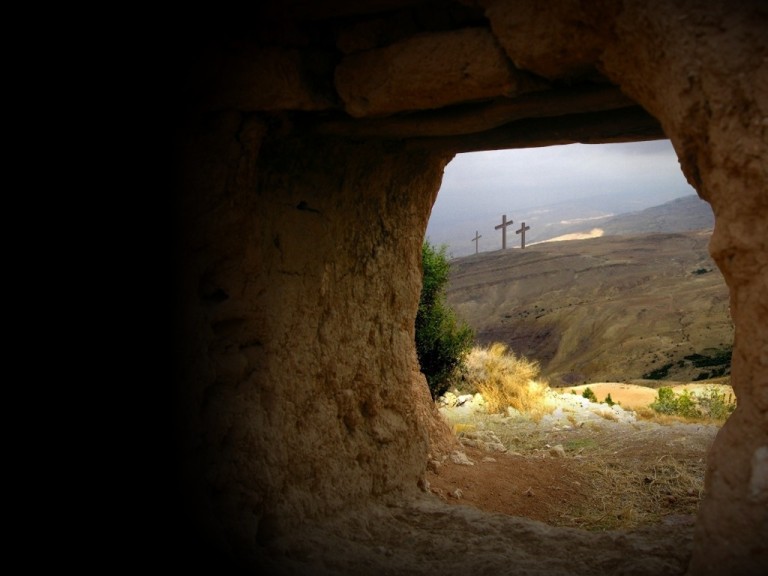 Easter has devolved into a slurry of candy bunnies, lilies with a shelf life at the supermarket, a little time off from work, and a tease for the looming, longer summer vacation. Eggs, real and plastic, are painted by the dozen, hidden, and hunted.
Where is Jesus?
That was also what they wanted to know at the first Easter.
I read Luke's account of the empty tomb again. Was it for the hundredth or five hundredth time? I've studied it, analyzed it, de-Greeked it, and have dutifully compared different translations of the third Gospel's twenty-fourth chapter. Inside warm, cozy churches and outside at chilly sunrise services where plumes of breath appeared like smoke announcing a new pope, I've preached it honestly, preached it poorly, and—until this last week—would claim I knew the passage well.
There was no denying my surprise at the 10 times (in the Common English Bible version) Luke's passage included the words "they" or "the women." And I admit bewilderment at Luke's solitary use of "the other women."
According to Luke, the women visited the tomb after the crucifixion to care for his dead flesh with "fragrant spices." They find the tomb has been opened. They enter that tomb. They can't help but notice . . .
Where is Jesus?
Near the passage's end, several of those entering Jesus' not-so-final resting place were named: Mary Magdalene, Joanna, and Mary the mother of James.
Mary was the hooker and/or looker with a heart of gold who was close to Jesus. How close? I'll let your faithful, fecund imagination guess their degree of intimacy. The second Mary was a mother, and—if you only read Luke—that's about all we know. Joanna was the wife of Chuza, a guy in middle management (Luke 8:3); she helped finance the Nazarene's ministry.
And yet there were also . . . the other women.
Luke never mentioned their names.
Who were they?
How many of them were there?
What did they wonder or dread or hope in that cave of unnerving emptiness?
I can't factually answer these questions. The author of Luke was a good storyteller and likely knew too many names could overload a reader. Keep it simple. Focus on a few key "characters."
Still, my curious faith wonders: who were the other women?
Unknown?
Forgotten?
Inconsequential?
A first Easter dawns, and creation is transformed. God, usually so clever in disguising the divine ways, brashly revealed on that morning after the mourning that love is stronger than death, hope outlasts hurt, and the worst defeat can become a startling victory.
And there are witnesses: the other women.
Since I have experienced tender reminders of Easter's promise from unnamed strangers—including Christians, those from other faith traditions, and those with no formal faith—I believe those other women kept telling the tale of Jesus' unlimited love and unlikely resurrection. I believe, as they abandoned the tomb and embraced a faith made real by love, they shared mercy and forgiveness and hope as much as they could, and in every opportunity they could, with every person they met.
We don't experience the risen Christ because we read books . . . or by slumping into a pew on a Sunday morning . . . or because our parents told us so. Instead, we discover Christ-like love in the fragile, vulnerable, empathetic, and often temporary relationships with others.
+Â Â Â Â Â  +Â Â Â Â Â  +
I don't remember their names, but when I was a hospice chaplain, I visited a seventy-something patient in her home. Week by week, she learned to trust me. She shared secrets. We held hands. One day, nearing death, I joined her and her two daughters. By this time, their mother could barely leave bed. Now she always wore pajamas. She was as frail as a brittle autumn leaf, as thin as a blade of grass. She only spoke in whispers. But on that day, for she knew I was coming, she settled on the couch and waited. Her daughters waited with her. As a way of honoring their mother, both "kids" wore jammies. If Mom could wear her bedroom best to greet the chaplain, they would too! They gathered on the sofa, these three women, giggling and flirting (ever so appropriately) with me. How they laughed! How they wept! How they loved! For a handful of moments, with a family assaulted by disease but transformed by love, I settled beside them and we talked about life.
In the muddle of dying, there was only living.
In so many forms, Easter dawns.
+Â Â Â Â Â  +Â Â Â Â Â  +
Recently, a colleague showed me a video she'd found on YouTube, a snippet from Yann Arthus-Bertrand's 2015 documentary "Human." It's a stark, face-the-camera, tell-the-tale scene. The narrator is Francine, an elderly French woman. A child in a Nazi concentration camp, Francine recounts an experience with another woman. The other woman's name is never revealed. I won't spoil Francine's memories—take a few moments to watch it—other than to say one person, with something as insignificant and magnificent as chocolate, was transformed through a simple gift and gesture.
In the midst of hell on earth, there was a glimpse of heaven.
In so many forms, Easter dawns.
+Â Â Â Â Â  +Â Â Â Â Â  +
Where is Jesus?
Easter is not the empty tomb.
And yet, a sacred slice of it began there, with those other women.
Some were named; some were not. But all, maybe wearing jammies, maybe sharing sweets, maybe the stranger you'll soon meet, went forth and told a tale of God's brash gesture of forever, Christ-like love.