Luke 24:44-53 & Acts 1:1-11 – Ascension Sunday, the final Sunday of Easter – for May 17, 2015

"He led them out as far as Bethany, where he lifted his hands and blessed them. As he blessed them, he left them and was taken up to heaven." (Luke 24:50-51)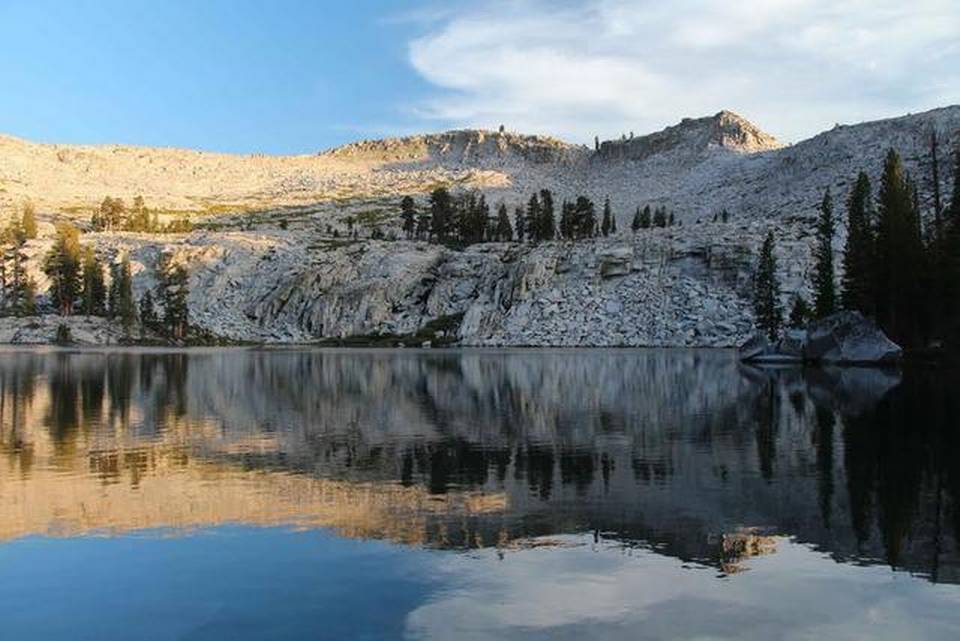 What are the basics of life?
Shelter. Clothes. Food. Water.
However, each basic need has qualifications: Shelter from warmth or cold, adequate clothes, healthy food, and safe water.
When backpacking, I carry tools for the qualifications. Much of my hiking has been in California's Sierra Nevada, a few hours drive from my home. Until the last few years of the devastating, worrisome drought, water has been abundant. The winter snowpack typically melts and feeds the alpine lakes and meandering rivers. Once I lived in Wisconsin, where the first snow can fall in October and the final flurry may transform April into a winter wonderland . . . as in, I wonder if spring will ever arrive? I told my shivering cheesehead neighbors we had more snow in California, but it was properly stored in the mountains. In 1982, 67 inches of snow accumulated at Echo Summit, south of Lake Tahoe. All of those inches fell in 24 hours! At the time it was the second highest total for snow in a day in the United States.
Even in times of drought, there will be water in the Sierra high country. But the human impact on the mountains has meant some water carries nasty parasites, while other water is pristine. With the proverbial naked eye, there's no way to tell the difference between the two. Since drinking water is a basic of life, I carry a lightweight filter on hikes.
Filtering water is one of the chores whenever I set up a temporary camp. Pumped by hand, the filter creates a gallon of safe water in 4-5 minutes.
On a solo trip several years ago, I performed my basic chores. After determining the "perfect" site by a lake in southern Yosemite National Park, I erected the tent, filtered water, and collected firewood.
In our national parks and forests, searching for firewood is a hunt for "down" wood. According to strict guidelines, only the dead wood—the tiny twigs and smallish branches—strewn across the forest floor can be used. After spending an hour on my firewood-for-warmth chore, I realized lots of hikers had visited this area over the years (and decades) before my arrival. And yet, how glorious this place was! The granite ridges forming the lake basin glimmered pink and orange as the sun set. The trees whispered ancient secrets in the cooling breeze. Birds swooped and danced across the darkening sky. Of course, I wanted to linger in this beauty. Of course, others before me had also lingered.
Who wouldn't want to stay in such a glorious spot?
* Â  Â  Â  * Â  Â  Â  *
I wonder about the disciples at the end of Luke and the beginning of Acts. It's the same scene, by the same author, with perplexing variations. In both cases the disciples are bidding farewell to Jesus. But in Luke, Jesus' ascension seemed to have occurred at the conclusion of a lengthy, hectic day following the resurrection. Penned by the same writer, Acts extended Jesus' farewell to the disciples into forty symbolic days.
However, it's not where these two scriptures disagreed that prompted my wondering. It was Jesus' departure. In these verses, I don't imagine Jesus floating into the sky, soaring toward "heaven." Whether the end of a solitary day or forty days after the resurrection, this scene is not a literal moment for me. But I can literally picture the disciples. With Jesus now gone, they must've felt trepidation, grief, and uncertainty.
They are the ones left. How do orphans feel? How do widows feel? How do those lost or abandoned feel? For one day or forty days, from the tomb to (as Acts 1:12 described) the "mount called Olivet," Jesus' companions kept saying goodbye.
Now the goodbye will be final.
Luke and Acts, end and beginning, depicted the disciples as, if you will, camped at a particular place. (It was even, if you will, a glorious spot!) They'd sojourned this far with Jesus. Now what? They waited.
In my imagination, when they lowered their heads, and ceased staring at the sky, they realized there wasn't much fuel for fire around them. Jesus' followers didn't grasp it yet, but they would have to move on. Soon, in a gift as elusive as a cooling breeze swirling into a lake basin, the wind and fire of Pentecost will come. But first, let's let them remain, and let's linger with them in these uncertain moments.
*Â Â Â Â Â Â  * Â  Â  Â  *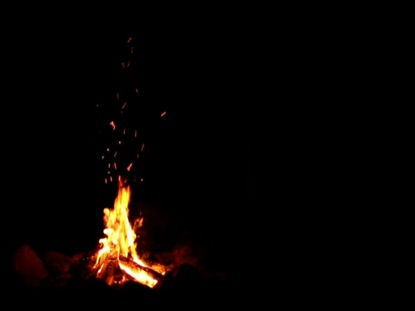 In the Yosemite backcountry, I gathered enough wood for a smidgen of warmth. Alone in the vast darkness of a September Sierra night, I sat on a boulder by the tiny fire while it sparkled and glowed for a brief time. Flames flickered, performing an ever-changing fandango.
The next morning, before the sun crested the granite peaks above me, I continued my journey.
Nora Gallagher, in her "Eastertide" chapter from Things Seen and Unseen concluded with,
I think of Mary Magdalene, Joanna, and Mary the mother of James, those whom Jesus befriended: the marginal, the outcast, the oppressed. And, not to forget, the hopeful. They stood in that tomb and endured its emptiness. Then they ran outside to tell the others. They gave all they had for something new.
This has been the season of a borrowed tomb and its startling emptiness. A day or forty days later, the final Gospel post-resurrection events culminated on a mountain. And then, depending on your faithful preferences, the literal or metaphoric ascension concluded one journey.
In both places, tomb and mount, there was no longer enough fuel for the old fires. The disciples could not afford to tarry, as tempting as that might have been.
Something new awaited them, and their journey.
The spirit, forever new, beckoned them, and beckons us . . .