Mark 1:9-15 – The First Sunday of Lent – February 22, 2015

". . . Jesus saw heaven splitting open and the Spirit, like a dove, coming down on him." (Mark 1:10)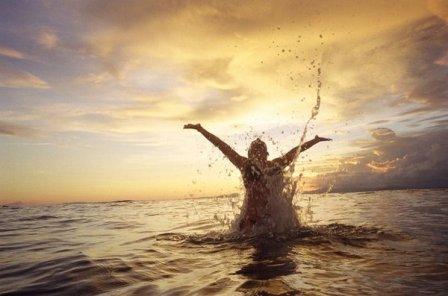 Jesus saw heaven splitting open . . .
Before the split, there was a flowing river and John the Baptizer.
After the spilt, perhaps split seconds later, heaven was revealed and the dove descended.
In this English translation of Mark's Gospel, in the grammar of a sentence, splitting is a present participle verbal. It is an action word transformed into an adjective. But verb enough it is.
Heaven splitting open . . .
What did Jesus see? Mark's account was spare, devoid of detail. Is heaven a place, a space, a feeling, a promise, Zion's zip code, a segregated neighborhood (the good vs. the bad?), a bejeweled domain, or a thousand other fulsome descriptions?
What do I think Jesus saw? (And please, ask yourself the same question.)
My first reaction—borne of my 1950s Sunday school lessons, where simplified Bible verses were interspersed with colorful kid-friendly pictures—is a weather report. I see clouds parting to reveal a vibrant blue sky. I see a shaft of bright golden sunlight encircling Jesus. Drama! Excitement! Toss in distant thunder and add a leaf-rustling breeze.
I see the splitting literally . . . and safely. A weather report is always safe to talk about.
My next reaction is no reaction. I resist seeing. I resist fleshing out what is not there: heaven, as I've already mentioned, is not described. I choose not to believe that Jesus saw immense pearly gates or angels tuning harps or a bearded, determined, and decidedly male God—ala Michelangelo's Sistine Chapel—pointing the finger of fate and faith at humans.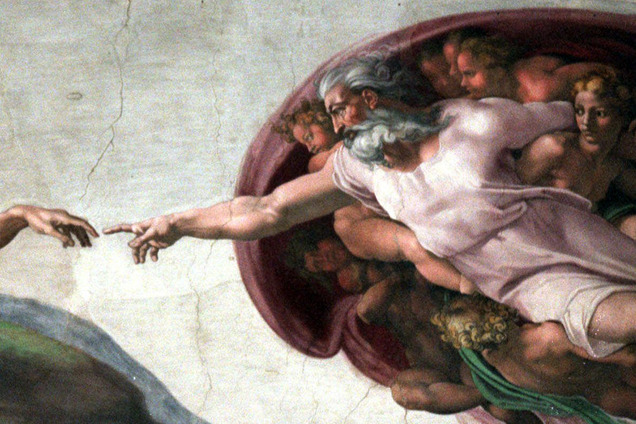 My most honest reaction is emotional.
After all, this is the first Sunday of Lent, the season of verbs, and I'm preparing for Easter.
I once announced, many times to many people in many ways, that I was splitting with my wife. A long, long, long time ago I had a first marriage. I was barely twenty-two when I said, "I do." I could not have imagined that five years later I'd be divorced.
One of the most painful announcements happened with my father. Like the worst healed wounds, I remember our split seconds together. Dad and I were traveling in a borrowed truck, as he helped me move furniture into a new apartment. That "new apartment" was part of my impending future because I was getting divorced. But Dad didn't know. He was just helping with a task. It was dark. He was driving. We were tired. We were halfway between home and the unknown. After miles of fearful anticipation, and only imagining that all explanations would upset and disappoint Dad, I told him the reason for this move.
Me . . . splitting up.
Everyone one of us, in public or private ways, at certain times of our life, faces the end of life as we've known it. Oh it's not the final chapter of civilization or a zombie apocalypse. And yet my trembling voice in the dark cab of a borrowed truck rattling along the highway represented the split seconds where plans and hopes shifted from dream to nightmare. Things become real when you say them aloud. I felt adrift, with no compass points. My . . . divorce. It was shame revealed, guilt exposed, lies no longer hidden.
I am splitting, I said to my father.
Why didn't he yell? Why didn't he demand reasons? Why didn't he say how disappointed he was? Why didn't he brood in silence, hands strangling the wheel as the endless asphalt stretched before us?
Instead, what I recall, what I have as a gift, was my father talking to me. Understanding me. Loving me. I won't say there were fancy words, or that two guys—the kid and his dad—had any startling revelations. Dad simply conveyed, maybe not with these exact words, but with this exact feeling: you are my son, whom I dearly love. In fact, my father, a stereotypically "Greatest Generation" male, rarely said, "I love you."
What did Jesus see in that split, splitting second of heaven's revealing?
I believe it was love, and while Mark's account used words, I fancy Jesus more sensing in his soul than hearing with his ears that the Holy desired the deepest relationship with him.
On the Jordan flowed, and maybe John the Bapitzer had a bewildered look, and the wings of a dove literally or figuratively fluttered, and every moment and molecule in the world changed and Jesus felt . . .
Dearly loved.
Lent, always action-oriented, invites us to split open to the unexpected and unbidden gift of a Holy relationship.